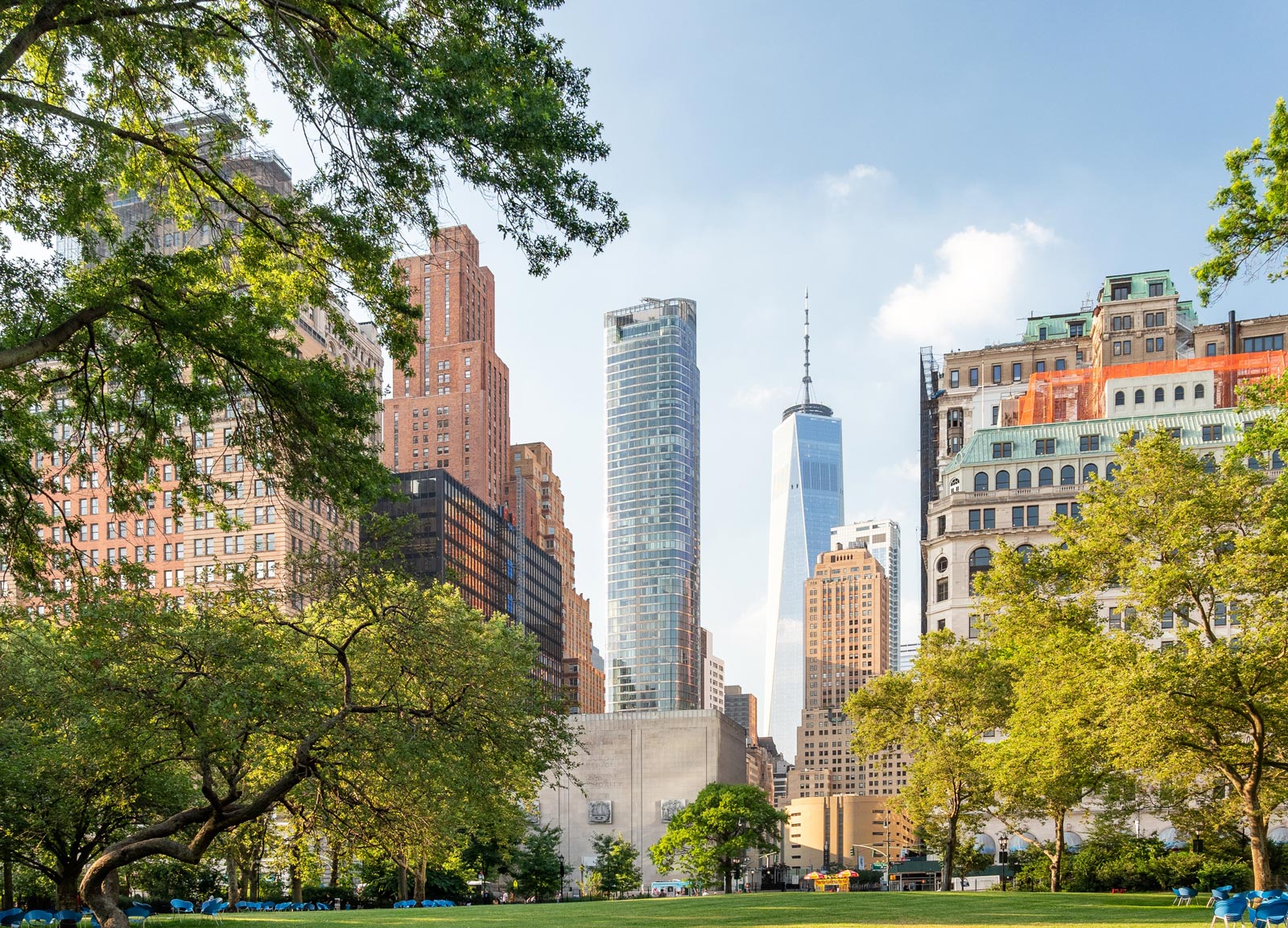 Expert Logo and Packaging Design in New York City
Known for its exclusive boutique shopping, theatrical performances, tourism, and financial hub, New York City is an ever-growing metropolis that offers business owners a wealth of opportunities. With diverse demographics and a wide range of thriving industries, New York City is full of experienced companies, exciting startups, seasoned business owners, and young professionals. Crème de Mint proudly serves the businesses of New York City, leveraging more than a decade of packaging design experience and expertise to produce high-quality, unique designs that help businesses stand out from the crowd and resonate with their audience.
Popular industries in New York City include finance, retail, publishing, entertainment, beauty, food and beverage, and technology.
Our work has helped both large companies and smaller startups define their branding and connect with their customers. We have worked with New York businesses in the food and beverage, beauty, and wine industries.
Whether you're just starting out or looking to rebrand an existing business, we're ready to help!
Clients served in the area
Bliss
Bliss is a popular spa and retail company based in New York that sells their products at most major retailers. The company reached out to me as a freelance designer and art director for several products, including Carrot+Sesame Body Buff, an at-home spa system designed for ultimate hydration. I helped them create refreshed packaging design for their spa products gift set located in New York.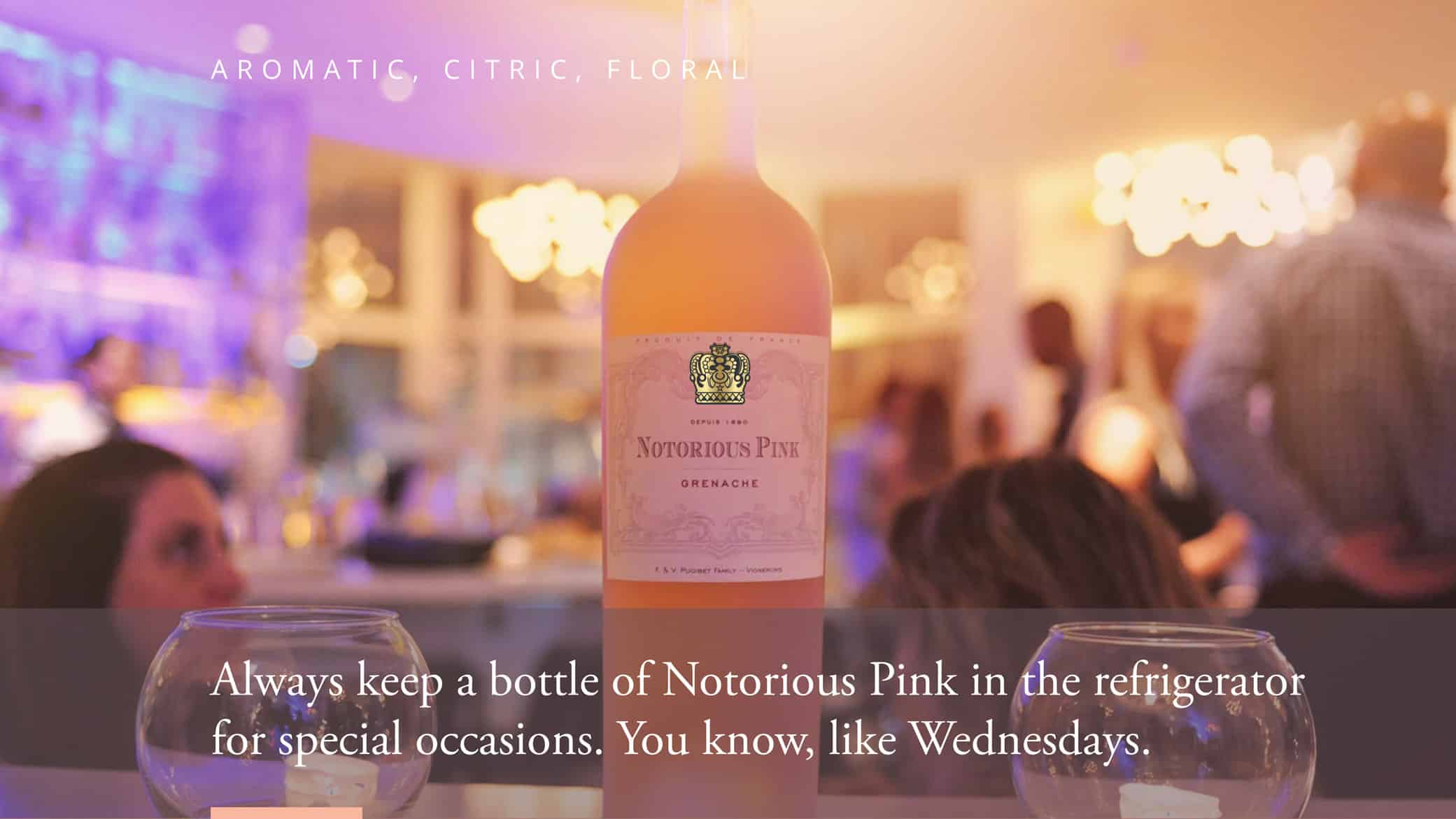 Notorious Pink
Notorious Pink is an award-winning rosé made from the finest 100% Grenache from the South of France. Crème de Mint's work on the brand refresh and storyboards for this wine company gave new life to the brand, revealing potential campaigns and branding that could reach new audiences.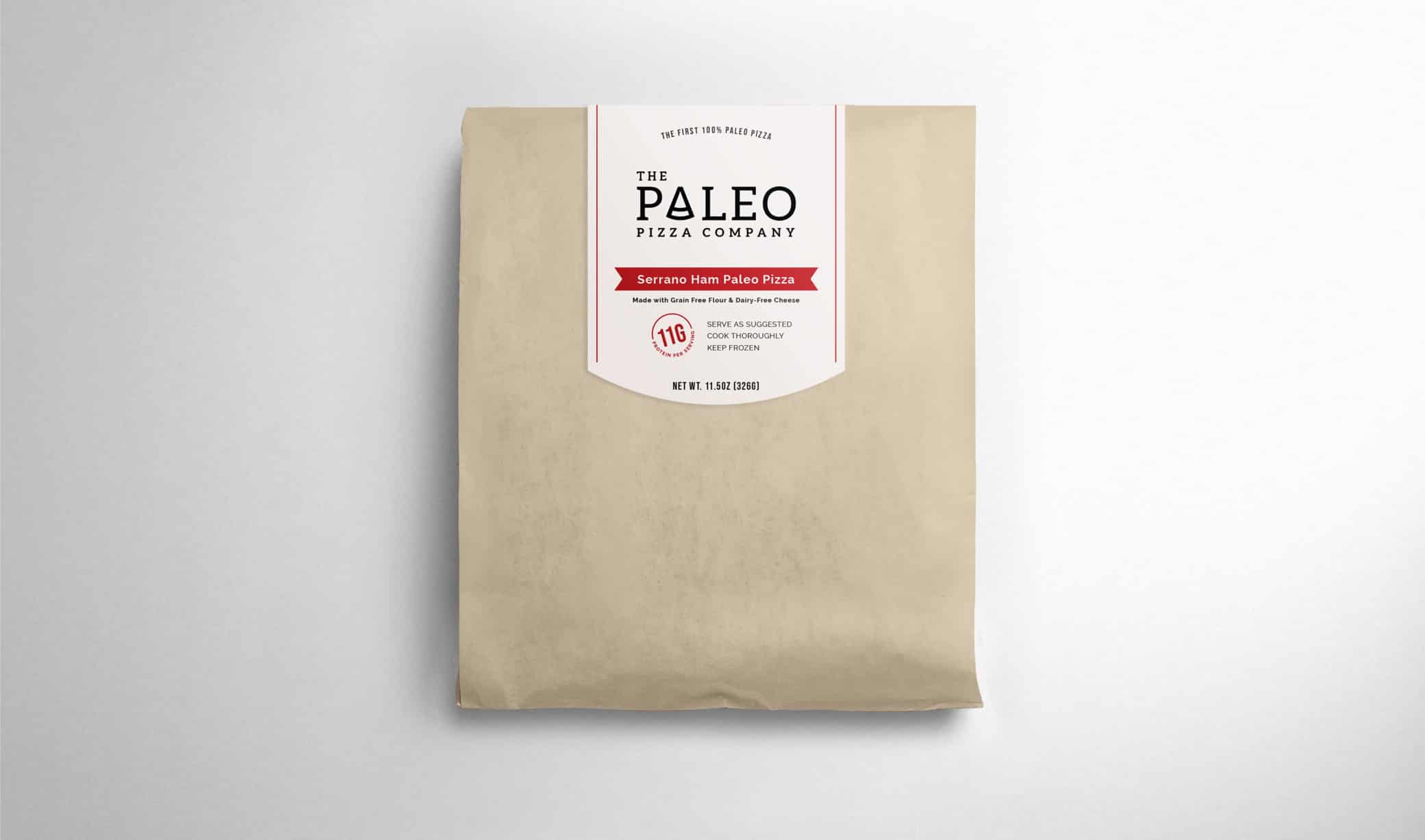 Paleo Pizza
The Paleo Pizza company is the first company to offer a 100% paleo-diet-friendly pizza. The New York pizza company needed packaging design that was practical and affordable for a marketing campaign.
The brand wanted to run a campaign of 200 free pizzas to test their concept and gather feedback. They needed labels for the pizzas, along with an affordable packaging solution that would enable them to run the campaign as economically as possible. The brand also needed an updated logo.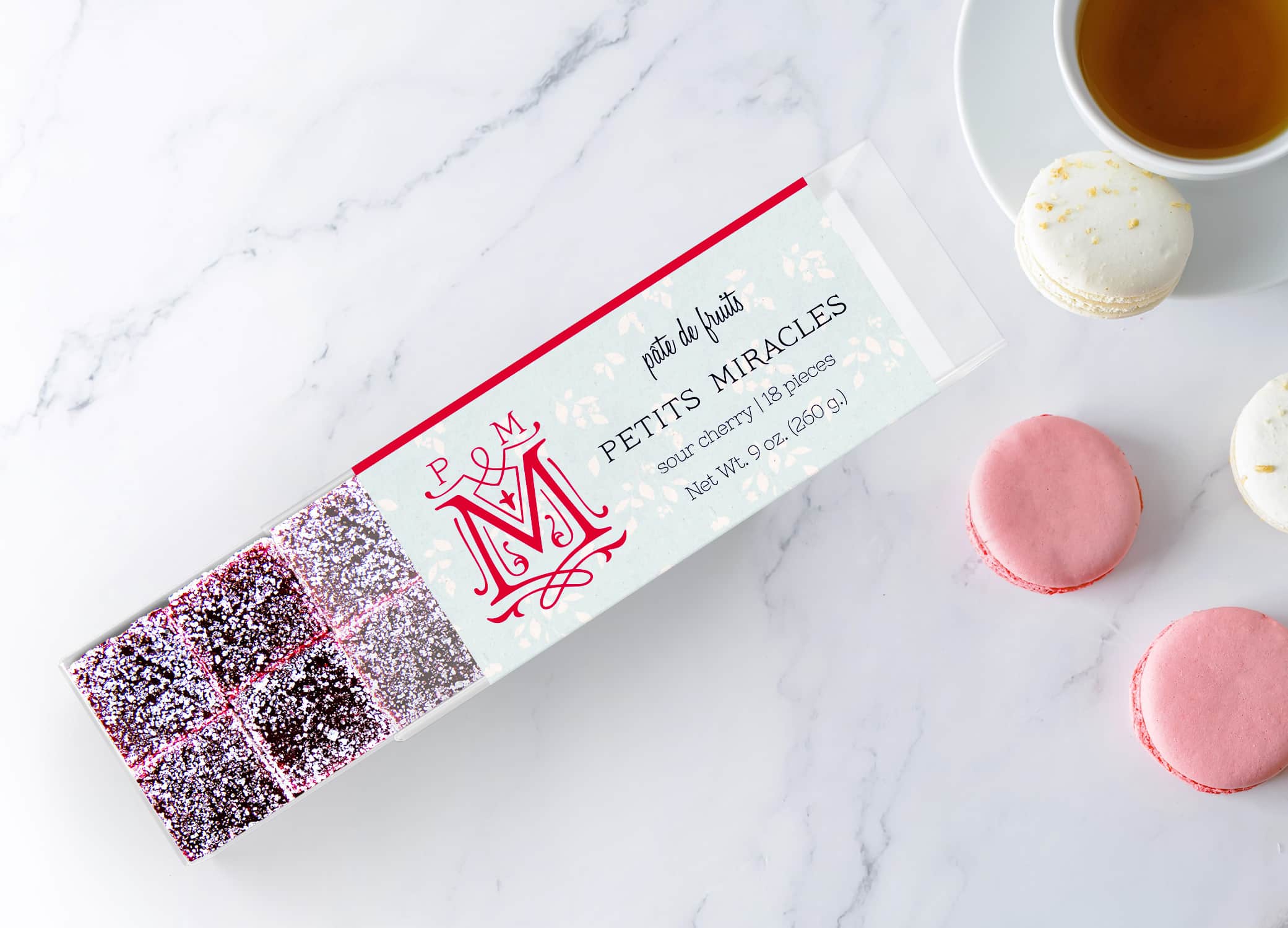 Petits Miracles
Petits Miracles was a dessert startup specializing in French delicacies such as macarons, pâte de fruits, and cookies. They planned to launch online, eventually expanding into brick-and-mortar locations in New York City. The New York company hired Crème de Mint to produce a logo and packaging design for the bakery brand that captured French elegance and appealed to dessert-lovers as well as Francophiles.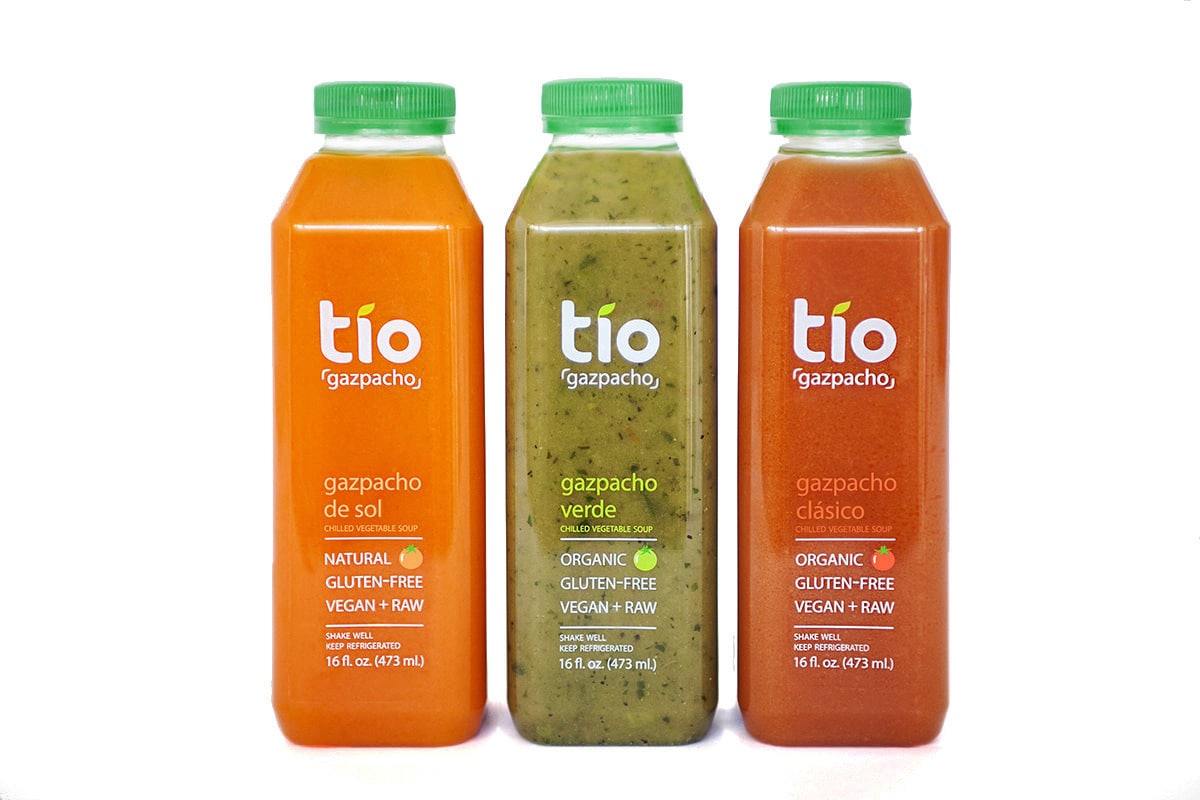 Tio Gazpacho
Tio Gazpacho is the first of its kind in the market—drinkable gazpacho (a traditional cold Spanish soup). They needed a food package design that would highlight what the product was, pique interest, and encourage consumers to try out this wholesome, healthy veggie option.
Packaging Design for Victoria's Secret: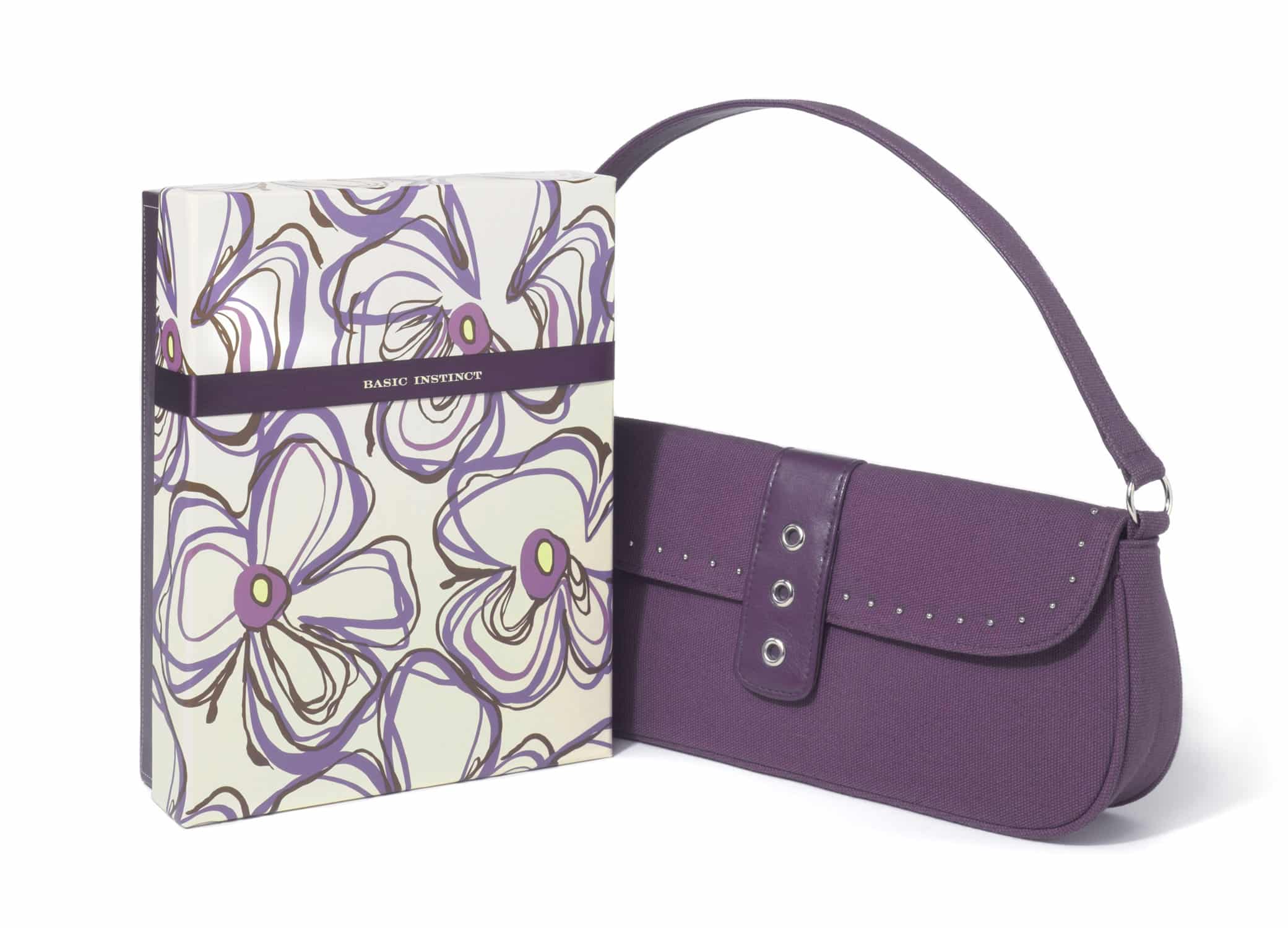 Basic Instinct
Victoria's Secret Basic Instinct was a daytime fragrance of sweet, floral tones tied together with a light fruity essence. I managed the promotional gift set design for the fragrance. The goal was to create unique packaging for gift boxes that aligned with the existing brand image, essence, and colors.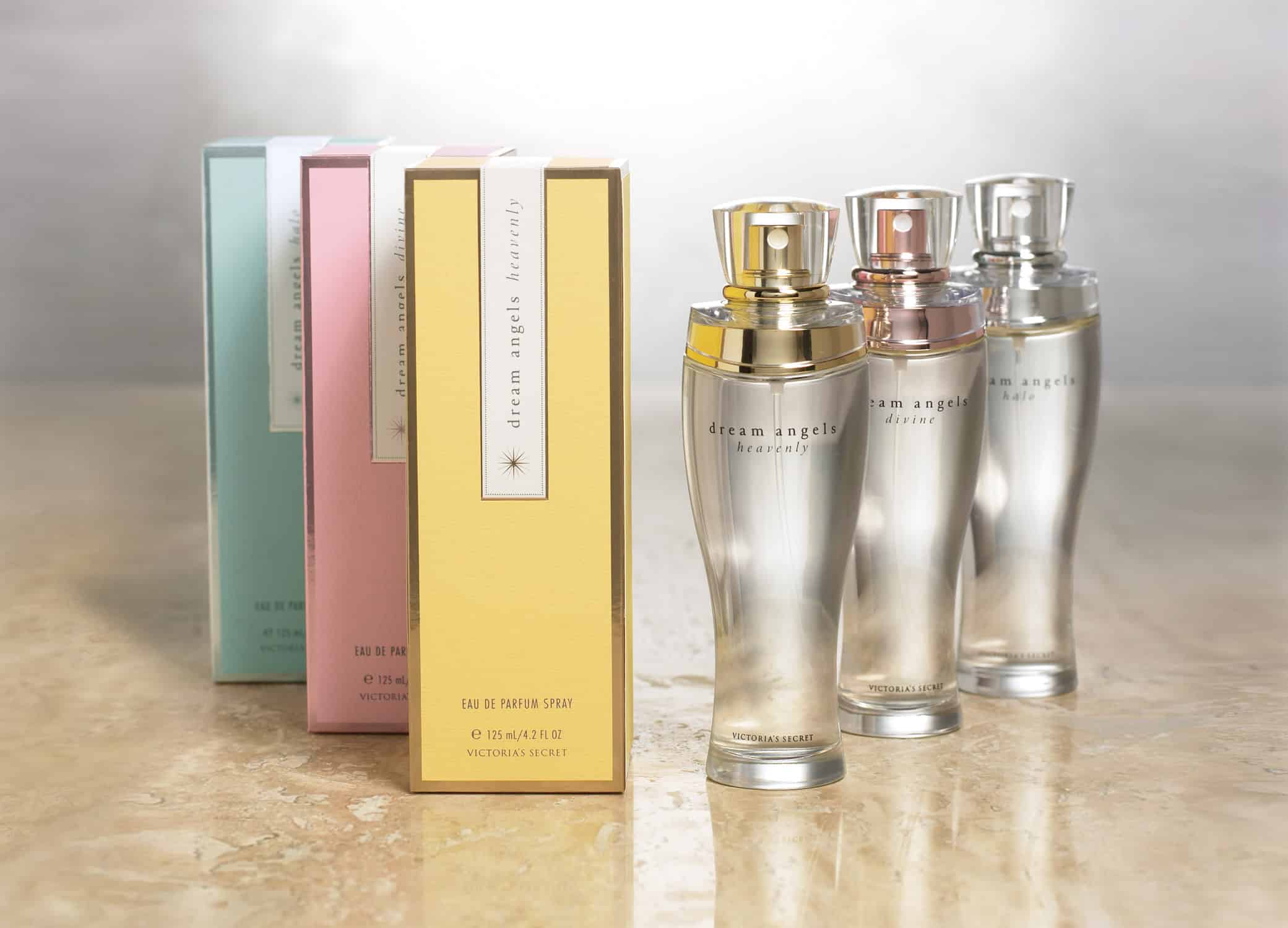 Dream Angels
The Dream Angels fragrance line by Victoria's Secret is a line of feminine scents. As part of the design team, I managed the product packaging and custom gift box design. I also collaborated on the revamp and update of the cap design on the original bottle.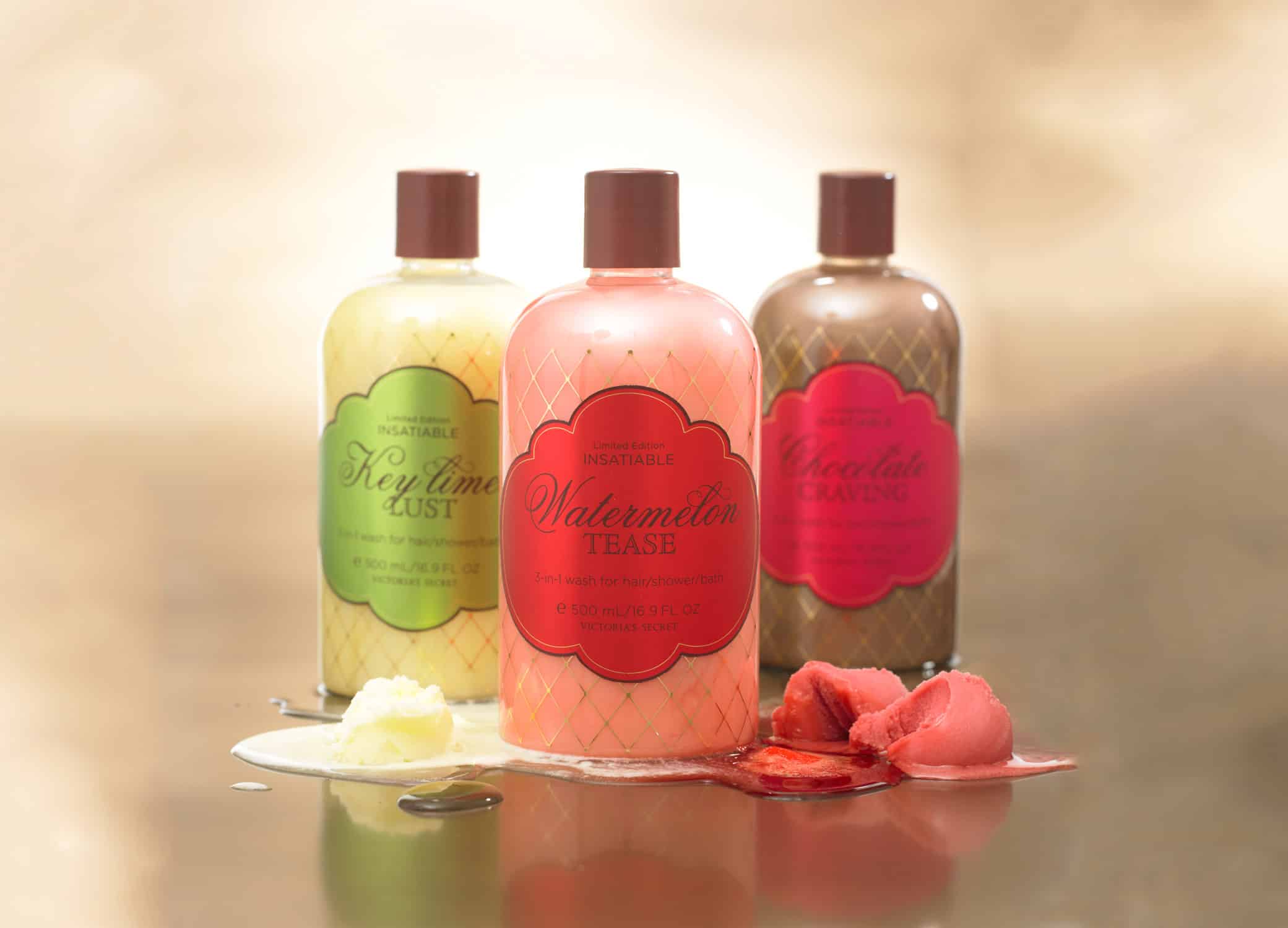 Insatiable
Victoria's Secret Insatiable is a tantalizing, decadent confectionery fragrance. It pampers and scents skin with irresistible sweetness, satisfying the senses and creating a deliciously sexy atmosphere. Key Lime Lust, Watermelon Tease, and Chocolate Craving—three enticing, ravishing scents that can't be denied. As part of the design team at Victoria's Secret, I managed the designs for the launch of the new fragrance line, including the branding and the packaging for body spray, wash, and cream. I wanted the brand to look and feel irresistible, like savoring a box of tantalizing chocolates.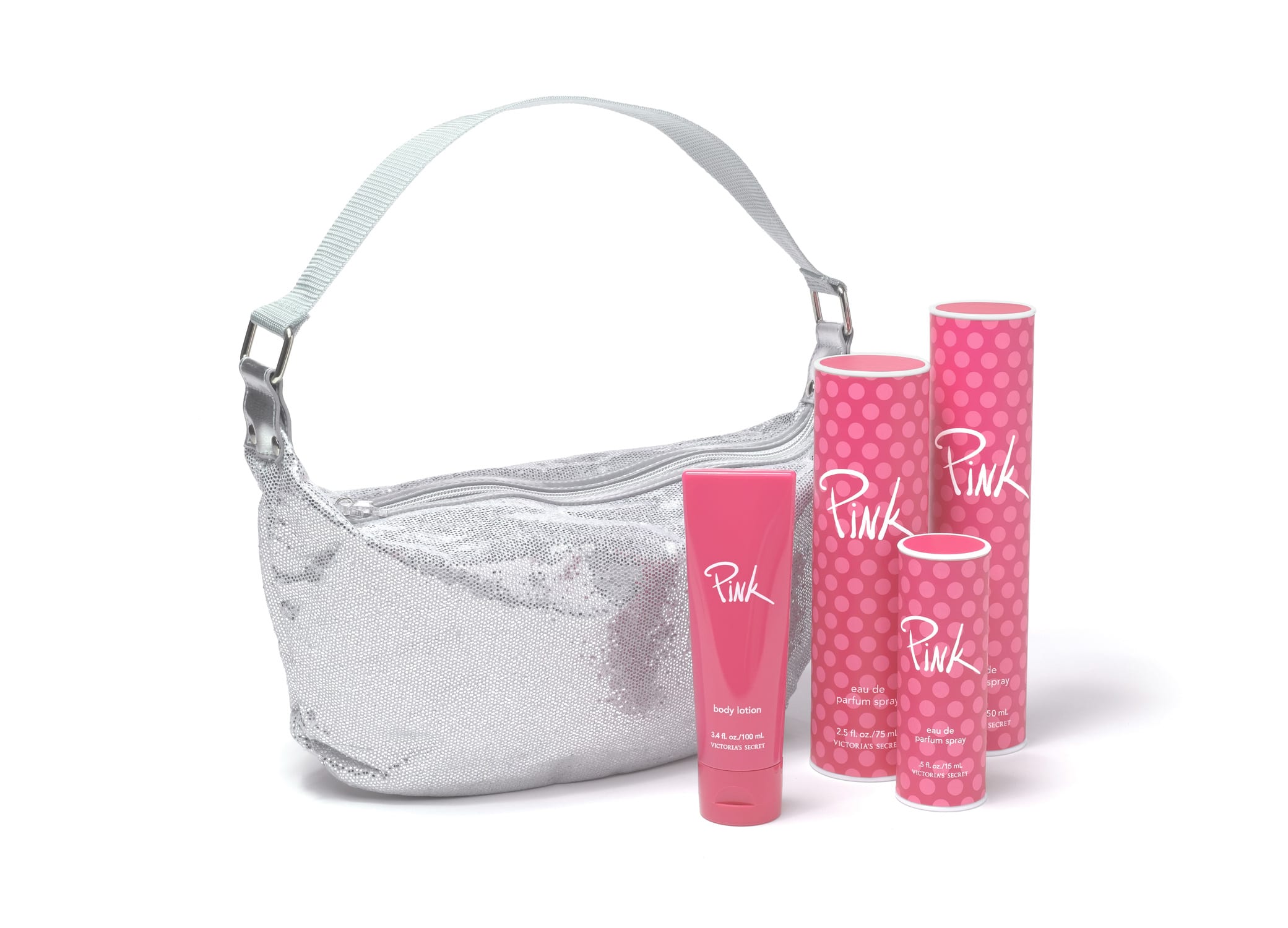 Pink
Newly-evolved Pink brand was becoming a young, playful, college-age brand, offering cute yoga pants for sleeping and fun patterns on undergarments. The loungewear was selling well with the college-aged market, but the fragrance packaging needed a revamp. The original packaging (a square white box with P-I-N-K around the top) was positioned to a 30-40 age demographic. The goal was to update the perfume packaging design for the Pink brand to align with the fresh, active look of the clothing line, creating a standard brand image and repositioning the fragrance to appeal to a new young demographic.
Spa Secrets
Victoria's Secret Spa Secrets was a line of self-care products that allowed women to create an at-home spa experience—Soothing Shave Cream, Warming Foot Scrub, and Whipped Body Cream. I managed and created the design for the gift bag. The goals were to align with the existing brand image and colors (light blue and silver), and to create a visual appeal that caught the eye, so that customers wanted to pack this set for their trips and show them off with pride.
Summer Promo
Victoria's Secret released a summer promo with three limited edition fragrances—Grapefruit Kiss, Coconut Temptation, and Pomegranate Pleasure. They brought to mind summer nights full of romance, fun, parties, and refreshing, mouth-watering fruit juices. I designed the packaging design for the bath and body products.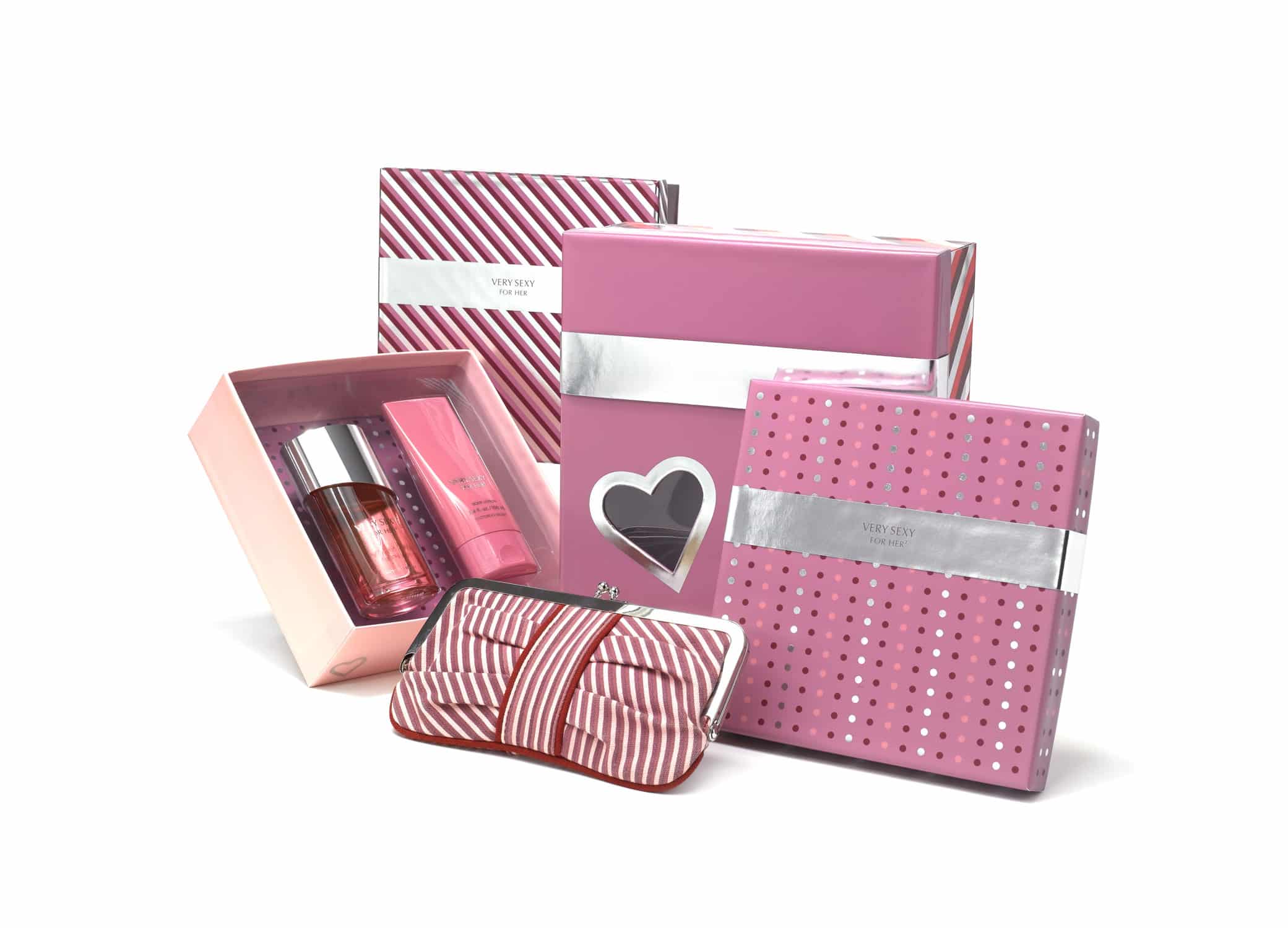 Very Sexy
Victoria's Secret Very Sexy was a popular duo fragrance line. As part of the Victoria's Secret design team, I created the cosmetic packaging design for Very Sexy's Valentine's Day promotion. The goal was to create bold, playful gift set packaging that caught the eye and commanded attention. We also designed a giftable coin purse to go with the holiday fragrance gift set.
Packaging Design for Avon: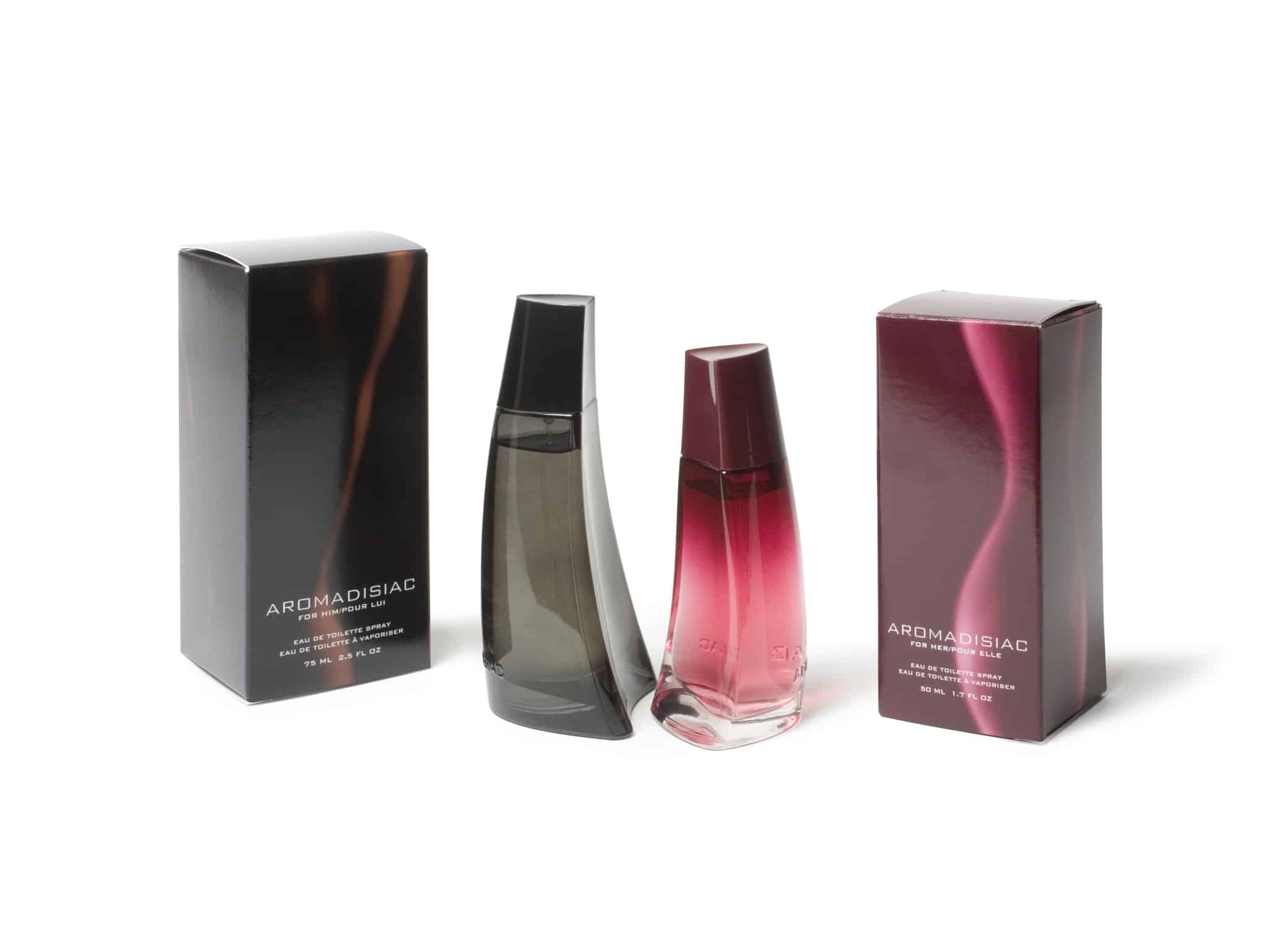 Aromadisiac
Avon was launching a new fragrance duo—Aromadisiac. The concept of the fragrance was temptation, awakening every sense and desire, resulting in undeniable attraction. The company needed fragrance product packaging and branding that reflected that spark, sizzle, and sensuality. As part of the Avon design team, I managed the project, including the design, branding, and printing.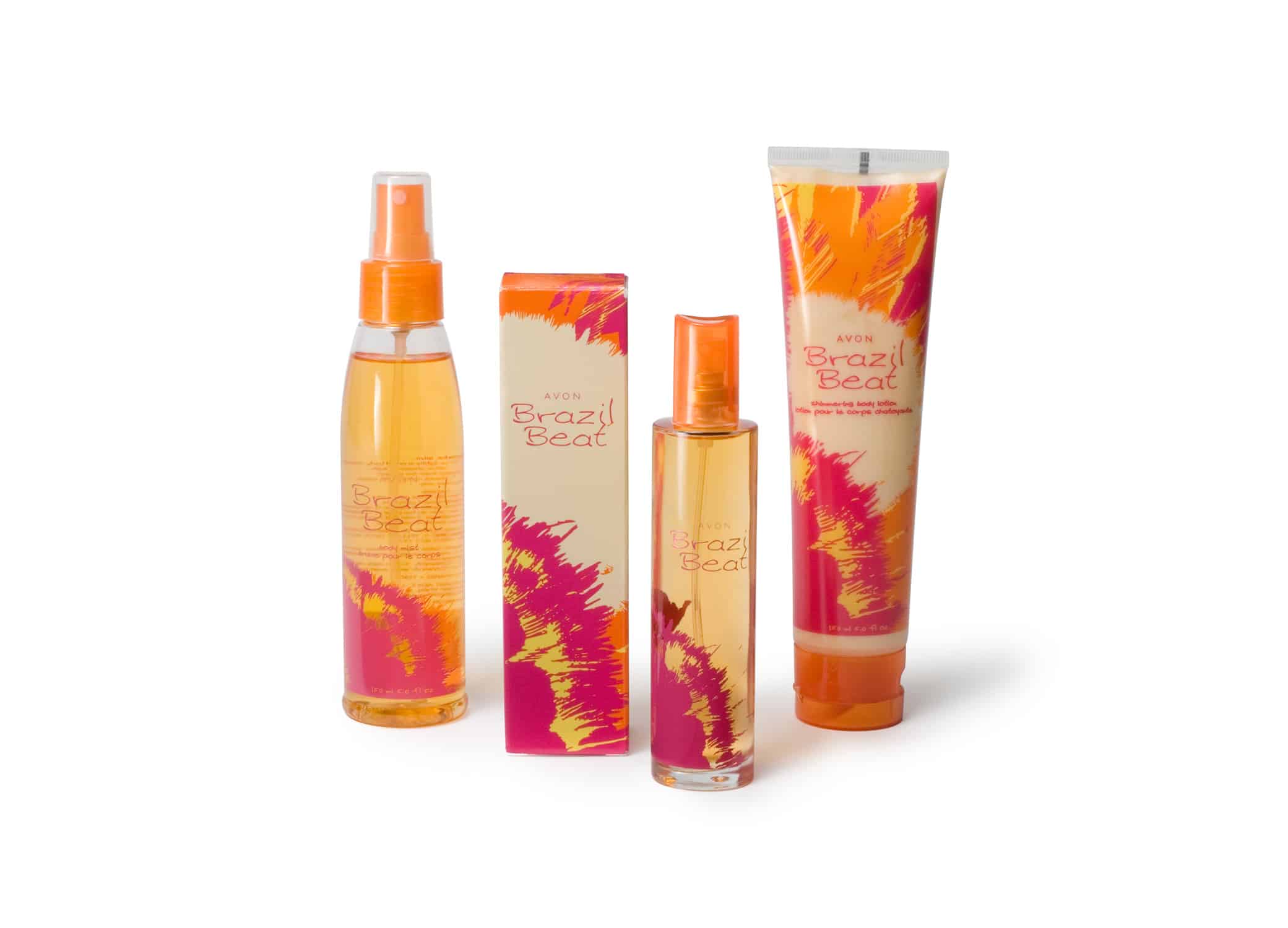 Brazil Beat
Avon Brazil Beat personifies the vibrant essence of Brazil. This new fragrance launch was dedicated to carnival and inspired by Brazilian music. The country in fact gave birth to several unique music genres—bossa nova, samba, sertanejo, and more. Consequently, the new Avon perfume needed creative branding and packaging design that encompassed all these elements.
As part of the Avon design team, I designed and managed the brand identity, package, and product designs for the project. The scent is filled with sparkling fruits, joyful florals, and energetic woods. I wanted to capture and celebrate the spirit and liveliness of Brazilian culture, as well as reflect the fragrance's vitality and charm.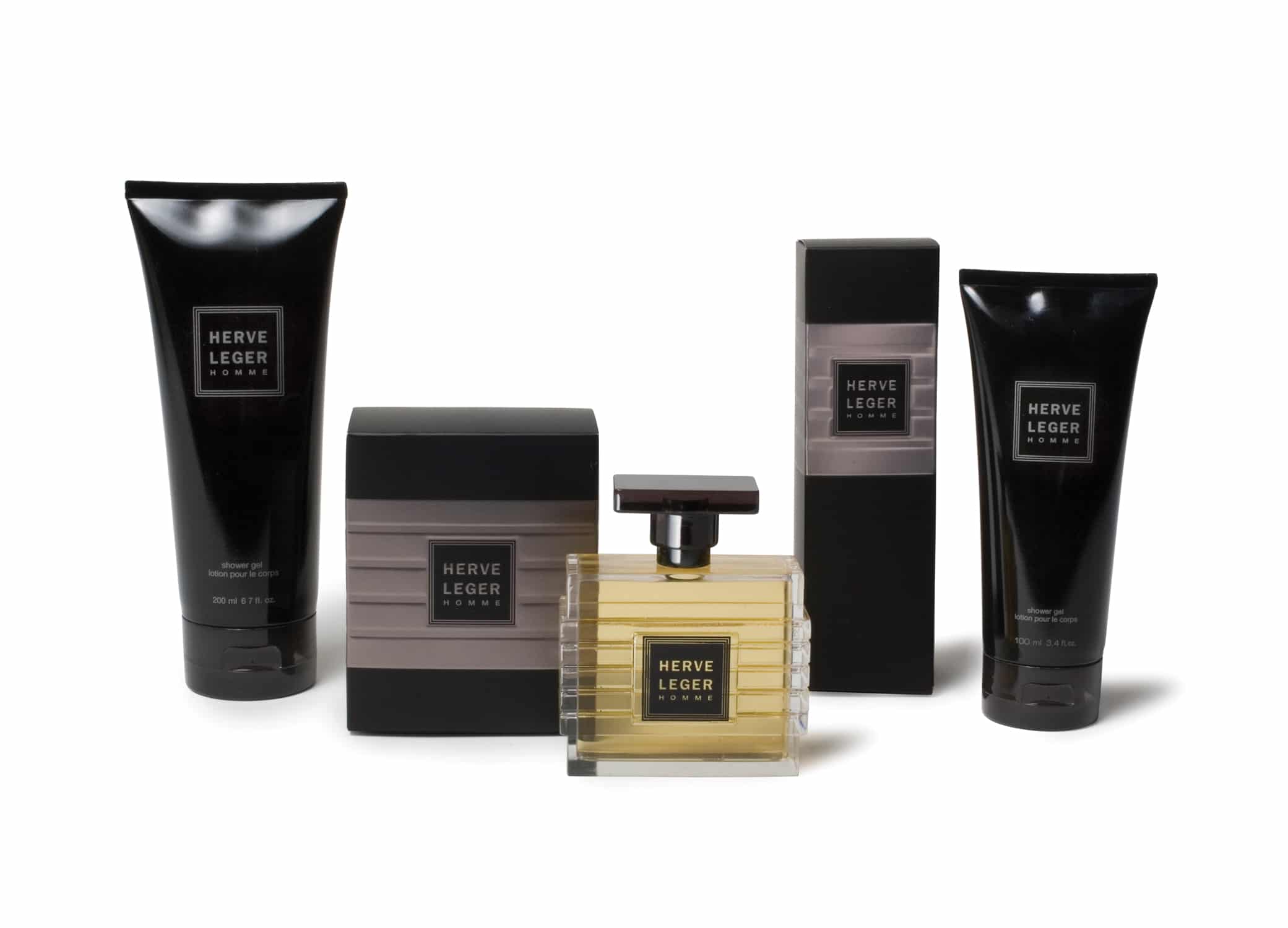 Hervé Léger
Hervé Léger Peugnet founded the French fashion house Hervé Léger in 1985, specializing in draping techniques and innovative materials that highlighted women's figures. His most iconic design is the bandage dress—a powerful and popular feminine style at red carpets around the world. In 2010, Hervé Léger and Avon collaborated to release a new fragrance line. The first two scents were Hervé Léger Homme for men and Hervé Léger Femme for women. As part of the Avon design team, I managed the process for the custom made glass perfume bottles for Hervé Léger and designed the package design.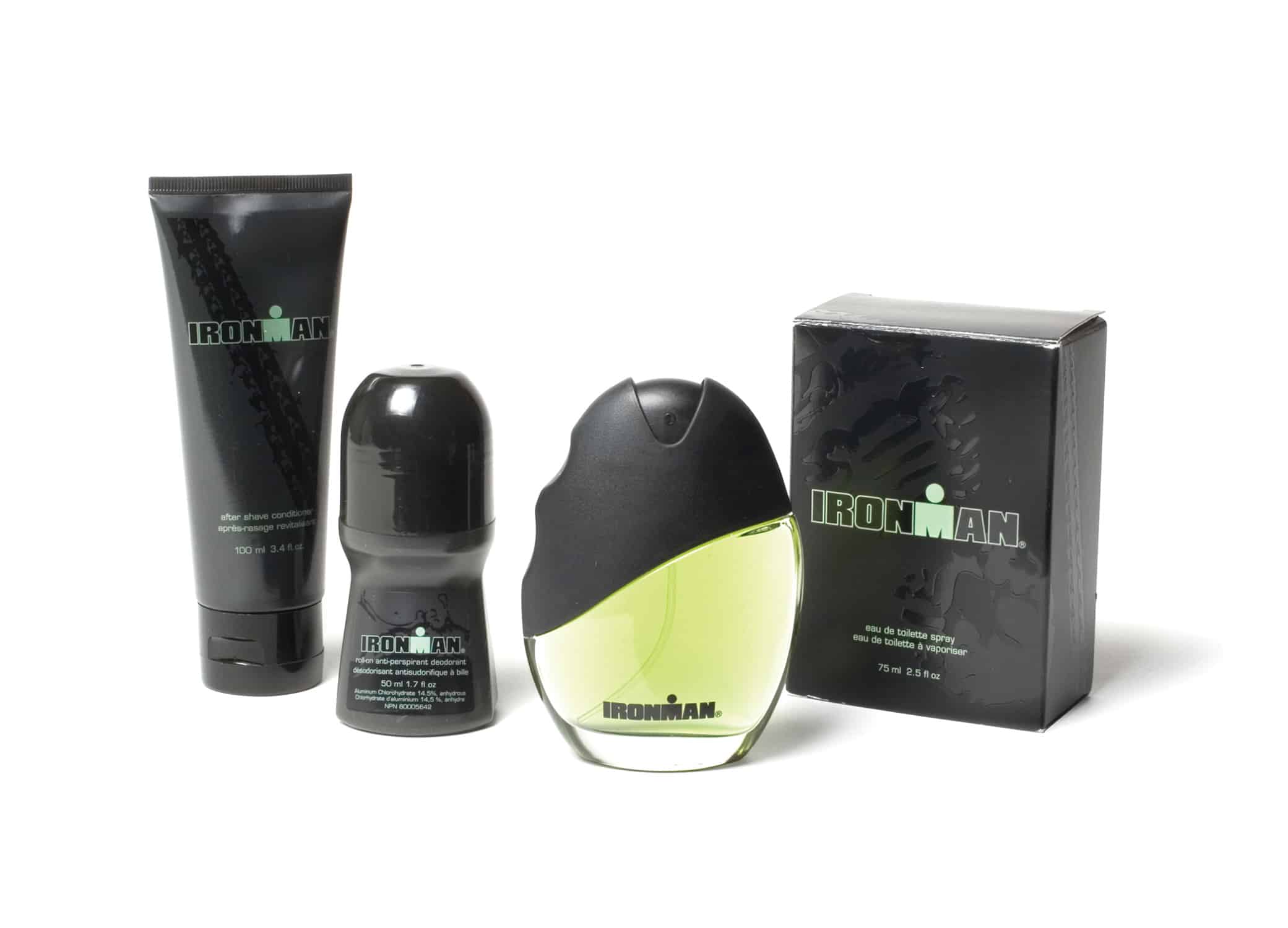 Ironman
Avon launched a new fragrance line in 2008—Ironman. The line drew inspiration from the Ironman Triathlon, a long-distance race including swimming, cycling, and a marathon run. As a matter of fact, the Ironman is one of the most strenuous one-day sporting events in the world. Ironman by Avon is a woody, spicy fragrance for men. The line was created to reflect the intensity, strength, and endurance of the triathlon—a scent for the sporty, athletic man. I managed the packaging and product design for the men's cologne, determined to capture those elements.
Outspoken by Fergie
Avon partnered with Fergie to bring a new fragrance line for daring women. I managed the branding, packaging, and glass bottle design of the new perfume for Fergie. Our goal was to create designs that captured Fergie's unique and vibrant personality, reflected the essence of the fragrance, and aligned with the Avon brand.
Outspoken by Fergie Fragrance—uninhibited, feminine, floral—is for the woman who needs no introduction. With her fearless confidence, true to herself and her beliefs… she is Outspoken. Sexy. Fearless. Unexpected. An outrageously bold expression of iced berry contrasted with ultra-feminine tuberose absolute and racy black leather.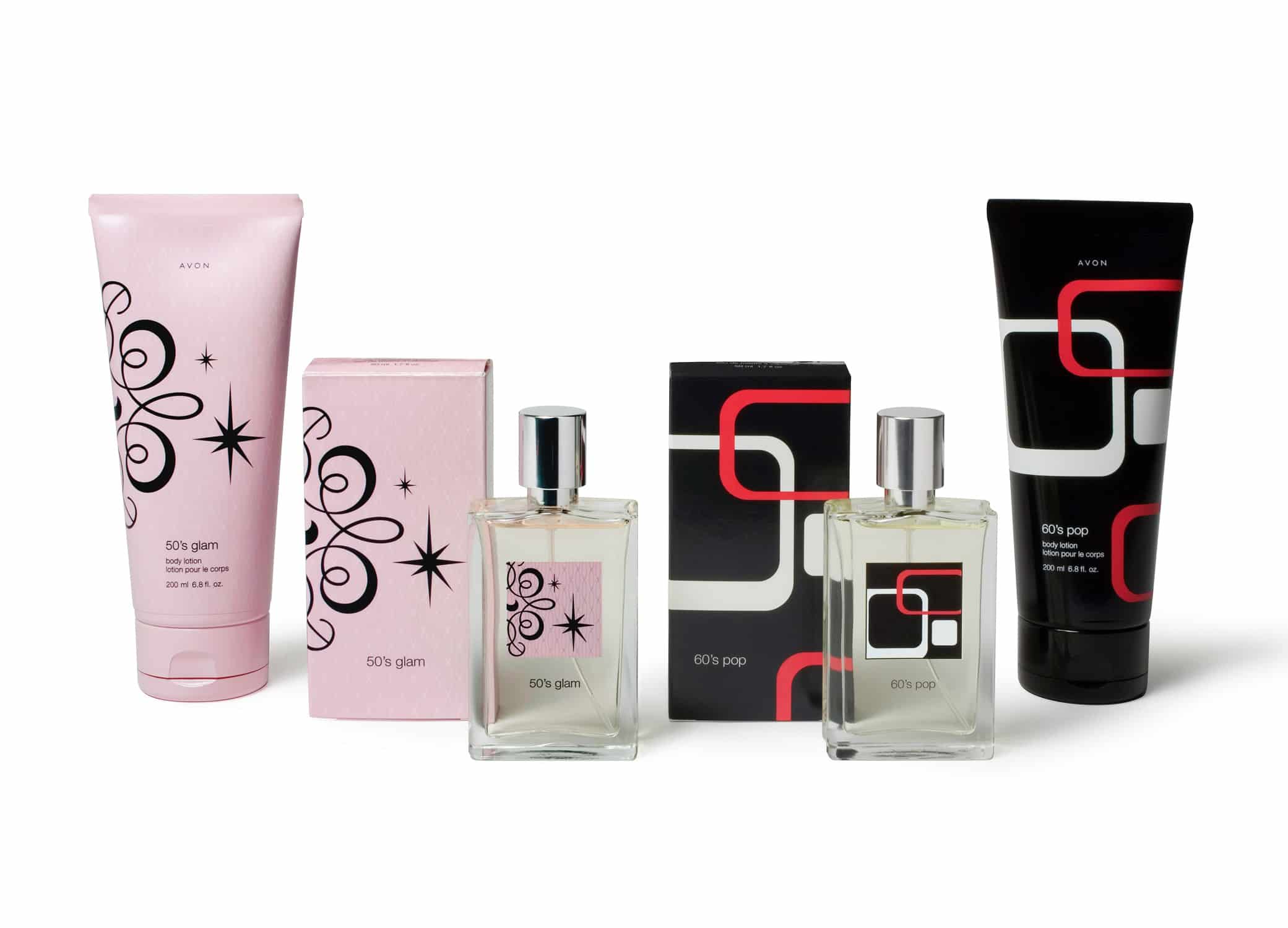 Avon Retro
When Avon launched a retro line for women, they needed packaging and design to help their products pop. The line consisted of two fragrances—50's glam (a floral, sweet, feminine scent inspired by rose, honeysuckle, and fruits), and 60's pop (a bold declaration of peppered plum, violet leaf, and sensual white woods). The packaging design for the retro fragrance had to capture the vintage vibe while appealing to a modern audience.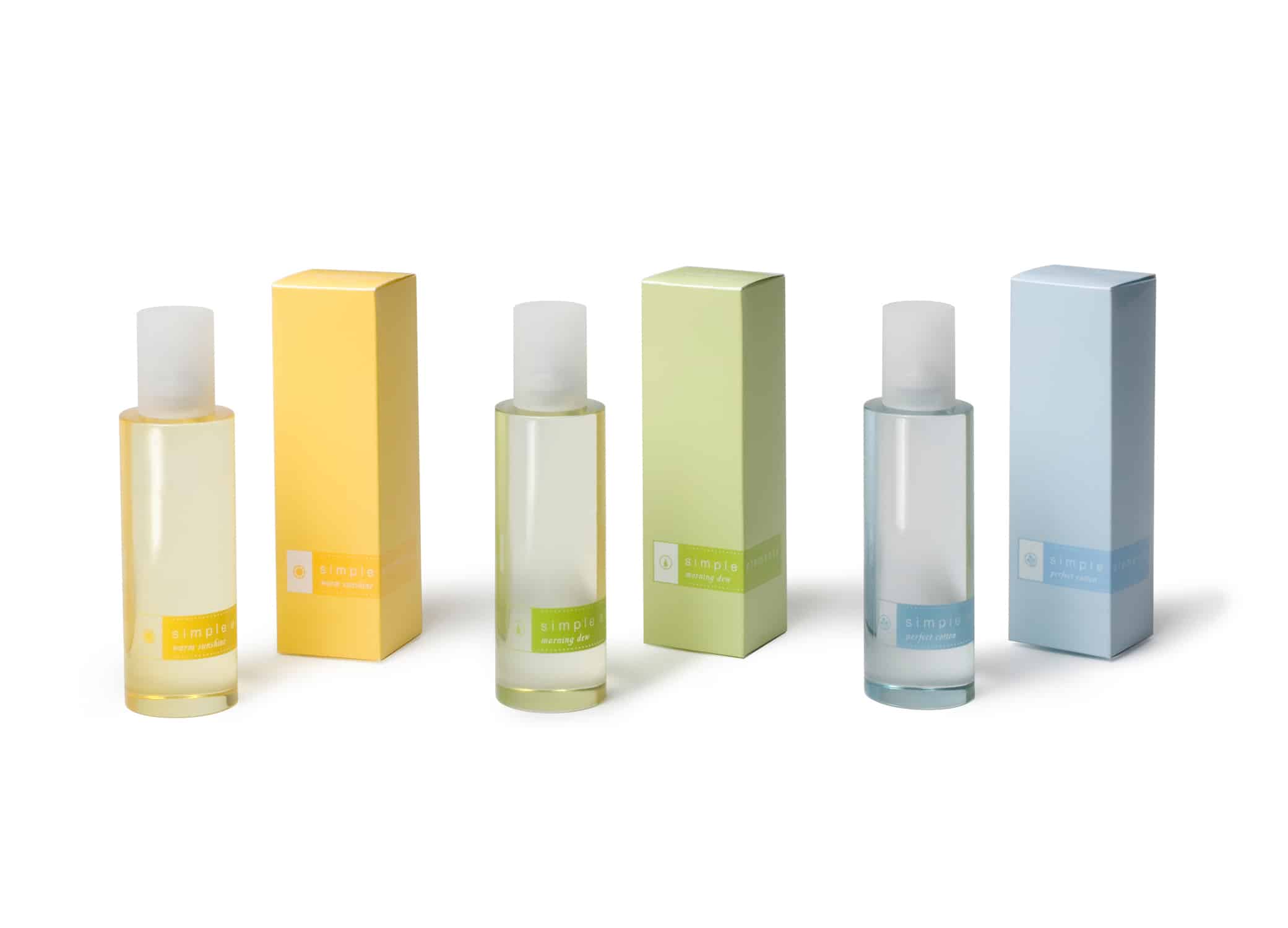 Simple Elements
Avon's Simple Elements fragrance was created to capture the tiny moments around us into the perfect scent. There's beauty in simplicity, and pleasure in the little things. As part of the Avon design team, I managed the design and branding, including the perfume packaging for the cosmetic line. Our goal was to reflect that effortless enjoyment of life's small pleasures.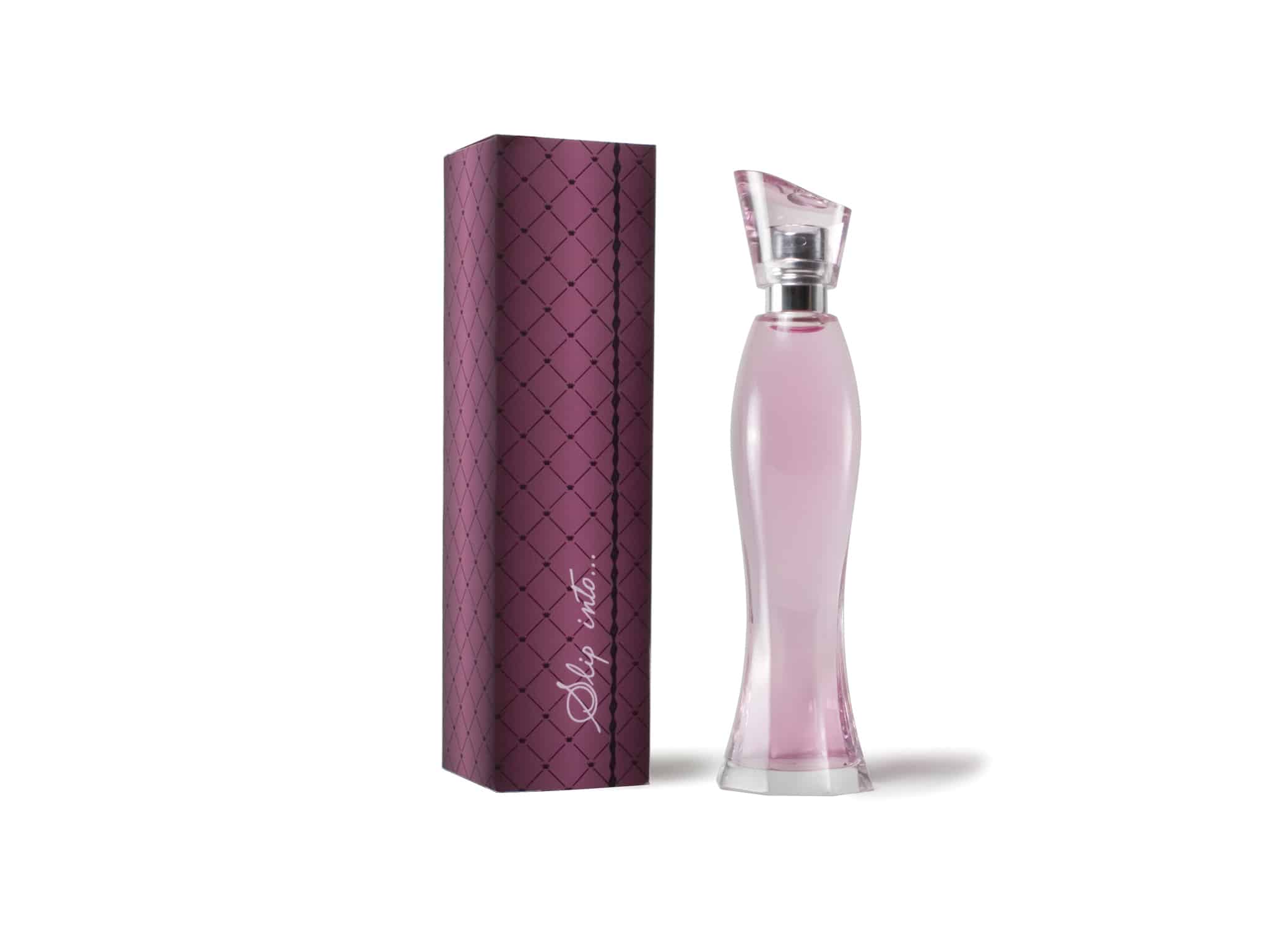 Slip Into
In preparation for its launch, Avon needed branding, packaging, and a bottle design for their feminine fragrance Slip Into. Slip Into is a fragrance that "seeks to capture the transformative power of stepping into a high-heel shoe." It features notes of blackberry, freesia, violet leaf, rosewood, violet, butterfly orchid, cashmeran, sueded orris root, and amber.
I managed the project, designing packaging that reflected that sexy, feminine feeling you get when you put on a fancy dress, get dolled up, and step into the perfect pair of heels.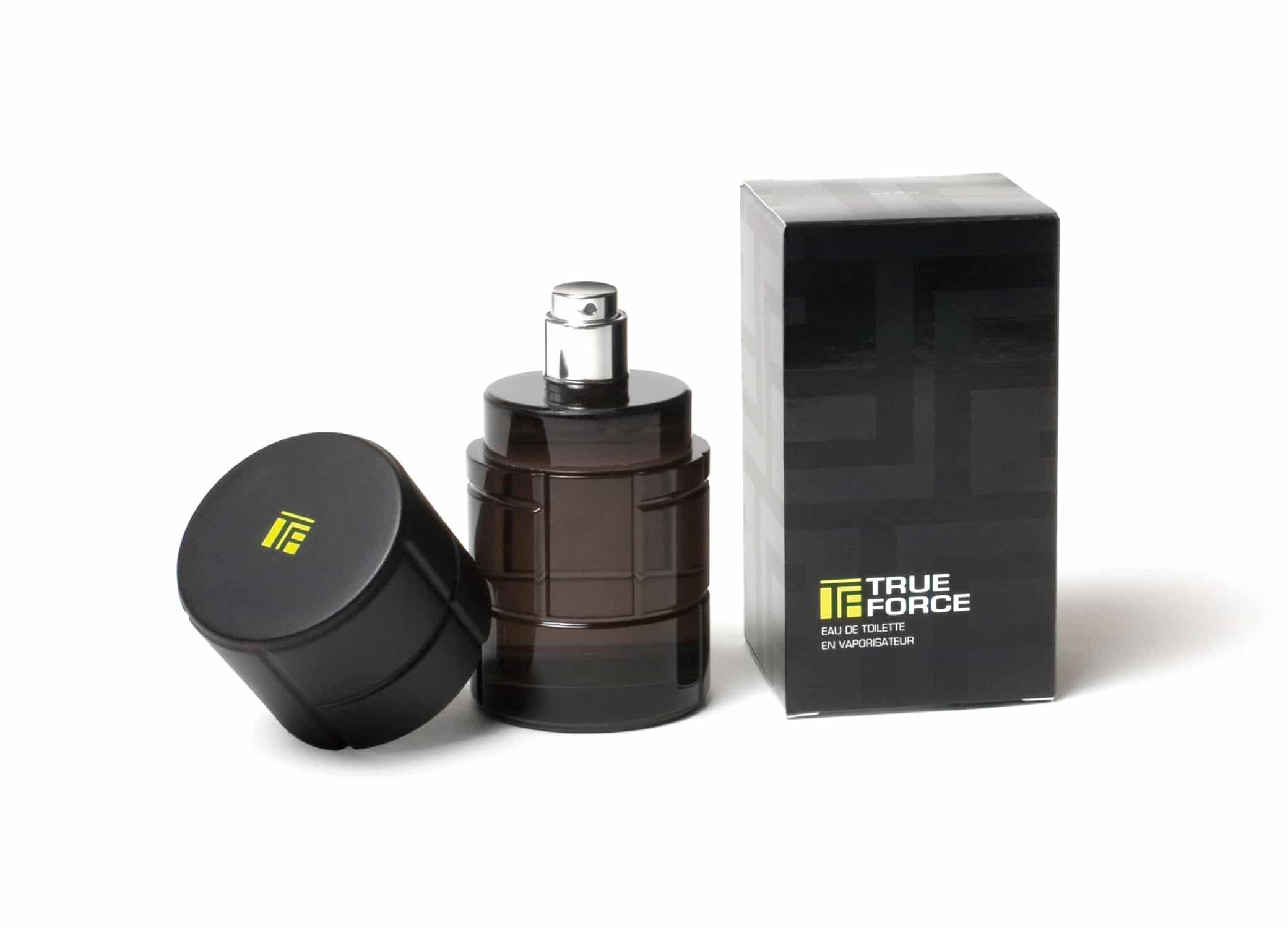 True Force
Avon's True Force fragrance was created for adventurous men who feel connected to the rugged side of life. It contains an invigorating infusion of fresh sage, lavender, raw suede, and warm oakwood. True Force needed a bottle and packaging that resonated with their target audience, something that would appeal to the rustic free spirits who prefer roughing it outdoors to luxury pampering. As part of the Avon design team, I designed and managed the brand identity, packaging, and bottle design for the cologne.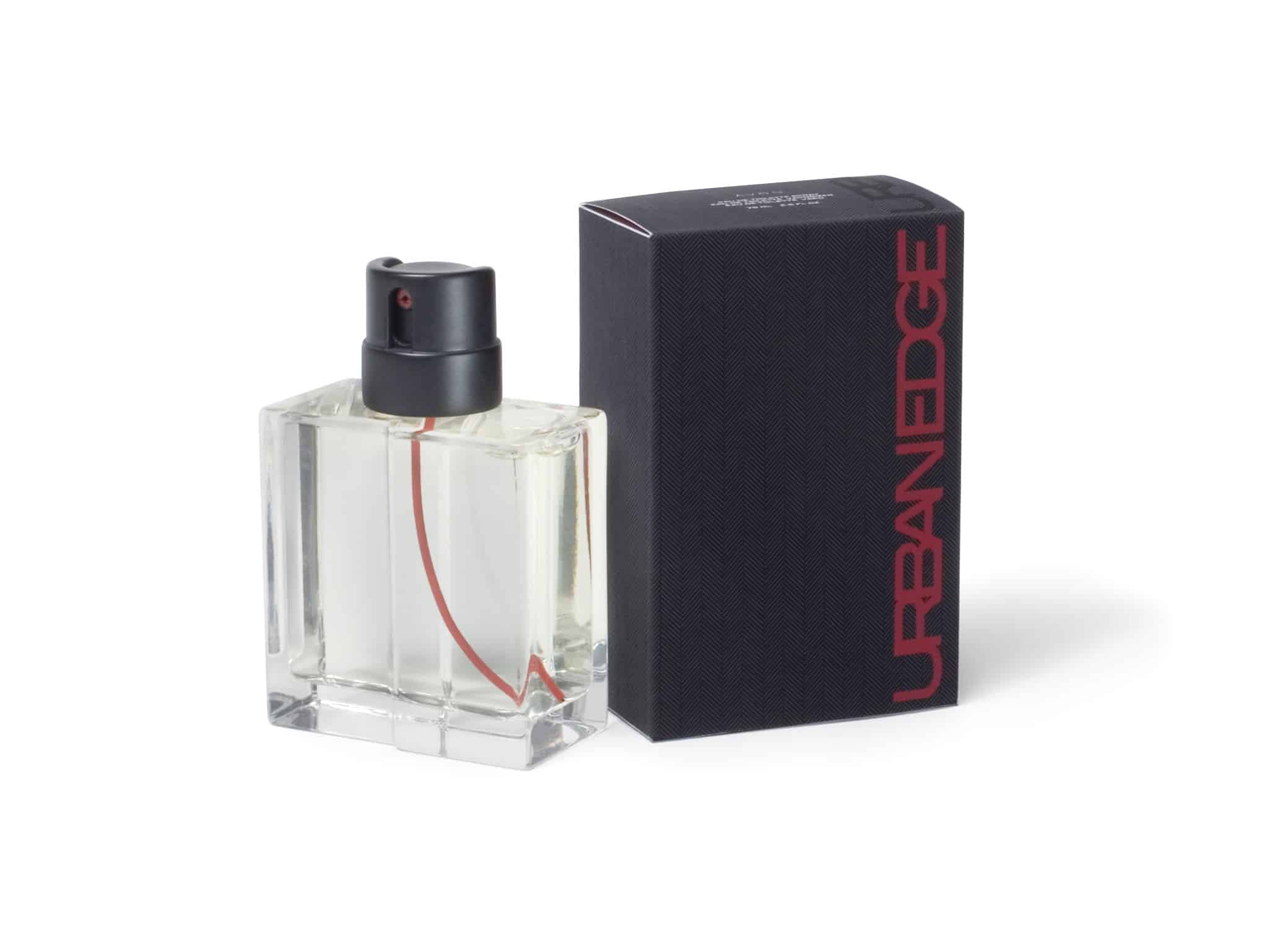 Urban Edge
Avon Urban Edge is a spicy, fresh, masculine fragrance designed for the urban professional. This leather fragrance for men highlights violet, sage, and grass top notes. It has jasmine, patchouli, and nutmeg middle notes with suede, amber, and orris root base notes. As part of the Avon design team, I managed the bottle and contemporary packaging design for the men's fragrance. In this instance, our goal was to create a captivating, metropolitan image.
Expertise we provide
Logo & branding
Package design
Print design
Digital marketing
Nearby Locations Served
Atlantic City, NJ
Montclair, NJ
Boston, MA
Washington, D.C.
We'd love to create packaging design for your New York business!
We build meaningful connections with award-winning logo design. Let us be your creative partner to help your brand thrive.
Ready to grow your business?