A Lively Brand Refresh for a Premium Rosé
Notorious Pink is an award-winning rosé made from the finest 100% Grenache from the South of France. The wine is refreshing and delicious, a premium rosé that anyone can enjoy. We created storyboards and a wine branding strategy for the company. The brand needed a makeover of messaging, imagery, and style surrounding the product. They wanted to primarily target women aged 30-70, especially professional women and housewives, without excluding men from their marketing. The vision for the brand was luxury, entertainment, and liveliness—a rosé to enjoy anytime.
THE PROJECT:
Wine Branding Strategy
AND Brand Refresh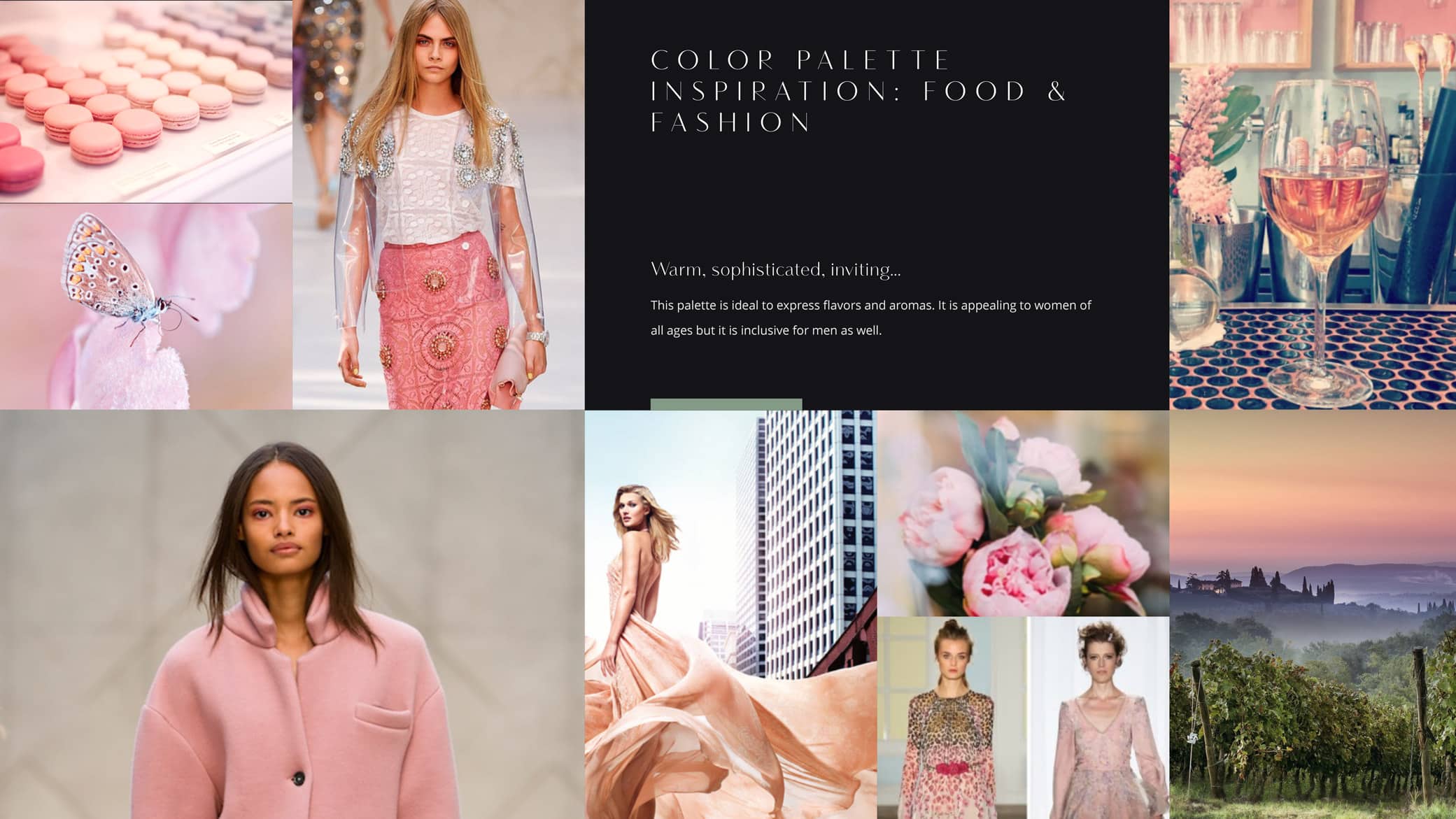 We wanted the brand to capture the essence of living life to the fullest—eating the finest foods, trying new experiences, connecting to friends, family, and fun. We created storyboards that highlighted different brand campaigns and concepts. As part of the wine branding strategy, we established a new color palette, and provided visual inspiration, imagery, and direction.
The color palette is inspired by food, fashion, and flora. We were inspired by delicious pink macarons, high-end designer gowns of pale pink, and the gorgeous shades of flowers and sunsets. The palette is made of warm, rosy tones combined with fruity neutral tones. Pops of dark brown add intensity and intrigue.
We proposed a balanced combination of typography for the new wine branding strategy to create contrast, rhythm, and direction for the Campaigns: Open Sans—a strong sans serif, Vanitas Regular—an elegant sans serif that evokes a Parisian, couture feel, Adobe Garamond—a high-end serif, and Bickham Script—a graceful, stylish script font. The typography weaves together to create layered looks and draw attention.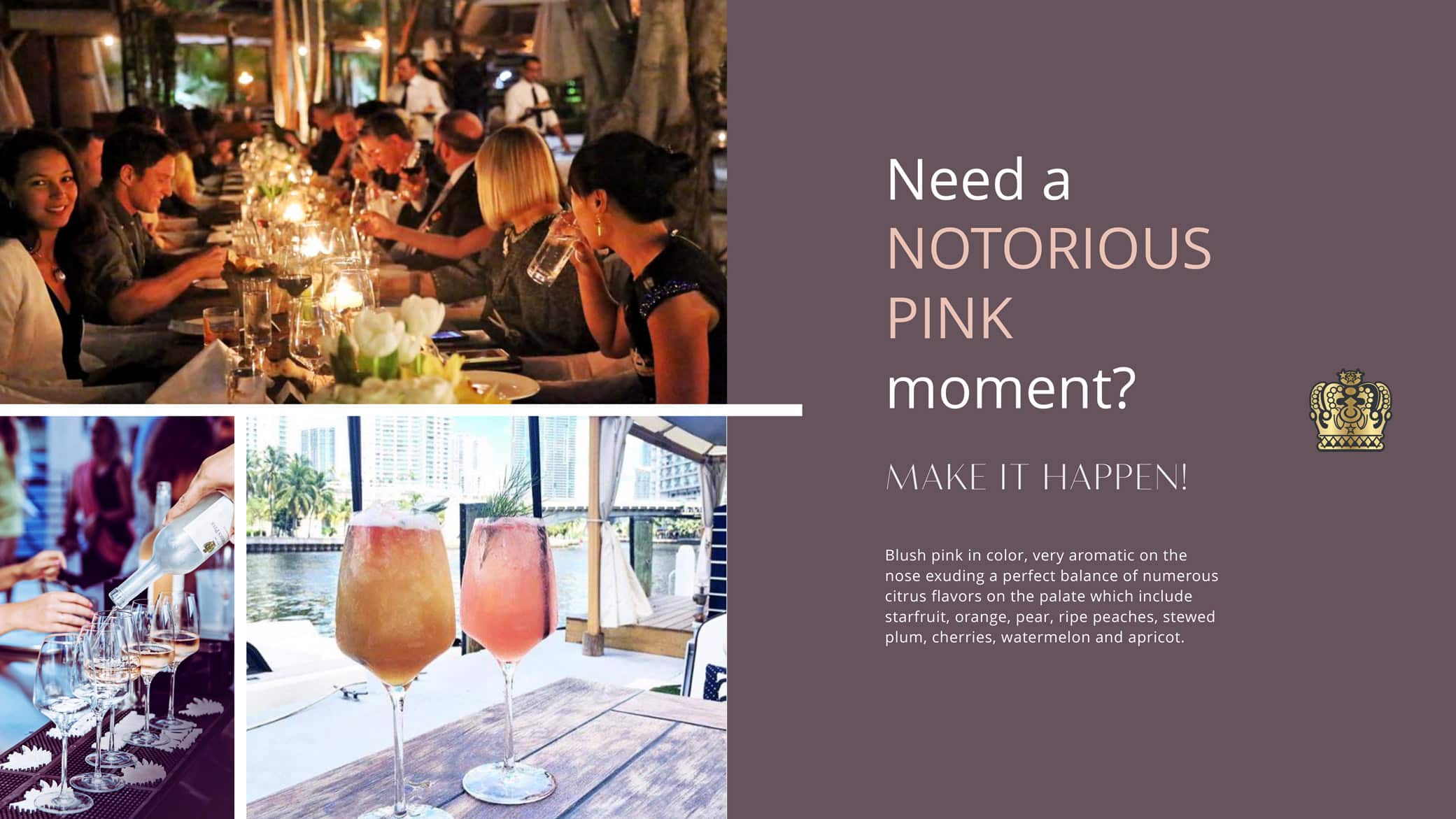 We created three distinct concepts for the refresh. The first was infinite possibilities, a campaign to encourage the consumption of rosé any time throughout the year and to inspire consumers with images of potential events and occasions to drink Notorious Pink, from dinner parties to weddings to romantic date nights—Notorious Pink is an outlet for camaraderie and connection, opening the door to possibility.  
The second concept was Global Brand, designed to position Notorious Pink as a sophisticated global brand to enrich life experiences—Notorious Pink is a sensible luxury that adventurous travelers can enjoy while they travel to exotic locations, wining, dining, and living life to the fullest.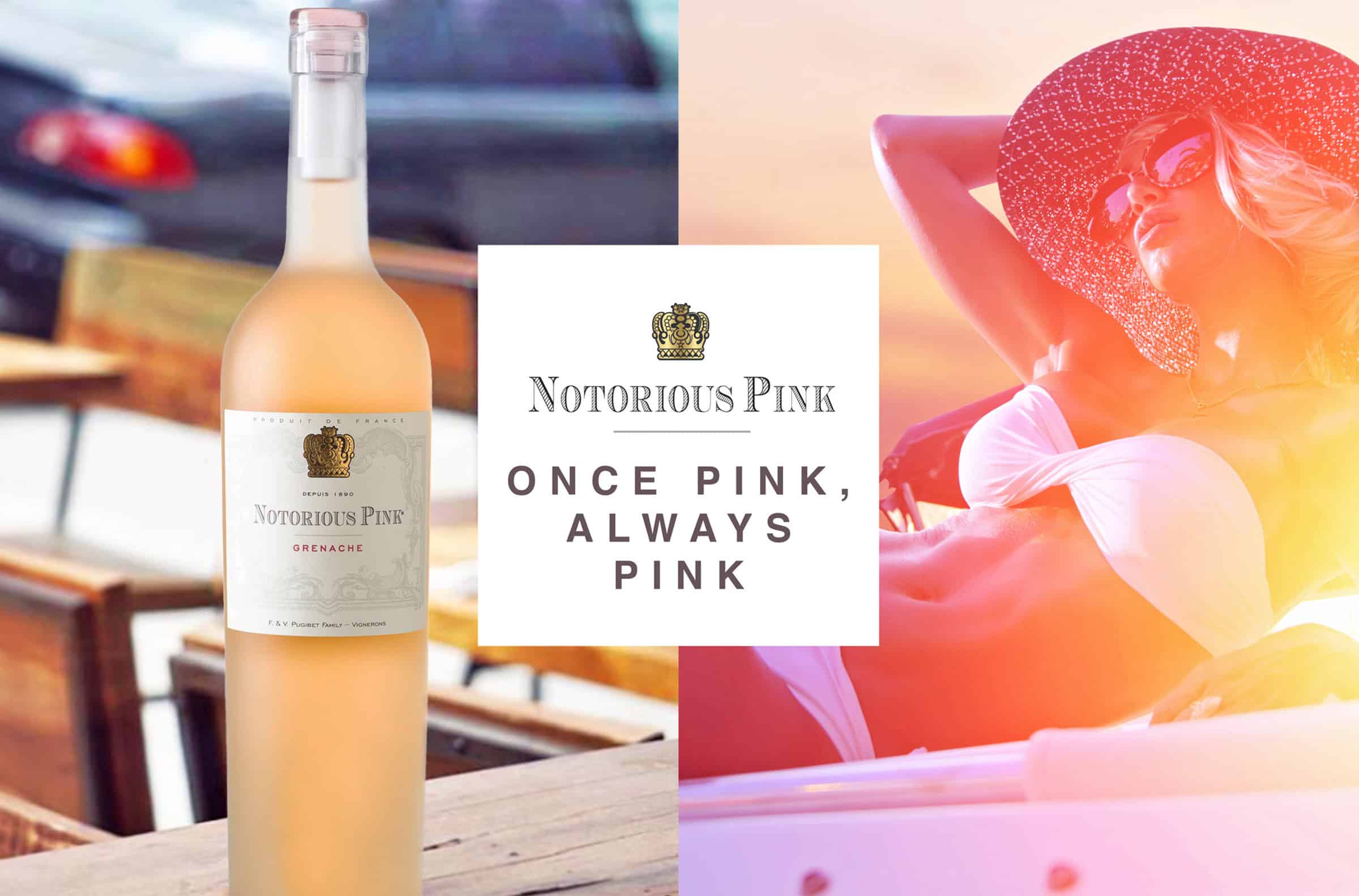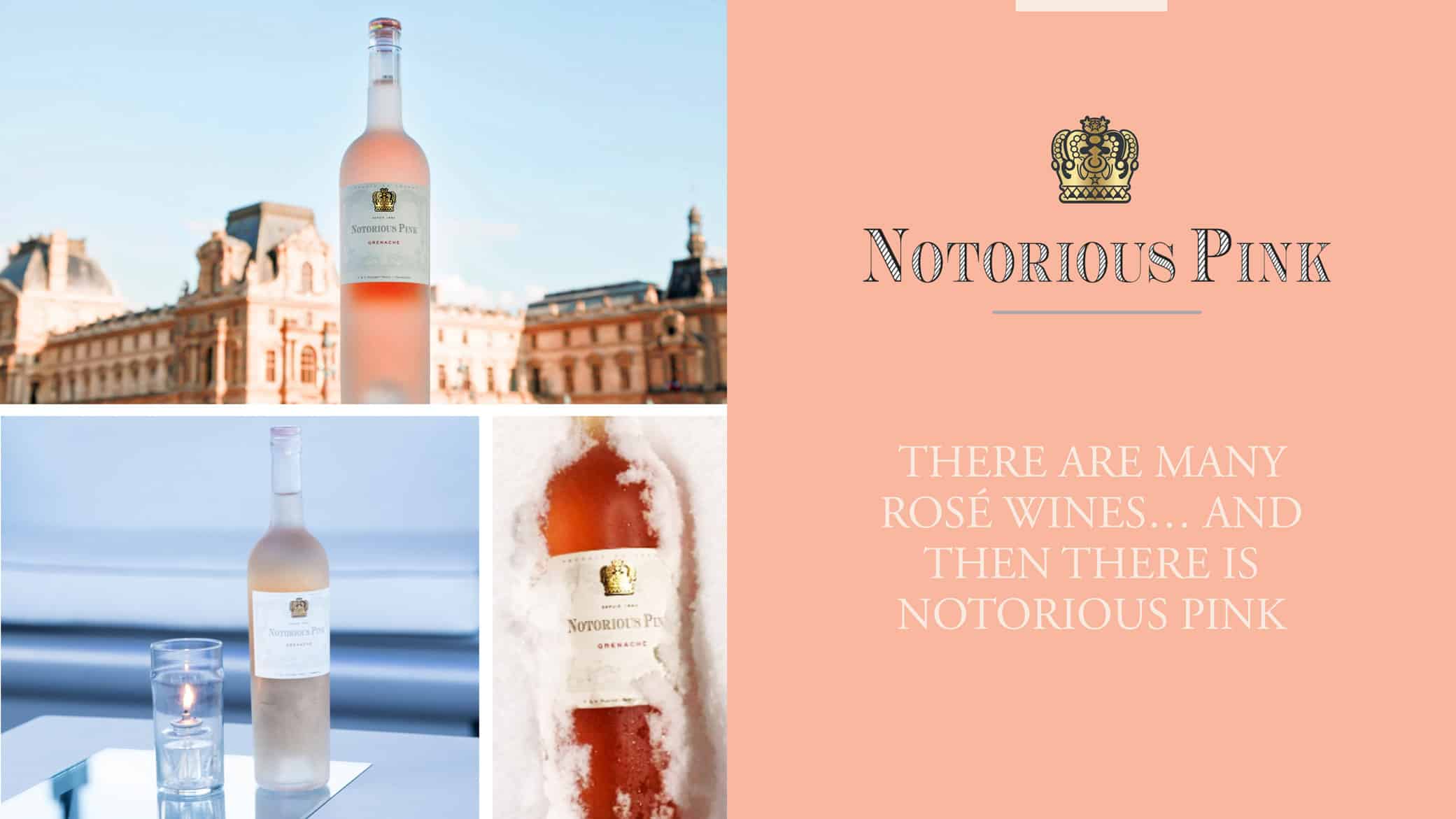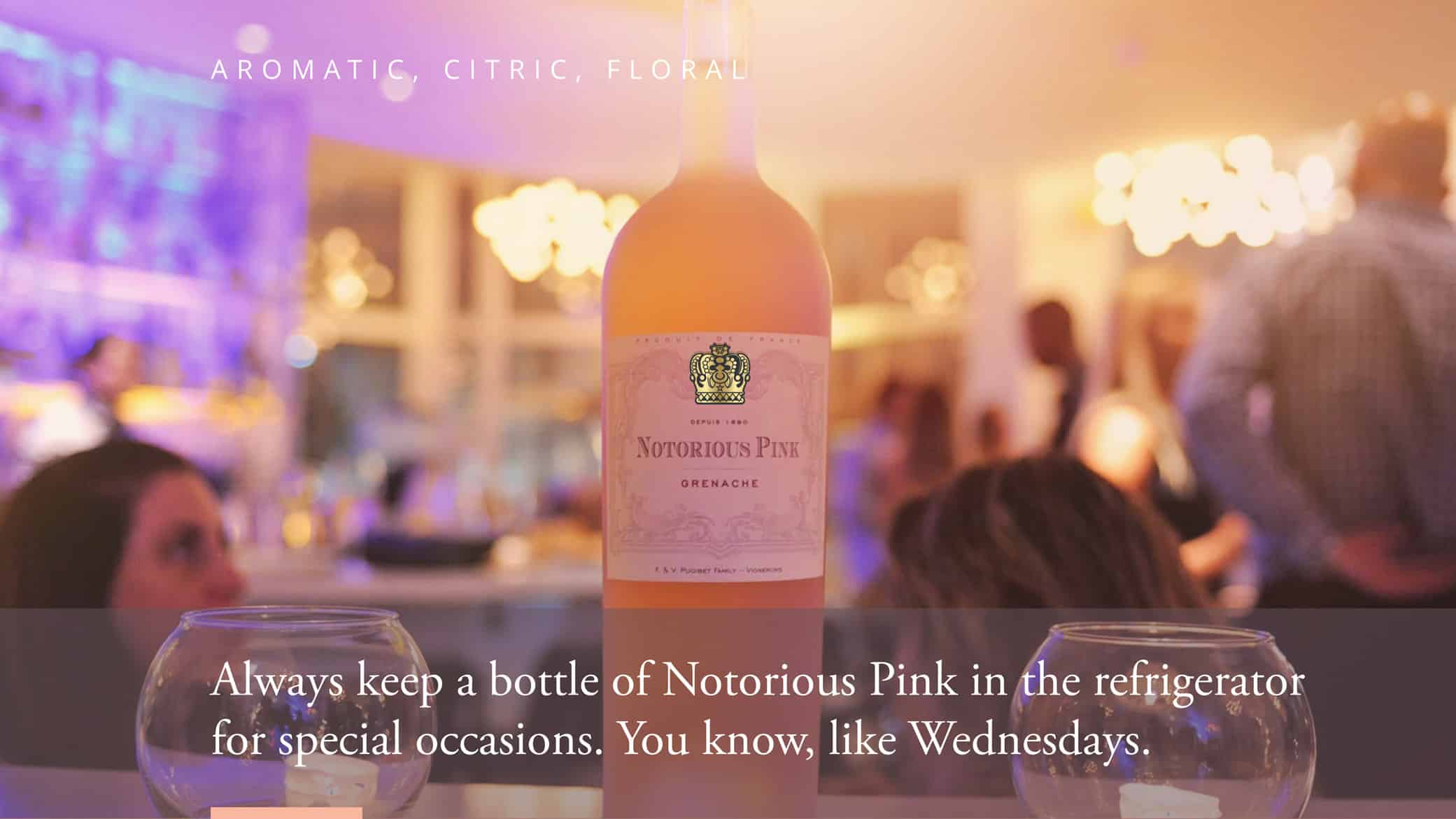 The third concept was Affordable Luxury, Artistic and Fun, a wine branding strategy to reflect the creative ways one can enjoy Notorious Pink, from using it as a base for cocktails during happy hour, to girls (or guys) night out, to family brunch—Notorious Pink is the gateway to a good time. 
Our work on the wine branding strategy for this wine company gave new life to the brand. This uncovered potential campaigns that could reach new audiences and encourage consumers to associate the brand with possibility, camaraderie, and zest for life.