Skin Care Packaging and Website Design Pave the Way for a Beauty Brand Bombshell
Skin Care Packaging and Website Design Pave the Way for a Beauty Brand Bombshell
When entrepreneur and TV personality Marina Dedivanovic decided to launch a skin care brand, she knew she needed premium branding and sophisticated skin care packaging design.  Her brand, Skin Sauvage, is dedicated to empowering women, reinvigorating their youthful glow and instilling confidence as they age. Sauvage means wild in French. The brand is built on the idea that we all have natural beauty, wild and untamed—we just need to keep age and life from covering it up.
Marina wanted to create anti-aging chest and neck pads, foot peels, and exfoliating and resurfacing pads, reducing imperfections and preserving beautiful skin. She came to Crème de Mint for designs that would set Skin Sauvage apart from other skin care brands, establish a sexy and sophisticated brand image, and set the stage for a thriving beauty brand launch. 
The key to any successful brand launch is reaching the right audience. Skin Sauvage wanted to appeal to women who were starting to show signs of aging and wanted to protect their natural beauty.  Crème de Mint envisioned sleek, sexy designs for the brand that evoked confidence, strength, and fierceness.
The Mood Boards
and Brand Presentation:
Creating the Vision
Crème de Mint wanted to ensure that every element of the brand was cohesive, laying the groundwork for the brand to grow.
They created mood boards that presented visual possibilities for the brand vision and elements. Inspiration for the brand included a warm and bold concept, a clean and clinical approach that reflected the products' effectiveness, and a youthful glow concept.
MOOD BOARD CONCEPT: UNTAMED
MOOD BOARD CONCEPT: CLEAN AND PURE
MOOD BOARD CONCEPT: REJUVENATIVE
FINAL CONCEPT: WILD WONDER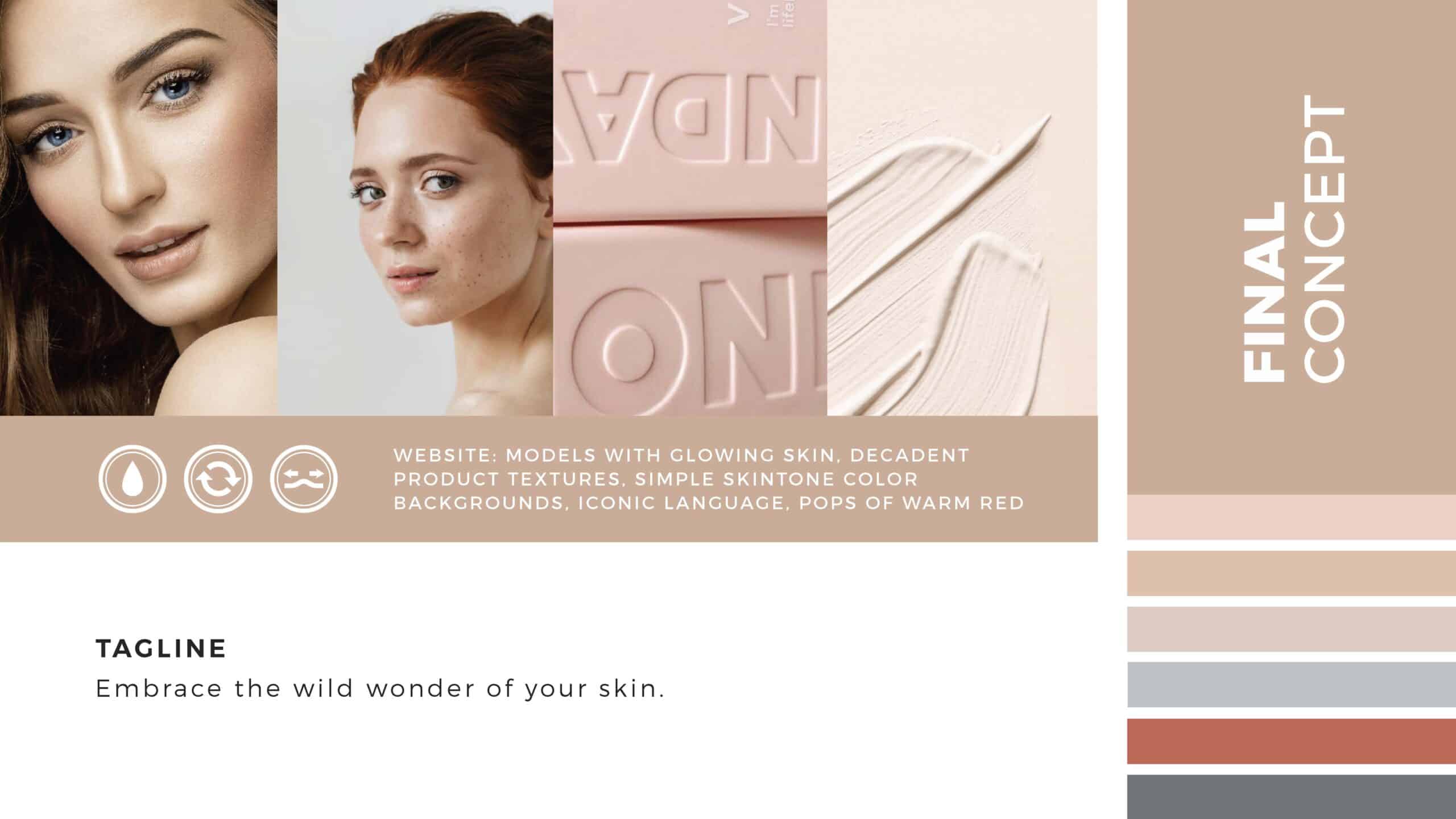 Crème de Mint designed a brand presentation that aligned the branding elements with the inspiration—sexy skin and wild, untamed beauty. This presentation weaved the branding elements together to create a cohesive brand image—one of youthful, natural beauty and achievable sultry skin.
Skin Care Packaging
for a Bold Brand
Crème de Mint did not want mundane skin care packaging for Skin Sauvage. Some brands that cater to the same age range offer similar products that are low-quality—they don't evoke trust from the audience. Skin Sauvage offers premium, high-quality products—and they needed packaging that communicated that.  Skin Sauvage also had an opportunity for celebrity appeal—utilizing Marina's presence.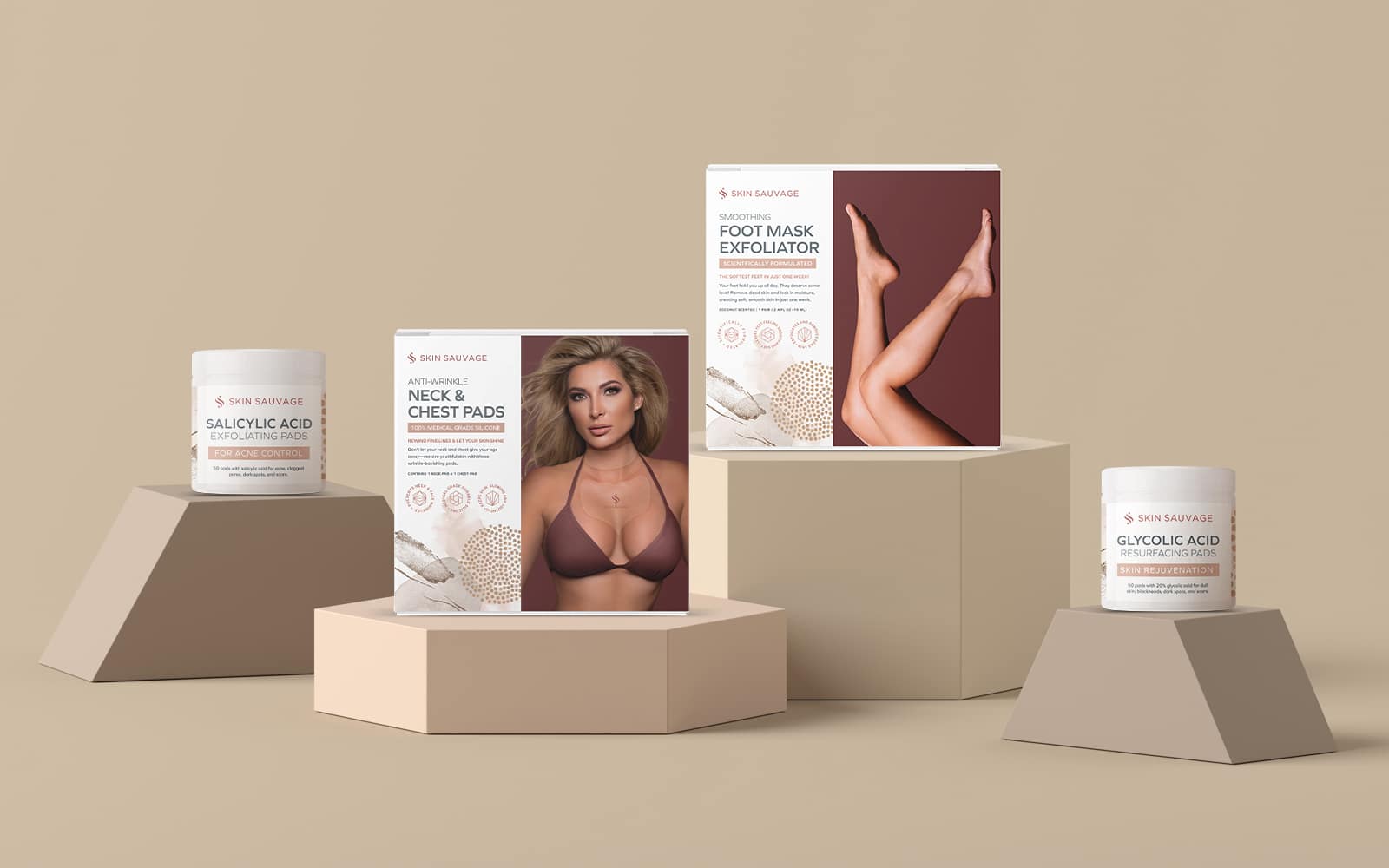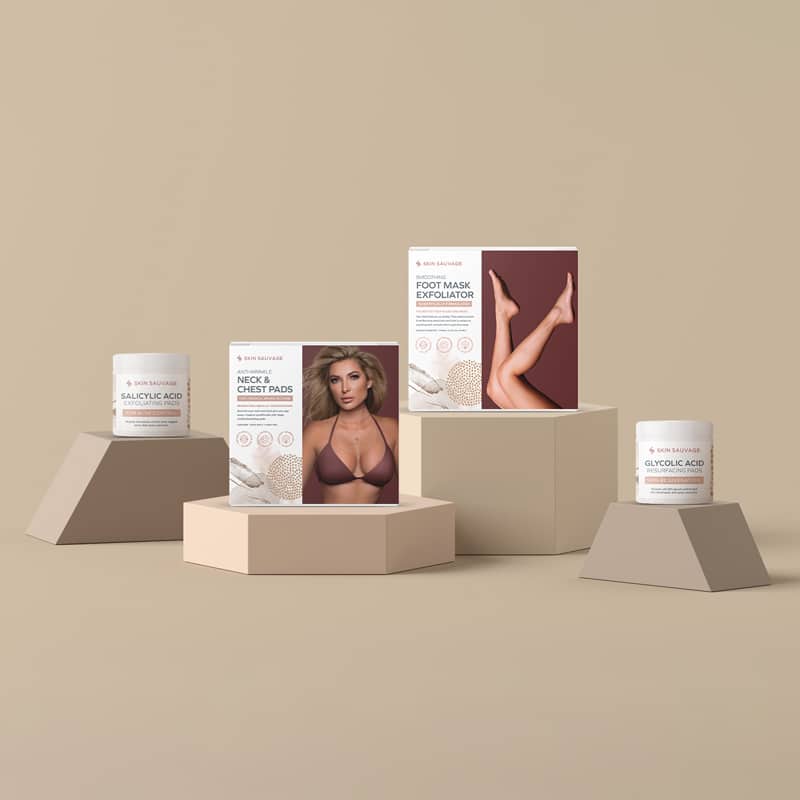 Crème de Mint's skin care packaging design created a sensual, empowering feel. The photos of glowing skin showcase the audience's desired outcome—sexy confidence, smooth skin, and untamed beauty. 
The packaging is clean but creative, with watercolor illustrations that add levels of visual interest. The designs feel luxurious, indulgent, and magnetic, symbolizing self-care, richness, and individuality. Minimalistic icons convey the special features of the products.
Crème de Mint also wrote packaging copy that captured the brand's essence and painted a picture of beauty and romance. Phrases include "rewind fine lines and let your skin shine," "regenerate youthful glow," and "take control of your skin," reflecting the empowering side of beauty. This messaging tells the audience that they deserve luxurious skin, and they can achieve it with Skin Sauvage.
Clean Typography on the Skin Care Packaging Invites the Audience In
Sleek sans-serif fonts reinforce the clean, sophisticated brand image. The monogrammed "S" icon draws the eye, while color blocks let important features pop.
Warm, Glowing Skin Tones
Connect With the Audience
The color palette full of rosy neutrals draws inspiration from rich skin tones, while the mauve symbolizes natural beauty and femininity.  These colors inspire thoughts of flawless, beautiful, sultry skin—the desire of the target audience. Crème de Mint collaborated with the brand's photographer to apply these colors, retouching the images to convey an elegant atmosphere.
A Tagline Reflects the Brand Identity
Crème de Mint also created the tagline, "Embrace the Wild Wonder of Youth," symbolizing the brand's desire to empower women and unleash natural beauty and glow. The tagline was inspired by the brand name, reflecting wild, untamed fierceness.
The Website Design
Complements the Luxurious
Skin Care Packaging
Skin Sauvage's website needed to serve as a place where the audience could learn about Marina and begin to form a relationship with the brand. Crème de Mint designed an inviting website to educate customers, communicate the brand story, and encourage the audience to purchase the products.
The hero images feature natural beauty and flawless skin, showing that Skin Sauvage can preserve a youthful glow and allow women to be the best version of themselves, free from barriers like acne, wrinkles, and imperfections.
The website features the story of Marina and her journey to launching her brand. This allows prospective customers to connect to the brand and see themselves in Marina's story. The website is clean, upscale, and premium, while also educating and engaging with the audience. It teaches the consumer about each product, shows them the benefits, and encourages them to purchase from Skin Sauvage and find their perfect skin care solution.
Social Media Designs
Reflect the Brand's Mission
Skin Sauvage needed to launch with a bang, rounding out a strong online presence and building a loyal following.  Crème de Mint created a powerful social media branding kit for Skin Sauvage. Branded social media images provide consistency and recognizability for a new brand. 
The social media branding kit centered around six themes—influencer reviews, product reviews, lifestyle images featuring products, product benefits, inspiring posts, and product launches. The images and copy reflect those themes, hooking the audience, educating them about the products and their benefits, and encouraging engagement, interaction, and trust.
Engaging Email Marketing
Builds Trust and Connection
As they launched, Skin Sauvage wanted a way to form an emotional connection with their audience and encourage their subscribers to buy their products.   Crème de Mint wrote and designed an engaging welcome sequence that shared the brand story, painted the picture of the product benefits, and offered incentives to make a first purchase.
Crème de Mint's designs paved the way for Skin Sauvage to launch with a bang, positioning themselves as a sleek, sexy, skin care solution.  The elevated skin care packaging and branding are striking and inviting, while the website, social media, and email marketing build relationships with the audience and allow them to envision the untamed, wild beauty that awaits them. Together, the designs created a strong brand, ready to thrive in the beauty world.