A Throwback Twist from a Popular Beauty Brand
When Avon launched a retro line for women, they needed retro modern packaging design to help their products pop. The line consisted of two fragrances—50's glam (a floral, sweet, feminine scent inspired by rose, honeysuckle, and fruits), and 60's pop (a bold declaration of peppered plum, violet leaf, and sensual white woods). The retro modern packaging design for fragrance had to capture the vintage vibe while appealing to a modern audience. 
THE PROJECT:
Retro Modern Packaging
Design for Avon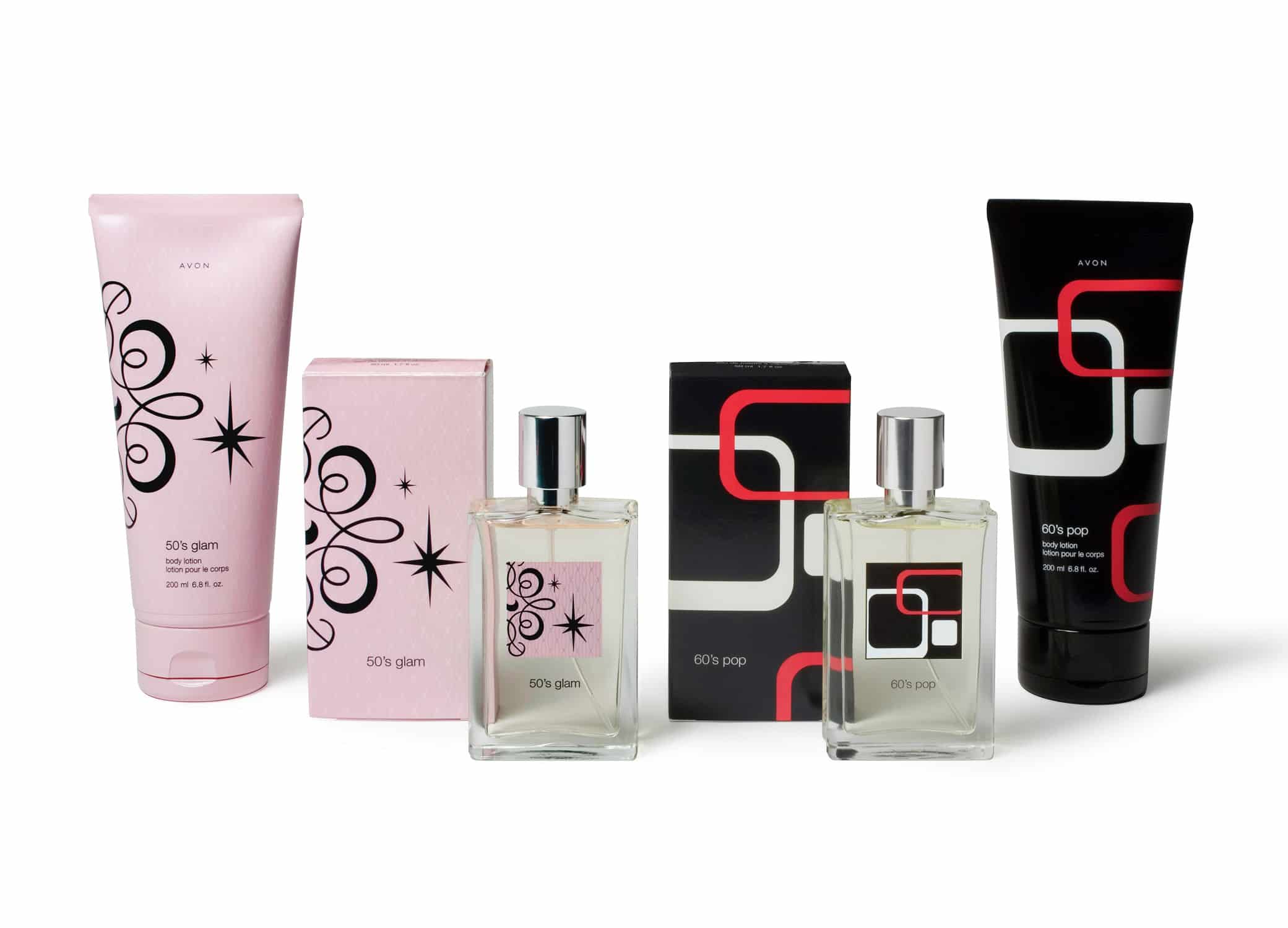 I managed the bottle design, chose the scent color, and created retro modern packaging design. For the 50's glam line, I wanted to capture femininity, fun, and charm—I Love Lucy, Bewitched, the Pink Ladies. We chose a feminine pastel pink with black for the color palette. We incorporated a glamorous design of floral swirls and stars, a retro vibe of free-spirited fun. 
The 60's pop line needed to sizzle. I wanted to capture the Twiggy mod vibe. We fused red, white, and black together in a palette that popped visually and represented boldness, exploration, and experimentation. The pattern on the packaging was inspired by the retro, geometric 60's style. 
We designed clean, simple bottle and package styles with a minimalist and unassuming typeface, letting the patterns and logos maintain the focus on the retro modern packaging design. 
As a result, the designs for the retro line were fun and inviting, a glamorous throwback to the 50's and 60's. The retro modern packaging design appealed to a young demographic fascinated with all things vintage.
Great aesthetic, highly creative packaging – always delivers and is a pleasure to work with.
— Patricia Demnisky-Green, Director of Global Package Design, Avon Products