A Retail Launch for an Infomercial Success
Leigh Valentine is a former Miss Missouri winner and well-known model who has also served as a national beauty consultant for Revlon, Estée Lauder, and Lancôme. She launched her own thriving beauty brand, Leigh Valentine Beauty. The line included the innovative anti-aging products Non-Surgical Facelift Kit and Firm and Lift Face & Eye Serum. These products were originally sold through infomercials on the QVC network. When she expanded her line into retail, she needed a brochure and updated luxury cosmetic packaging design for her skincare line. She also needed a display kit that generated excitement and positioned her products as "can't-miss" items.
The Project:
Luxury Cosmetic Packaging
Design for Leigh Valentine
We wanted to capture the energy that Leigh exudes and leverage her celebrity appeal on the luxury cosmeticpackaging design. We designed the new box for the Firm & Lift Face & Eye Serum with a captivating and inviting image of Leigh. The green band at the bottom pops, drawing the eye to the name and description of the product. The vertical "Leigh Valentine" in a shadow typography provides a touch of class and elegance that matches the brand.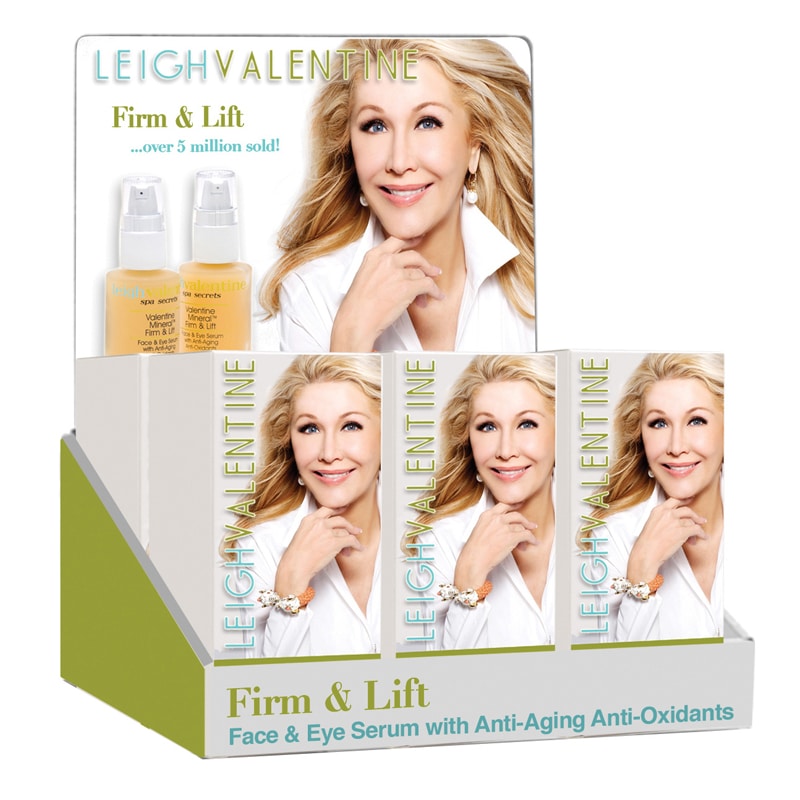 The counter display is designed to promote Leigh and her brand, leveraging her engaging photo and encouraging consumers to pick up the box and learn more. The images of the serum itself offer an added visual interest and give insight into what's inside the box. 
The image of Leigh remains the focus in the brochure, drawing people in with a familiar, friendly face. The green and turquoise font over the light gray background pop, ensuring that the reader receives the message about the launch into retail stores. 
The brochure also contains images of the counter display, the packaging, and the product itself. It's visually appealing and gives the reader a frame of reference when visiting stores to look for the product. 
The updated luxury cosmetic packaging design generated interest and helped create buzz around the launch of the products into retail stores, appealing both to tried-and-true fans of the brand, and new customers interested in anti-aging solutions. 
I have had the pleasure to work with Crème de Mint on several projects this past year. They bring a fresh, professional and creative approach. I highly recommend Crème de Mint for all your graphic designs and needs.