Mocktails are making a splash in the beverage scene in the US and beyond. These non-alcoholic drinks aren't your mother's Shirley Temple. They are a blend of herbs, spices, fruit, and more, designed to be a bar menu chic yet sober-friendly addition to the $48.4 billion US functional beverage market. And a sizable part of their allure is trendy mocktail packaging, from sleek aluminum wrapped in color and graphics, to artistic glass.
Working with a design team like Crème de Mint can help your mocktail edge out the competition while keeping the personality of your company and your beverage front and center. But before you go all in on a mocktail packaging design, you will want to ask yourself which type of packaging materials are best for your intended market.
Glass and cans, specifically, have pros and cons when it comes to labeling and distribution. A closer look at these finer points can help you narrow your options so you can get to market faster.
Should You Go with Glass Bottles or Aluminum Cans?
Both glass and aluminum are environmentally sustainable materials that consumers are looking for in today's functional beverage market. Aluminum is nicknamed the "green metal" because it can be infinitely recycled for industrial use. It is also easily transported, making it a nice choice for ready-made drinks on the go. Glass has a more refined appearance and can be easily refilled and reused to reduce production costs.
But aluminum and glass aren't perfect. Aluminum cans take more energy to produce than glass bottles. And while glass is well insulated, it is heavy and breakable – both drawbacks when it comes to transport.
You will want to consider these aspects as you explore whether to use glass bottles or aluminum cans for your mocktail packaging.
Aluminum
Pros
Aluminum is more readily recycled than glass. Today's aluminum cans contain 68 percent recycled content compared to about 20-30 percent recycled content in glass bottles. That puts aluminum cans further on the path to 100 percent sustainability.
Aluminum also costs less to transport than glass. Aluminum cans both weigh less and are more compact than glass bottles, making them easier and lighter to transport and store. Cans also save money because they don't require extra packaging to prevent breakage.
Another great thing about aluminum is that it is a natural light barrier. Exposure to light can break down your mocktail product. Keeping light out means a fresher product in the end.
Cons
Aluminum cans have not reached 100 percent sustainability. At 68 percent recycled content, aluminum can manufacturers haven't met the 100 percent recycled content required for full sustainability. Raw materials (especially bauxite, or aluminum ore) are currently mined, crushed, and heated to make aluminum cans. That uses a lot of energy – almost double what is required to manufacture a glass bottle.
Additionally, aluminum cans are not reusable. Used cans must be sent to a recycling plant and repackaged before they are ready for market. Glass bottles are not only refillable but use less energy to manufacture than cans.
Sourcing issues are also a concern. Slowed production of aluminum in China specifically has cut back supply internationally, at least in the short term.
Glass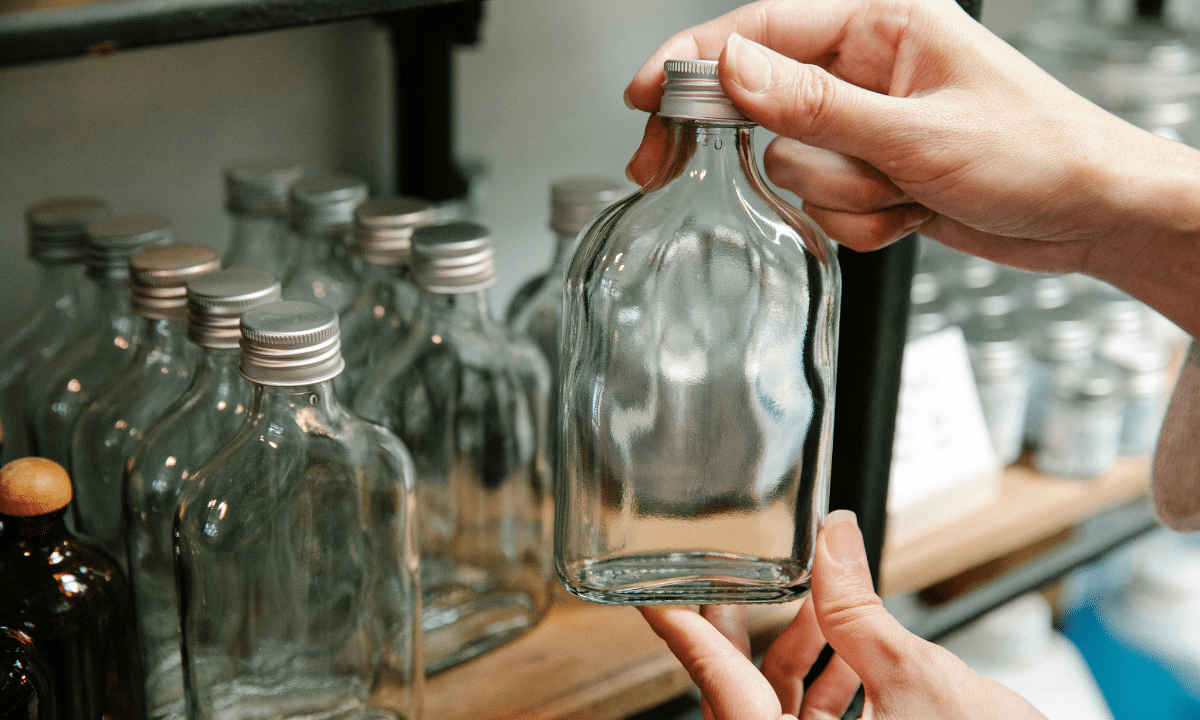 Pros
Glass uses less energy to produce than aluminum cans. It takes around 14,000-kilowatt hours to produce a metric ton of aluminum compared to 42 kilowatt hours to produce a metric ton of glass bottles. For comparison's sake, the average American home consumes around 10,800-kilowatt hours a year.
Additionally, glass is 100 percent refillable and reusable, with empty bottles able to be refilled and back on the shelf in as little as one month. That's something that aluminum can manufacturers don't have in their favor.
What's more, glass can be molded into eye-catching shapes for mocktail packaging that reads luxury. This is an advantage for brands geared toward a high-end bar menu. The A-line shape of St. Agrestis Phony Negroni is one example of mocktail packaging showcasing a functional beverage in a fun, yet classic, style.
Cons
One drawback to using glass in mocktail packaging is that glass is breakable. New coatings have been developed to improve its fragility, but the ability of glass to withstand cracking and breaking is still rated poor to good at best.
Glass is also heavier than aluminum, which means higher transport costs both for truck delivery and shipping. A movement toward lighter glass bottles is underway but for now, weight remains a hefty issue with glass packaging.
Once you have considered the benefits and maybe not-so-great aspects of using glass or aluminum for your mocktail packaging, you can work with your designer on the next step in the packaging process – crafting a unique label and logo that tells your brand's story.
Should You Go with Labels, Shrink Sleeves, or Printing Directly on the Container?
You want your mocktail to be more than identifiable. It should stand out among other functional beverages on the shelf. But how do you make packaging that pops in a market where every can and bottle looks almost as fabulous as the next?
That's where we can help you design your mocktail packaging to make your brand really stand out. There are plenty of labeling options – from paper and poly labels, to shrink sleeves, to printing directly onto the surface of the bottle or can.
So, which is the best choice for you? Let's take a look.
Labels
Paper labels are are cheaper than other labeling options and they allow brands to use brighter colors and sharper graphics than they can get from printing directly on a can or bottle. But paper labels don't hold up well to moisture or friction common in beverage storage and transport.
Enter film beverage labels, specifically BOPP (Biaxially Oriented Polypropylene) – a widely used adhesive packaging label made from thin white polypropylene plastic film. Because it isn't absorbent, BOPP is resistant to moisture. The graphics have crisp, clean lines, the colors are bright, and the labels themselves don't easily stain or tear.
A drawback to BOPP is its composition – polypropylene is essentially plastic. Luckily it is also recyclable, which is a plus for those considering BOPP in their packaging.
Shrink sleeves
Another option for labeling on mocktail packaging is shrink sleeves. Shrink sleeves, like BOPP, are made out of durable plastic or poly film. They are non-absorbent and allow for almost any color combination. Unlike BOPP, sleeves are not adhesive. They are slipped over containers and shrunk in a heat tunnel to help them adhere tightly to bottles or cans.
That may sound more industrial than many small brands want to think about. But don't count shrink sleeves out entirely. They can be a cost-effective labeling option for small orders. One shrink sleeve company we found that is suitable for low-quantity runs is American Canning, an Austin-based firm that fills orders as small as 4,000 cans – all without extra fees for artwork setup.
Printing on Aluminum Cans and Glass Bottles
Printed cans and bottles became mainstream in the 1950s after the Coca-Cola company introduced its first printed contoured glass bottle in 1957. Breweries joined in with color print images on cans around the same time. Today's soft drink companies and large breweries mostly use aluminum cans and plastic for their beverage products. Mocktails, however, rely mostly on aluminum and glass.
What kind of mocktail packaging you choose will depend somewhat on if you have a ready-made product like the functional beverage Recess sparkling water, or a concentrate like Jukes Cordialities which can be recapped and used over time.
Printing on aluminum
Printing on cans is old-school cool. Long before there were plastic labels and shrink sleeves, there were images printed on aluminum. Beer companies were among the first companies to employ UV-curable ink technology in the 1970s. The durability of the coatings still exceeds expectations. Today there are digital UV printers that can reproduce images in more than six colors in coatings that are more environmentally friendly than plastic.
The biggest drawback to printing on aluminum is cost. Dedicated printers usually require minimum orders of up to 200,000 cans. Meanwhile investing in a printer yourself can cost hundreds of thousands of dollars, with no room for error. Then there's the issue of permanency. Unlike paper or plastic labels and sleeves, direct printing can be difficult to remove.
Printing on glass
If you are considering printing on glass, we have some good news. Glass has direct printing capabilities that aluminum doesn't, especially when it comes to digital ceramic printing. Still, it's good to know the difference between direct printing methods for glass as you narrow down your mocktail packaging options.
Direct printing on glass is not only practical for some brands, it's an art form that can be used in both multi-color and single-color applications. There are a few different ways to do it, too, which gives you a choice. The method you choose depends on your preference for color, your budget, and the number of bottles you want to produce.
Screen printing. Also called silk screening, screen printing on glass is done by pushing ink through a mesh screen directly onto the printable surface. The process is preferred when using white ink on glass since silkscreen white ink creates more opaque images on glass than standard white ink. Silkscreen ink can also be built up to give a surface special texture. While durable, screen printing can be costly in small quantities and is usually limited to four colors at one time.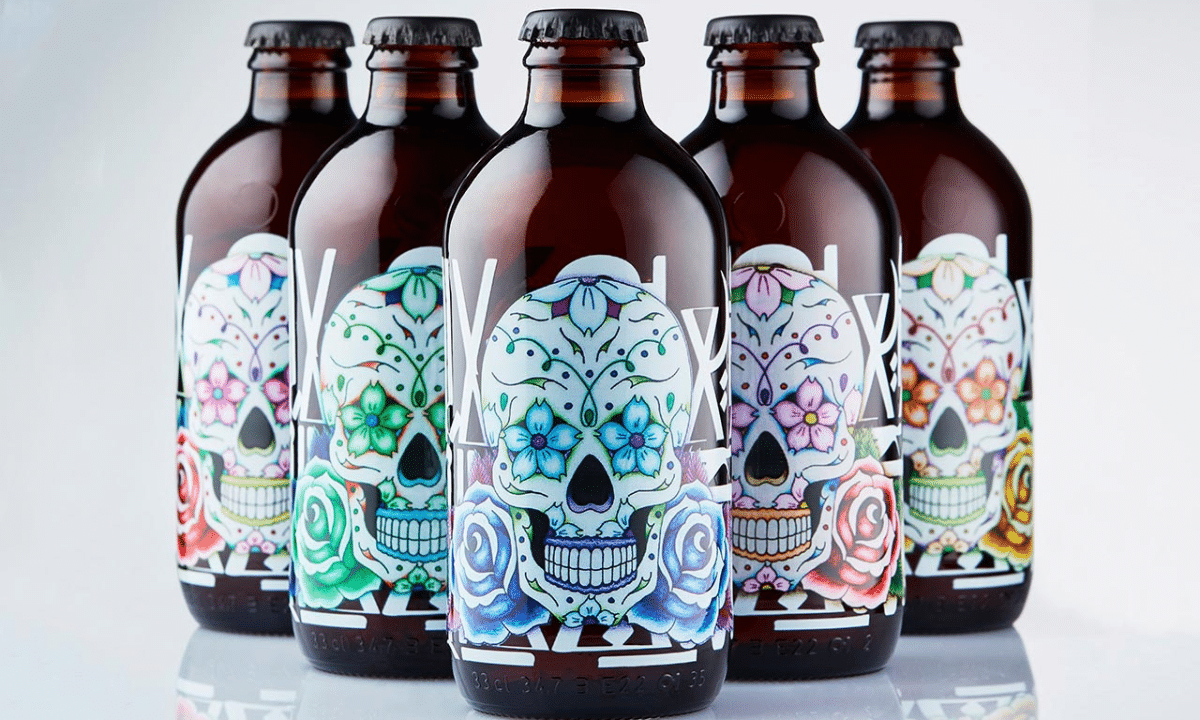 Digital printing. Printing on glass via a digital process is typically more economical for brands with a smaller quantity run. And the color combinations are almost endless. There are two specific types of digital printing on glass. One is digital UV, which uses UV light to make images from ink. The other is ceramic printing, which uses a special ink substance called frit to mesh the image with the glass. Some companies have no minimum order requirement for digital printing, making this a great option starting out.
Takeaways
Starting a new brand is exciting in today's ever-evolving functional beverage market. Consumers crave the seemingly endless combinations of spice, herbs, and other delectables that today's mocktails offer. But it takes more than a great drink to get noticed in this new industry – you also need the right packaging. The good news is that there are plenty of design options at the ready when you are ready to give mocktail packaging design a go.
Is your mocktail perhaps better suited to aluminum? Non-absorbent labels or shrink sleeves don't have to be cost-prohibitive or restrict your love for color and graphics.
Looking for mocktail packaging that brings the color of your beverage out into the open via a clear or semi-transparent glass bottle design? Digital or even screen printing options are available and may be more cost-effective than you think.
Are you ready to get started designing your mocktail packaging? We're here to help!