Launching a cosmetics brand comes with many decisions—but one of the most important is how to design makeup packaging.
The packaging does far more for makeup products than just holding them—it serves as a mini-billboard for your product, encourages customers to buy from you, communicates your brand story, and establishes your brand personality.
Designing makeup packaging isn't just about a logo or pretty colors. Great designs require research, careful planning, and quality execution.
Below we've put together a step-by-step guide on how to design makeup packaging that will resonate with your customers and lead your brand to success!
How to Design Makeup Packaging—Step 1: Carve Out Your Niche
When thinking about how to design makeup packaging, new business owners are often tempted to avoid niching. Logically, you might believe that this will let you reach more potential customers. But choosing a niche doesn't limit your audience—it creates it!
Determining your niche helps you decide who you're selling to so that you can market your products with them in mind. It also enables you to position your brand to stand out from the crowd.
Think about what problems your products solve and what makes them unique. Do you use all-natural ingredients? Are your products safe for sensitive skin? Is your brand committed to sustainability? What do you offer that other brands don't?
The more specific you can get with your beauty niche, the better! You'll use this niche to decide on the important elements of your packaging design.
Step 2: Consider Your Audience
As you carve out your niche, you will also get a clear idea of who you serve—your target audience. Too may business owners make a crucial mistake when it comes to their audience—they create their products and packaging, then try to sell them to their audience. Instead, they should use their audience to create their products and packaging.
Successful businesses create target customer personas—fictional avatars that represent their ideal buyers. Determine your buyer's demographics, income level, needs, desires, and problems.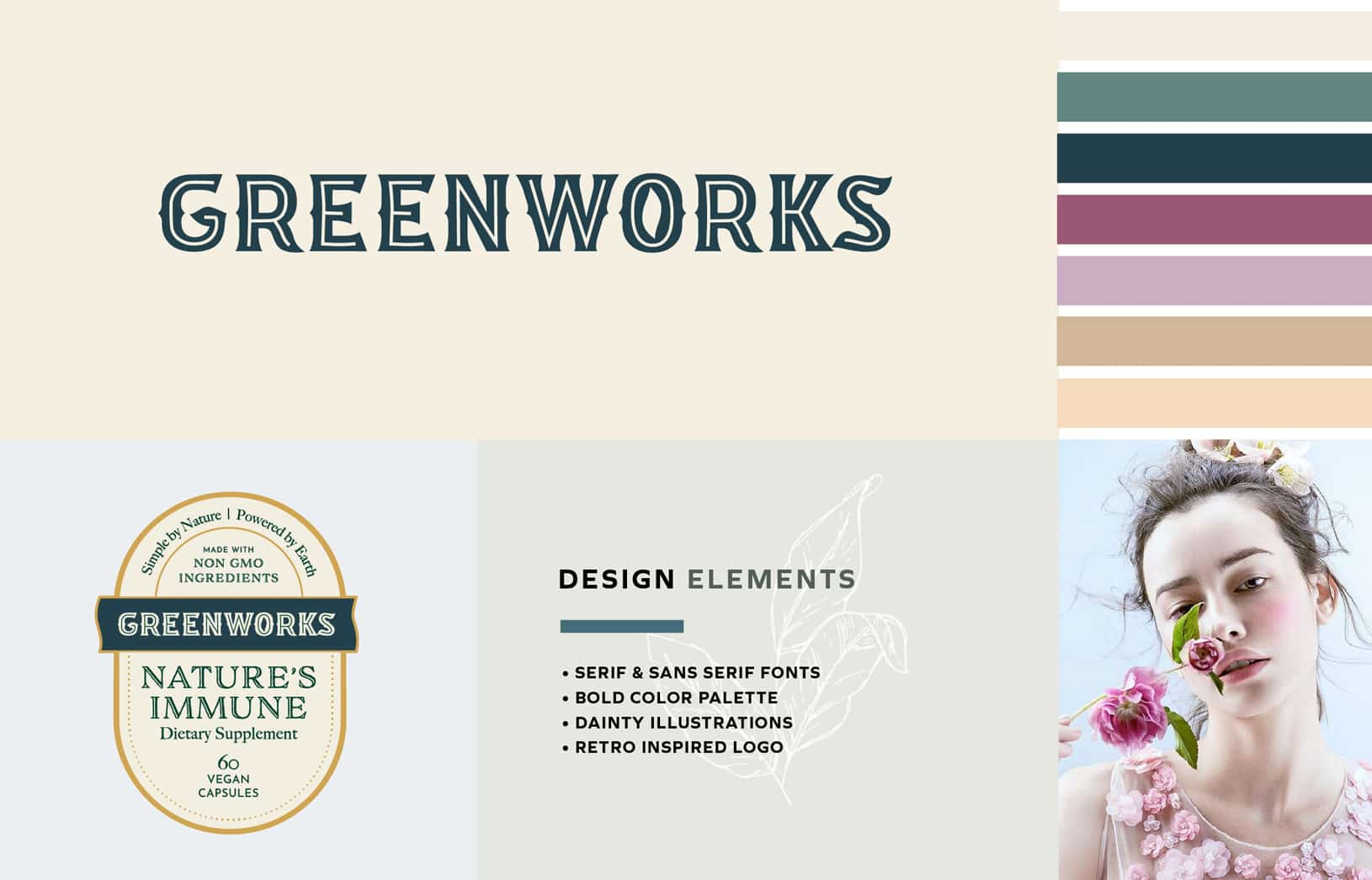 When you are thinking about how to design makeup packaging, your decisions need to be made with this persona in mind. Does your persona prefer minimalistic designs? Or vibrant, fun colors? Are they looking for specific solutions, color palettes, or features? If so, how can you display those features in your packaging design?
Talk to people who fit within your target audience to determine the answers to these questions. Find groups on social media or speak to friends and family who are represented by your persona. Their responses will directly impact the design elements you choose.
Step 3: Conduct Competitor Research for Packaging Ideas
Once you know your niche and are familiar with your audience, it's time to start conducting competitor research.
Spend time getting familiar with successful brands in your niche. What packaging elements are trending with these brands? Pay attention to the colors they incorporate into their designs, the brand language they use, and the imagery in their packaging.
Notice the packaging trends in your niche—you want to stay on top of these when you design your packaging. Your packaging should strike a similar style to your competitors and follow the trends in your industry. You want your brand to feel like a makeup brand! But you also want packaging that will set you apart from your competitors, with unique elements that reflect your brand.
Step 4: Get Clear on the Packaging Components
Before you can design your makeup packaging, you need to understand exactly what you are creating. In cosmetics, there are often multiple packaging components.
The primary packaging directly holds the product itself—for example, the mascara or lipstick tube, the compact, or the foundation bottle.
The secondary packaging holds the primary packaging. This is typically a cardboard and plastic box or container. If you plan to ship products, you might even need a third packaging concept for the outer box.
Each layer of packaging needs to be designed to align with your target audience and your branding.
Step 5: Establish Your Brand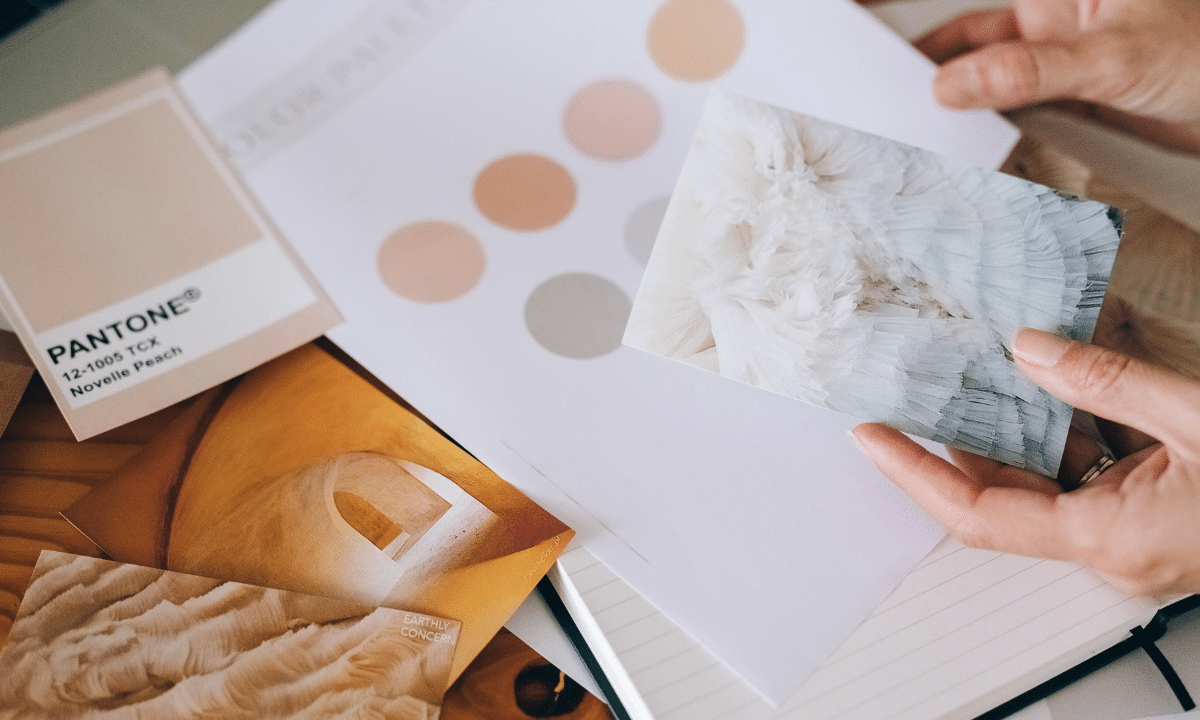 The next key step in designing your makeup packaging is to create your brand. This step is often overlooked—business owners want to jump right into designing the packaging. But without a carefully thought out brand, you're likely to miss the mark with your designs.
While your brand elements—including your packaging, logo, tagline, and brand name—are important, they aren't the heart of your brand. Your brand also consists of your reputation, the story behind your business, and what your customers think about you.
Each element of your brand should be created with the emotions, feelings, and personality of your brand in mind. This ensures that your brand is unified, cohesive, clear, and memorable.
Before you design anything, spend some time thinking about the feelings you want associated with your brand, the problems you solve, and what you do that nobody else does. Then, use that to create a brand positioning statement, a mission statement, and a brand story—the foundation of your brand identity.
Step 6: Create the Design Elements
Now that you have done the research, determined what packaging to create, and decided on your branding, the fun part begins! You're ready to create the packaging design itself.
It can be daunting to stare at a blank canvas. Begin by creating a brand mood board—a picture collage of visual inspiration, images, colors, and fonts. The mood board will help you make decisions as you move through the following design elements. Making sure you think through all the details on how to design make up packaging will ensure you don't launch and find yourself in trouble before you get started!
The Focal Point
Next, settle on the focal point of your design—the image that draws the consumer's eye and encourages them to examine the package more closely.
This might be your logo or a brand image that reflects the feelings your brand represents. For example, in the packaging designs we created for makeup brand 42 Dubonnet, the focal point was a series of Art Deco-inspired vintage patterns. Not only are these eye-catching and able to stand out from other packages, but they also tie into the 1920s theme behind the brand.
Consider choosing an image related to your brand story or an icon that alludes to your niche.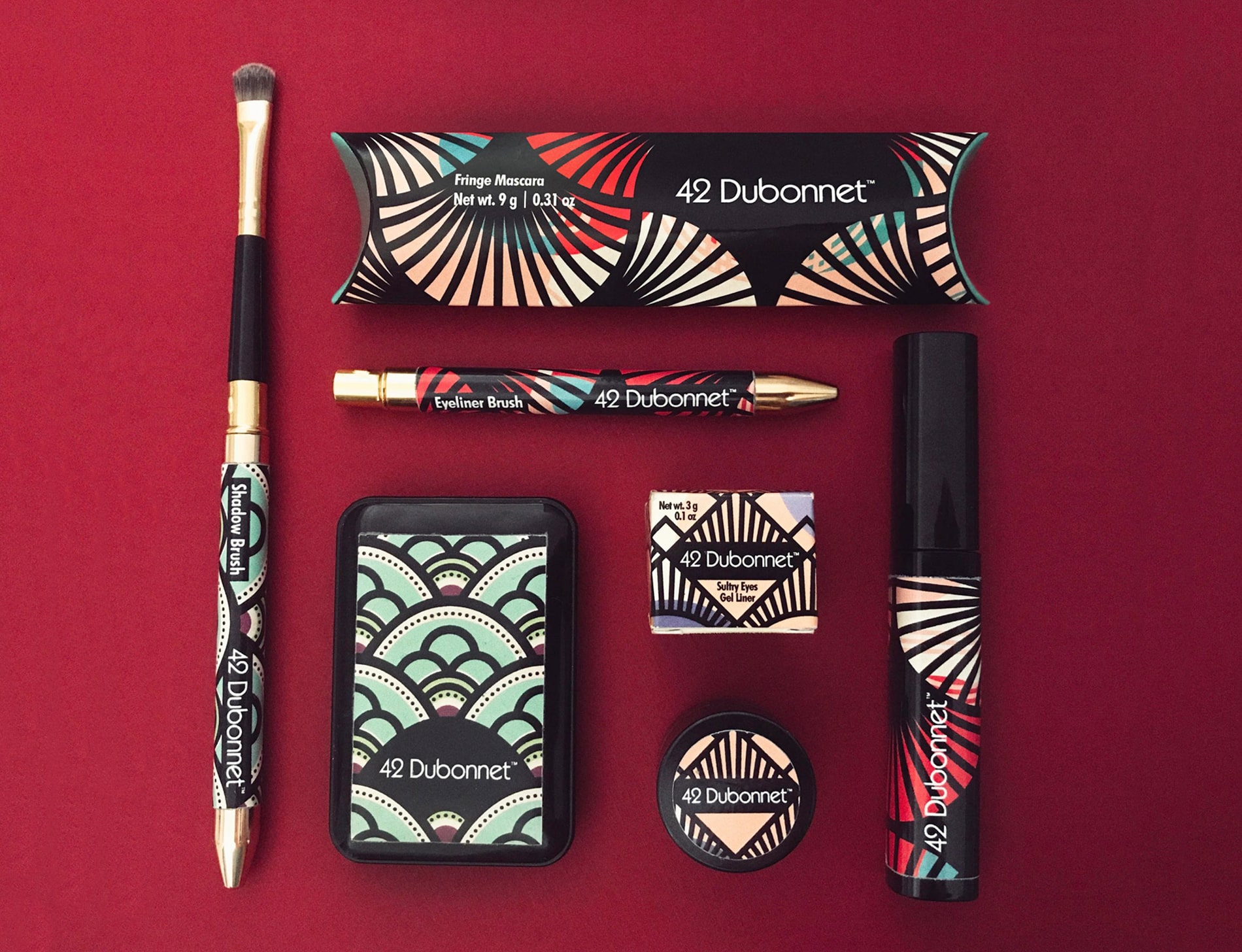 The Color Palette
Once you decide what the focal point will be, create a color palette representative of your brand. Don't just choose a color you like—think about the meaning behind the color, the emotions it evokes, and how those tie into your brand essence.
If your brand relates to nature, you might choose neutrals, greens, or floral-inspired colors. On the other hand, it your brand is fun and sassy, stick with bold, vibrant hues. Remember, the colors you choose should resonate with your target audience!
Typography
Your font choice might seem like an insignificant element, but nothing could be further from the truth! The typography used in your packaging makes a big difference in how consumers perceive your brand.
For example, script fonts are associated with handwriting, establishing a personal feel. Serif fonts give off a more formal feel.
You can also layer different styles of typography for a balanced visual.
Packaging Copy
You only have a few seconds to create a first impression with your packaging. That's why your packaging copy must be powerful.
Good packaging copy is short and simple, but clever. Create a memorable tagline, along with copy that paints the picture of your product's benefits. If you have the space, add a shortened version of your brand story onto your packaging to help build a relationship with potential consumers.
Create, Revise, and Perfect
After you decide on each of the design elements, start designing! You can create the design on your computer, or sketch by hand at first to get the creativity flowing.
Don't worry about being perfect on the first try—just get your ideas on paper (or on the screen). Then, determine what you like and don't like. Revise the elements as needed until you end up with the perfect design!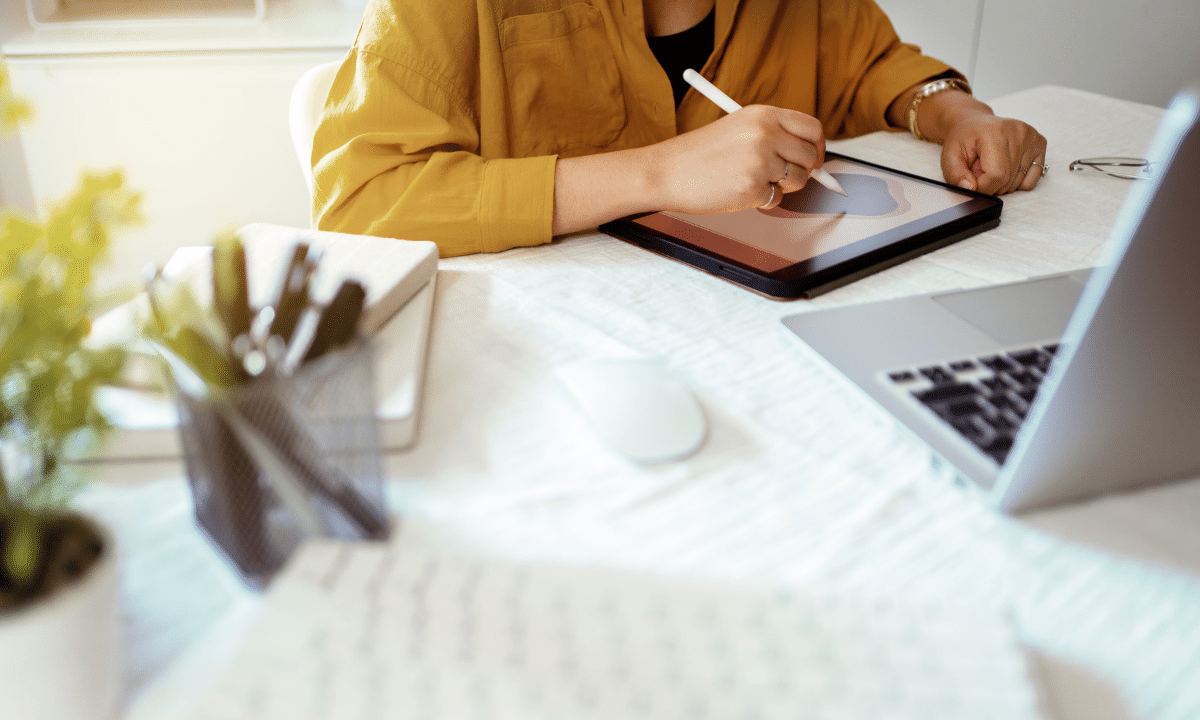 Step 7: Connect With the Right Professionals to Design Your Makeup Packaging
As you work through your design, there are a number of professionals and service vendors you might need to work with.
Consider bringing on an attorney to work with you on compliance and the trademark process. Makeup packaging comes with certain requirements—including rules regarding ingredients and claims. If hiring an attorney is not realistic, make sure you spend time to research the requirements.
Printers
You'll also want to connect with a printer who can help you understand the design specifications. For example, designing for a bottle is very different than designing for a carton—boxes and cartons have distinct sides that might require separate design pieces, while a bottle needs a design that wraps all the way around but still showcases the main elements in the front.
A Packaging Designer
Finally, you'll need to decide whether you can realistically design your own packaging or not. Experienced packaging designers understand how to design makeup packaging, how various mediums and forms of packaging impact design, and how to create packaging that jumps off the shelves.
Depending on your experience level, it is usually worth the investment to hire a packaging designer and work with someone who knows how to design makeup packaging. (Just make sure you ask the right questions before you decide on one!)
How to Design Makeup Packaging? Just Start!
When thinking about how to design makeup packaging, the most important step is to get started! Don't let yourself get stuck in any of these steps. You can always revise, reiterate, and even rebrand later down the line if needed.

Crème de Mint has specialized in packaging design for makeup brands for more than 14 years. We know how to create compelling, craveworthy designs that can help your brand stand out! Contact us today to chat with us about your packaging design.