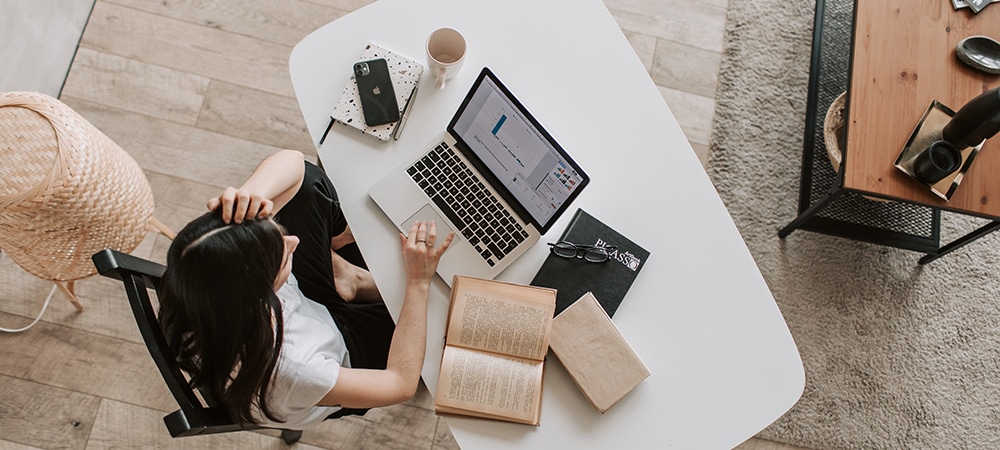 You might already know about the importance of SEO best practices for your small business. SEO, or search engine optimization, is how you improve your search engine ranking so you can increase traffic to your site.
But understanding and implementing those best practices is easier said than done! From keywords to meta titles to alt text, SEO can be overwhelming for small business owners who already have plenty on their plate.
SEO is a specialization that takes a long time to completely understand. However, even busy business owners can learn the basics of SEO best practices for small businesses. Investing some time to improve your SEO can pay off, bringing in online traffic and helping local customers find your business.
We created a quick guide to SEO for small business owners to give you a look at what you can start doing now to improve your search engine rankings and attract more traffic to your website!
Step #1: Make Sure Your Site is Indexed
Google stores the web pages that it knows about in an index. Think of the internet like an index in a book. Google constantly finds new information on the web and adds it to their index. Then, when customers use Google to find information on businesses, they are provided with an index of relevant websites.
If your site isn't indexed by Google, it won't be discoverable. In that case, it won't matter how good you are with your SEO best practices—you won't be found through organic searches.
Fortunately, checking to make sure that your site is indexed is simple. Just go to Google, then type in site:yourwebsite.com (ex site:cremedemint.com). If your website comes up, then you're all set!
If not, then you have one of two choices. You can either wait until search engines discover your page through crawling (continually checking for new websites) or you can submit your site using Google Search Console and Bing Webmaster Tools.
While most sites will be crawled and discovered, submitting is the fastest way to make sure you can get found!
Step #2: Optimize Your Keywords
Keyword optimization is what many people think of when they hear SEO, and it is a very important part of it!
When people search Google for certain terms, the results contain relevant keywords. Keyword optimization makes it more likely that your website will appear first in search results, increasing your visibility and potentially bringing in more traffic. Essentially, using targeted keywords is one of the best ways to be discovered organically.
It's important to note that while keywords are valuable for SEO, they aren't more important than having good quality content. Keywords by themselves won't result in leads, sales, or meaningful traffic to your website if your content is not relevant to your target audience.
Because of that, you should avoid stuffing your website with keywords just for the sake of ranking on Google. It doesn't matter how many visitors you get to your site if they aren't interested in your content.
In addition to optimizing your keywords, make sure you consider your business goals carefully and tailor your web content to the needs of your audience. You should also periodically perform a targeted content audit to make sure that your blog articles, images, video, whitepages, and other content support your business model and provide value to your audience.
Best Practices for Keywords:
Keyword search tools like SEMrush will show you the average amount of monthly searches for keywords. Those tools will also show you the keyword competition (how difficult it will be to competitively rank for that term).
As a small business owner, you might want to aim for keywords that have a low-medium volume, between 50-500 searches per month, and low competition (less than 0.48). That will give you the best chance to rank for those keywords.
Once you have found keywords related to your industry that fit those qualifications, you can incorporate them into your website and blog to improve your organic searches!
Consider going for low volume keywords
You also want to see if there are low volume keywords that are relevant. Even though less people are searching for them, they could be keywords that your competitors aren't even targeting, providing you even more opportunity to rank for them.
Use long-tail keywords to your advantage
Long-tail keywords are longer phrases made of three to five words. For example, "cold-pressed juice in Miami." Because these searches are more specific, they're easier to compete for and may be more likely to result in conversions.
A great way for small businesses to rank is by targeting local SEO keywords. For example, if you are a cold-pressed juice business and you are based in Miami, you could try to rank for "local juice Miami" or "cold-pressed juice Miami." That gives you an opportunity to bring in local searches that might have less competition.
Determine your focus keyphrase
For each page of your website, you'll want to determine your focus keyphrase—the primary keyphrase that you want to try to rank for. You'll need to use the focus keyphrase in the title of the page, in headings, and throughout the page where relevant.
Strike a balance with keywords
You definitely want to incorporate keywords into every page of your website, but you need to consider readability and the flow of your page as well! Make sure that your keywords are added in a natural sounding way.
Avoid high-volume and high-competition keywords
You might think that using high-volume keywords makes sense; after all, more people are searching for them. However, high-volume keywords are often very difficult to rank for. It's better to choose keywords that you can compete for than ones that are more highly searched but difficult to rank for.
Add relevant focus keywords in the right places
Focus keywords should be used in obvious places like headers and body copy, but also in alt text for images, slugs, meta titles, and descriptions. Using an SEO plugin, like Yoast, can be very helpful in determining where to incorporate keywords. (Just keep in mind that human readability, natural flow, and relevant content should still be a focus!)
Step #3: Label Your Images
Your words aren't the only way for your website to rank high and attract traffic. Pictures also provide an opportunity to rank on Google images.
Best Practices for Images:
Use a Descriptive File Name
Don't just upload your website's images with the default file name. Google crawls your file names for Google images. That means that the file name can help you rank!
So instead of just using the default file name, use descriptive ones. Include your focus keyphrase for the page if possible. Use all lowercase characters, and add a hyphen between words for readability.
For each image, you'll also have a space to add alt text—the text that shows if your image won't load. You want these to be as descriptive as possible.
The alt text should typically stay under 125 characters, though you can go over that number if necessary. The most important thing is to make sure that your user can understand what the content says without being able to see it.
Including the focus keyphrase is another way to help rank. However, you should keep the language natural and only include the focus keyphrase if it's relevant to the image.
More complex images, such as those with text embedded, and charts, graphs, and tables, might require a different approach for alt text.
Alt text isn't just for when your images won't load or can't be displayed. It's also vital for accessibility. The W3C guidelines can give you a baseline understanding of how to apply universal design principles to your alt text, and your web content, generally.
Choose Only High-Quality Images
The most important element of SEO is always high-quality content, and that applies to images as well. Make sure your images are high-quality, especially large images (these are more likely to generate visits from Google Discover).
Also, make sure that you are permitted to use any images on your site and that the copyright does not belong to somebody else. (Check out our post on free resources for images!)
Step #4: Use Your Meta Title
Your meta title is different from the heading on your page—it's basically Google's name for your web page. Titles give users a quick way to see if the content of the result is relevant to them. It's the key factor that leads people to click on your page in their search results.


Best Practices for Meta Titles:
Keep it Concise and Relevant
Make sure your meta title is concise—the ideal length is 55-65 characters including spaces.
You also want to make sure it's relevant to the page. The goal is not to bring people in just for the sake of clicks—you want to attract your target customers. Use your focus keyphrase or relevant keywords.
Use Your Brand Name When You Can
It's a great idea to include your brand name in your meta title, but only if you can do so concisely and without detracting from the rest of the title. A common practice is to write the title followed by a pipe with your brand name. (For example: Vitamins and Supplements | The Vitamin Shoppe Miami).
Step #5: Create a Meta Description
Meta descriptions are the snippets below the meta titles in search results that tell the reader what the page is about. Like meta titles, meta descriptions are important in determining whether a person will click on the result.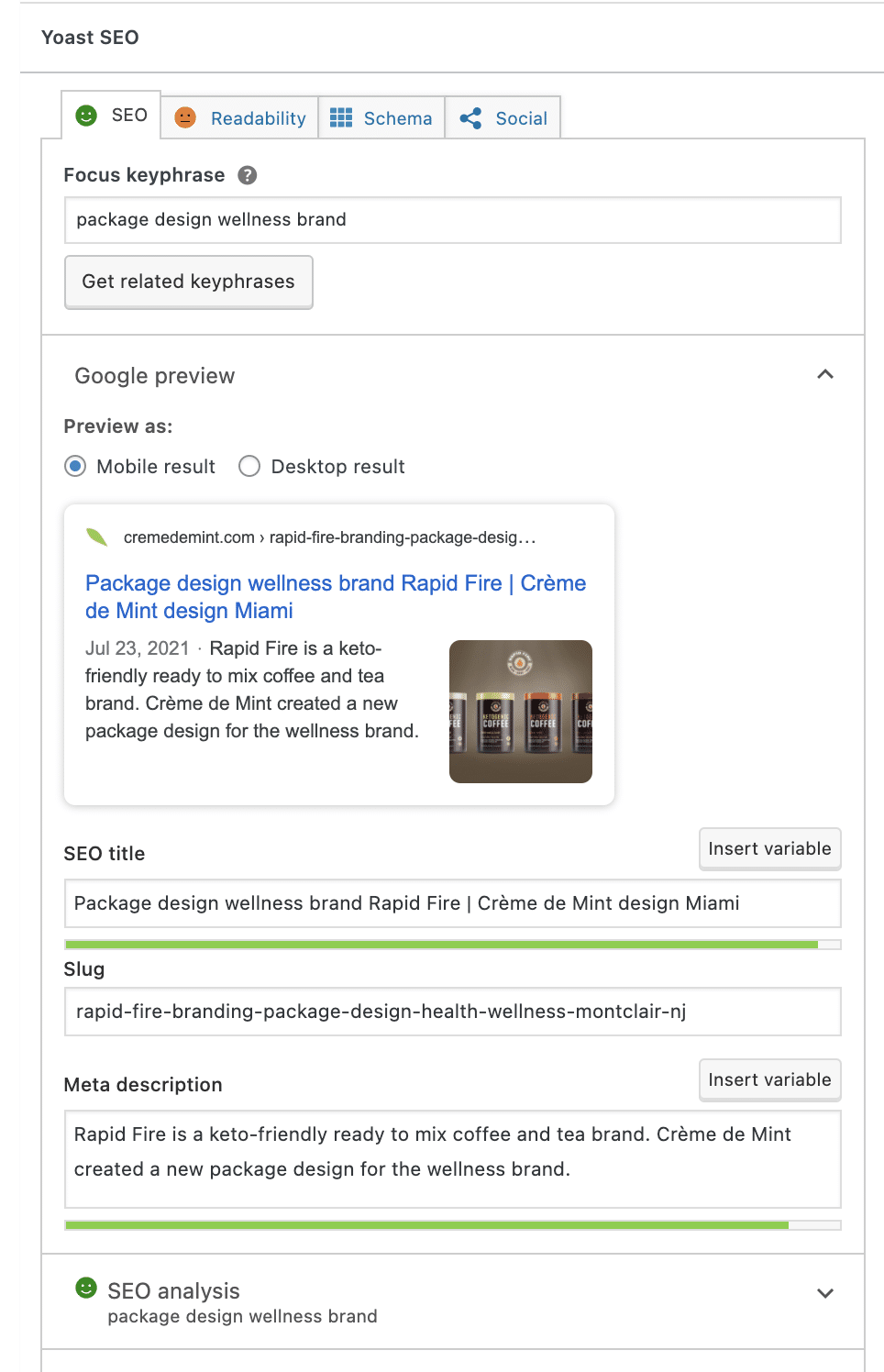 Best Practices for Meta Descriptions:
Stay Accurate and Relevant
You want readers to get an accurate picture of what to expect on your page so that you draw in people who are actually interested in your business! Use your focus keyphrase and keywords, but only if they make sense for the content.
Meta descriptions should be between 75-156 characters long, including spaces. Use that space to give a great description that reflects the content of the page! Avoid being too vague or general.
Step #6: Customize Your URLs
Your URL gives yet another opportunity to use SEO best practices and rank for keywords. However, you don't want to just fill these with irrelevant or generic keywords.
Generally speaking, your url should read something like "websitename/page-headline," with each word separated by hyphens.
For example:
cremedemint.com/blog/portfolio/alkaline-vegan-news-website-design-brand-identity.
(Remember, for any blog posts or special content, you should be using your focus keyphrase in the headline already!)
Step #7: Use Relevant Links
Using links (both inbound to other pages on your site and outbound to relevant other resources) is a great way to increase your traffic and SEO. Try to add 1-2 links where relevant. (Remember, don't force it just for SEO.)
Be thoughtful of how you present the links though—using strong, descriptive anchor text is better than saying "click here."
For example, earlier on this page we wrote "Check out our post on resources for free images!" using the anchor text 'free resources for images' for the link.
Make sure that all links you include are relevant and useful for your customers.
Your Small Business SEO Best Practices Checklist: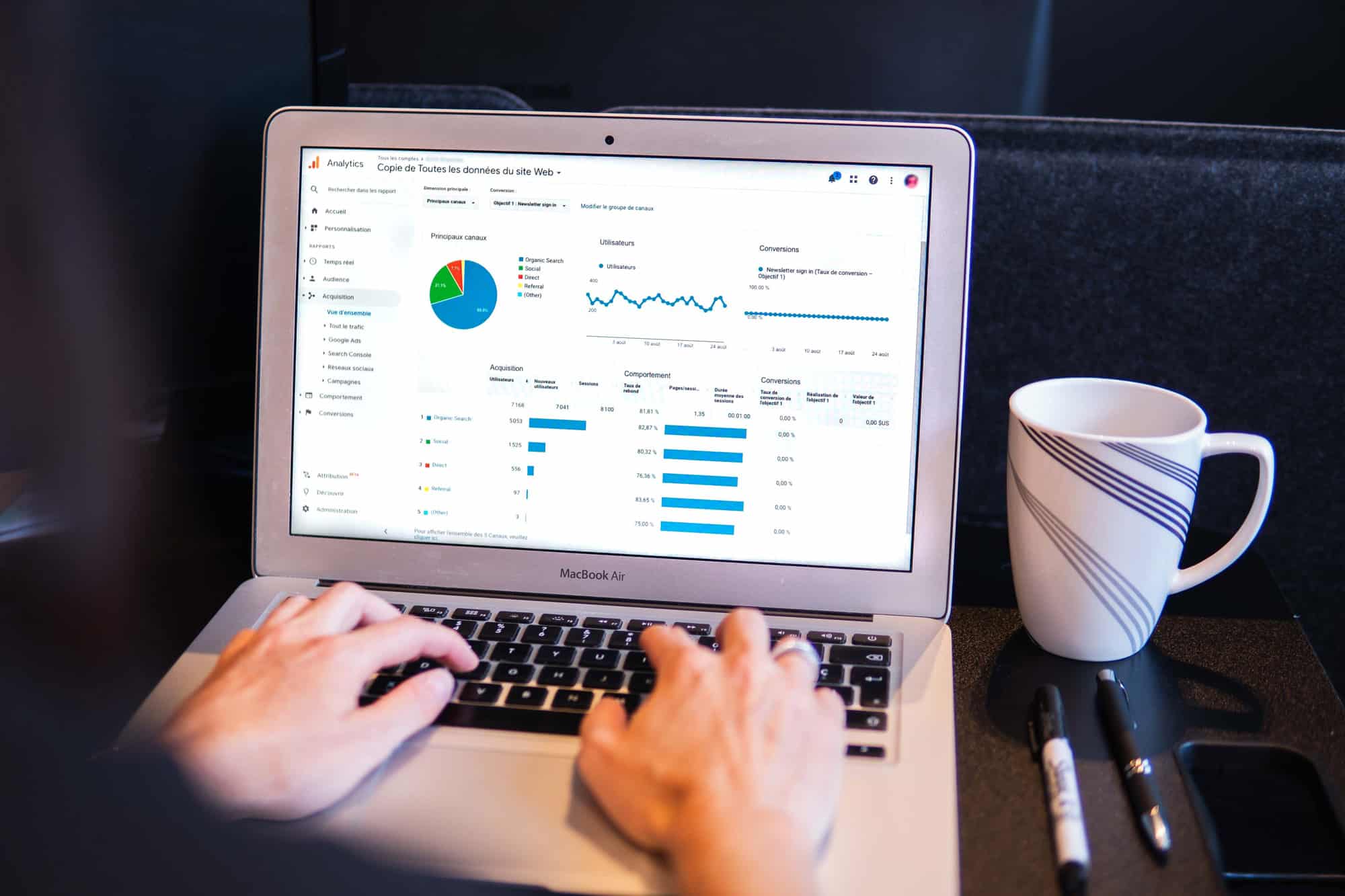 Here is a checklist to help you make sure that you are always sticking to SEO best practices:
Use a keyword search tool (like SEMrush) to generate low-medium volume keywords that you can target on each page of your website.
Determine one focus keyphrase that you are going to use per page.
Create descriptive file names and alt text for each image included on the page.
Write a meta title that includes the focus keyphrase and branding if possible (55-65 characters).
Create an accurate meta-description that includes your focus keyphrase (75-156 characters).
Customize your URL "websitename/page-name."
Include relevant inbound and outbound links if possible with strong anchor text.
Remember: Quality Always Matters the Most
It's important for small businesses to build up a strong web presence through SEO. Best practices change and update, and you might need to tweak your content as new suggestions come out.
But one thing that never changes is that quality content is always important! Consider adding a blog or valuable resources for your customers to build relationships and drive valuable traffic!
For more tips for small business owners, check out our post about designing an impressive website!