Throwbacks are everywhere these days! With the popularity of #throwbackthursday posts on social media, and shows like "Stranger Things," it's no wonder that consumers are craving more nostalgia.
One of the key strengths of nostalgic packaging, also known as retro packaging, is it can feel personal and homemade, especially nowadays, many people want something that feels more personalized. I created this feeling when I designed Tally Butter, a garlic butter inspired by my client's Italian Grandma Tally.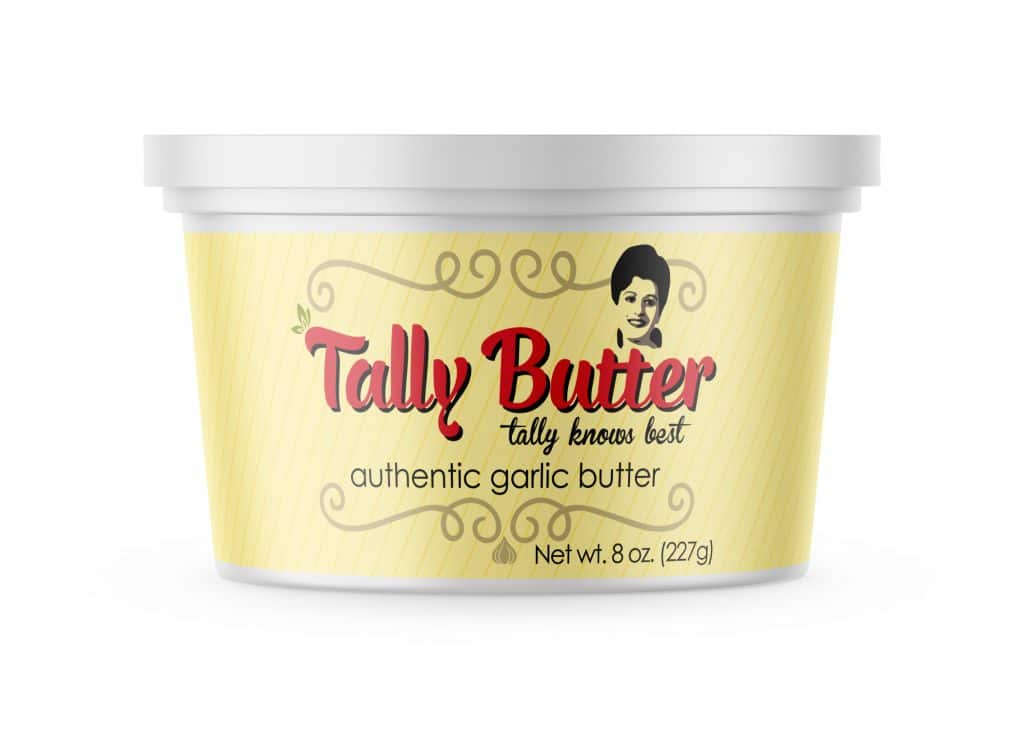 Why use nostalgia?
The 21st century is an exciting time, but can get overwhelming for even the most motivated go-getter. Nostalgia in your product's packaging can provide the consumer with a brief refuge from the mental chaos by bringing the imagination back to a simpler time.
How many times have you felt confident buying a product because it's been around for a long time? If you're a new brand, you can still add to purchasing confidence by creating a vintage look. Retro styles send signals of trustworthiness and give the impression that your product has stood the test of time, even if it's new.
How to incorporate nostalgia into your packaging
Using classic prints, patterns, and fonts, as well retro color schemes and layouts, can help give your product a vintage look…but as with everything, balance is key. That's how we positioned 42 Dubonnet, an art deco inspired makeup line for gals on-the-go. We used patterns and colors inspired by the 20s with a modern twist to give it a modern vintage feeling.
With the globalization of business, sometimes people are longing for any type of human connection. It is important to make sure you are sending a message of simplicity in your design. This is especially effective in food products, as consumers are tired of processed foods with paragraphs of unnecessary ingredients. Don't overwhelm the eyes- keep things clean and minimal while incorporating some vintage elements. This balance can incorporate both simplicity and a personal, homemade feel.
Things to consider before going retro
Make sure you know your target audience before incorporating nostalgic packaging. You'll need to consider your customer's age, mindset, and cultural dynamics to make sure it's a good choice for your product. And "vintage" can span multiple decades…think about the era your brand would be best suited to.
It's also important to check out your competition first. This has been a popular trend and some markets are going to be oversaturated with it. Your packaging will still need to represent an image unique to your brand.
A well-executed strategy here can make your brand shine…but just doing whatever is popular isn't going to bring you long-term success. Make sure the elements of nostalgia you include have a personal tie to your brand story or to an individual line of products.
Unboxing and the desire for trust
Alongside this desire for a simpler time, consumers are hungry for a sense of trust in their purchase decisions. Since they often buy everything either online or from a middleman, they don't feel as confident buying your brand when they haven't met you in person. From this need, the now-giant world of online reviews was born.
One of the most notable trends in this area as of late is unboxing videos. An unboxing video is essentially a third-party live review. A customer purchases or is sent a product to review, and they open and critique the product on a video platform. Here, other consumers can watch the unboxing to become informed about the product.
Powerful exposure for your brand and packaging
Unboxing presents a huge opportunity, and will give great exposure if you're a new brand. It's popular with millennials, helps a brand develop personality, and gives consumers information about a product that they otherwise wouldn't get. This gets them excited about buying.
While typical product reviews focus primarily around the product and its function, unboxing videos make the package itself a large influencer in the purchase decision. Everything about your packaging-construction, design, copy, etc.- is front and center, and it is often the first thing commented on in the video.
Make your own videos
John Ball, partner and creative director at branding agency MiresBall, says to make your own unboxing videos if no one has made any yet. "Although still predominately user-generated, the movement has continued to grow and we now see brands catching on and creating their own unboxing videos and/or featuring the trend in their advertising to control the experience," he says. "Samsung produced a professionally done, highly entertaining spin on the amateur unboxing video for its new Galaxy S6; Toys"R"Us recently wrote and produced its first unboxing video in a style that is the brand's interpretation of the trend; Xbox has created its own branded videos that are very similar to what consumers are creating on their own; and Wal-Mart has jumped on the trend by curating its own YouTube playlist of user-generated unboxing videos."
Untapped potential
Currently, there are close to 42 million unboxing videos available on YouTube, and the trend is only increasing. You could say it's the virtual version of old-fashioned "word of mouth" marketing. Create great packaging for your products, and encourage consumers through your social media channels to post unboxing videos. You can offer them giveaways or discounts in exchange for reviews. And remember…both the good and bad feedback are equally valuable!
The right mix of nostalgia + current trends = huge packaging success. Need help figuring out the balance for your brand? Let's chat.