We've seen email marketing trends in Miami shift over the last few years. Recently, automated email flows have gained momentum. More small business owners than ever are turning to automated flows for their email marketing, and it's paying off.
According to Omnisend, 29% of email purchases came from automated emails in 2020. That number is only going to increase.
Email Marketing Tips for Miami Businesses
So…what does that mean for you? If you aren't using automated flows, you're leaving money on the table. A strong email marketing strategy needs to include strategic automated flows.
Read on to find out what automated email marketing flows can do for businesses in Miami and beyond!
Automated Email Marketing Saves Time
One of the biggest benefits of using automated email marketing flows for your Miami business is that it saves you time, labor, and energy.
With flows, you build in the majority of the work during the setup. But once your flows are established and running, you can focus your energy and attention elsewhere in your business.
While you still need to revisit your flows regularly to check metrics and make necessary adjustments, you can still be more hands-off with your email marketing (without sacrificing effectiveness!)
Curated Content
In an Epsilon study about email trends, 64% of respondents said they unsubscribed from email lists because the content wasn't relevant to them. (More than the 60% who unsubscribed because of receiving too many emails!)
Customers don't mind receiving emails from you—as long as they're relevant.
Individualized content has always done better. In fact, personalized email subject lines have a consistently higher open rate than others. This shows us that customers care about the experience of an email—they want to feel like you're speaking directly to them.
So how do you make an email feel personal, even when it's going out to hundreds of customers? By curating the content to individuals.
For example, Spotify doesn't just send out weekly newsletter blasts to its list. It also sends out highly personalized emails to its listeners to engage them and encourage action.
In this email, Spotify hooks the reader by offering them a personal insight into their own music patterns throughout the year.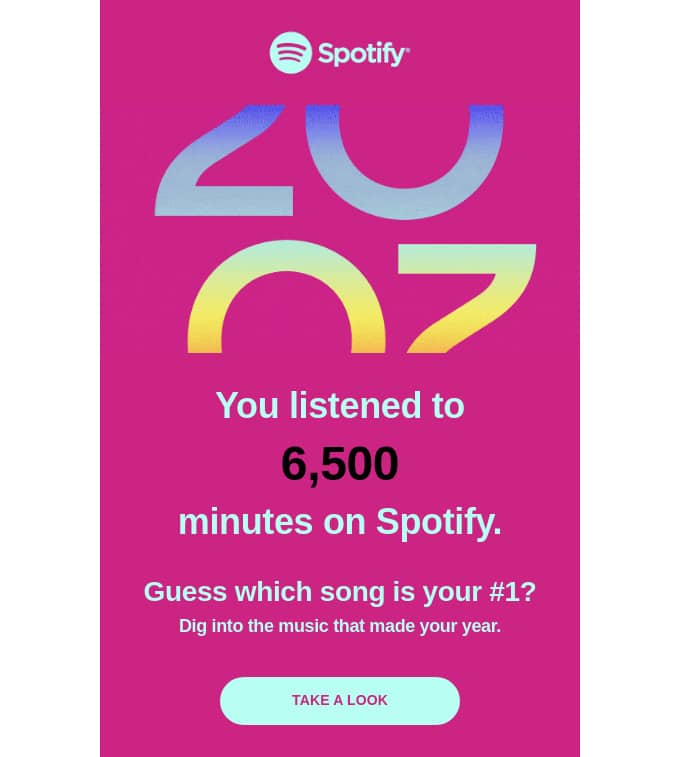 Spotify also sends targeted promotional emails to fans of certain artists.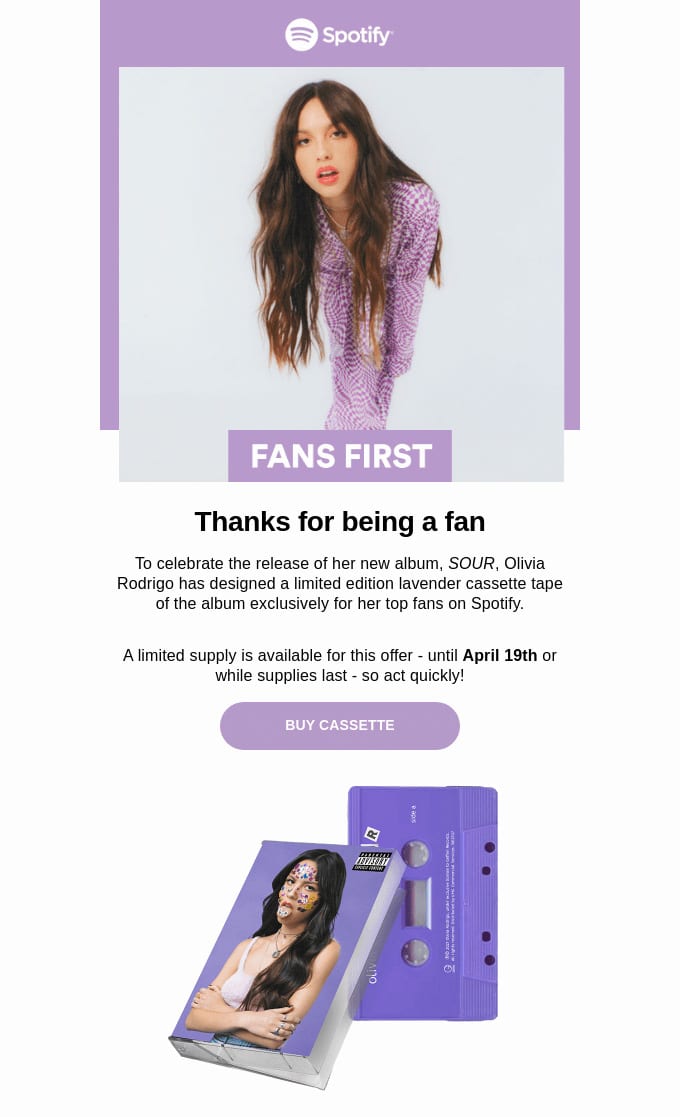 You can use that same email marketing strategy in your Miami business to generate more revenue. Consider implementing a flow that makes individual recommendations based on past purchases. We created this email marketing campaign for Miami-based Alkaline Herb Shop: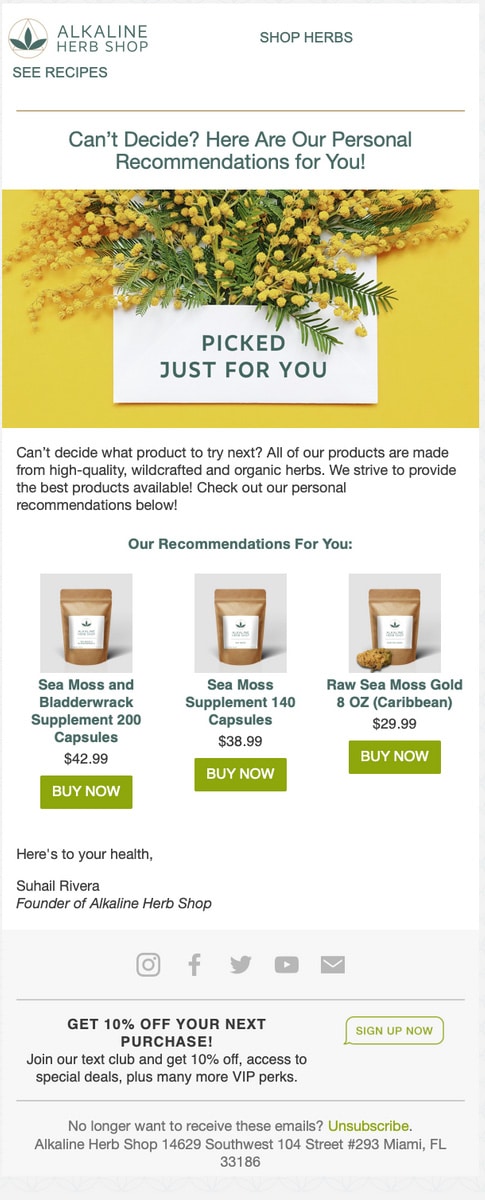 You can also create flows to offer promotions on items that your customers have either viewed or placed in the cart. This puts items that you know your customers are interested in right in front of them. It also encourages purchases and makes them feel like you as a business are offering value directly to them.
Automated flows give you the ability to ensure that the content you are putting in front of your customers is relevant and valuable. It creates an individualized feeling and prevents irrelevant emails from leading to unsubscribe rates.
The Chance to Nurture
Another reason why flows are so valuable is that it gives you the chance to nurture your leads. As much as we would like to think that every one of our customers will eventually make a purchase, the truth is almost 80% of new leads will never buy a thing.
The best way to convert leads is to build relationships with those potential customers.
Email flows allow you to build trust and rapport with the customer so that when you do give them the chance to purchase from you, they want to.
You can begin by sending valuable information about your company, your story, and your products, creating those relationships that are more likely to convert.

In this welcome email from jetBlue, for example, the company uses humor through a mock dating application to hook the reader. Then they ask the reader to update their profile with information. (Information which will undoubtedly be used in further automated flows!) Finally, they expand on some of the benefits they offer in a lighthearted way, without pushing a purchase.
The result is an intriguing email that puts the customer at ease and makes them want to hear more from jetBlue in the future.
Flows aren't just to build new relationships, though. You can also use them to foster relationships even after customers purchase and keep current customers engaged and involved with your business.
For example, Airbnb nurtures their list by reaching out on the one-year anniversary of an account creation. They offer personalized destination suggestions:
In both jetBlue and Airbnb's emails, the ultimate goal isn't just to secure a purchase—it's to make the customer feel positive about the company. That sense of trust leads to more purchases over time.
That relationship is even more important for local Miami businesses in their email marketing strategy. Customers want to feel connected to you and your business!
A/B Testing Capabilities
Automated email flows also make it easier to A/B test and find out what works best with your audience.
Your email management software (like Klaviyo) should come with capabilities for testing. You can test different subject lines, times and days to send emails, how far apart to space them, the length of your emails, your calls to action, and more.
Having your flows set up in software helps you keep track of your options and easily see what works best with your audience.
Easy Metric Tracking
Along with A/B testing, your email automation software will give you the chance to analyze important metrics for your business. Those metrics will tell you where the gaps are in your marketing and how to use emails to ultimately increase your revenue.
Pay close attention to these numbers:
This will tell you how effective your subject lines are and if there's any potential problem with the times of day that you are reaching out to your customers. Remember, you could have the best email in the world, but if nobody opens it, then it's a waste!
A good open rate should be between 12-25%. If your numbers are falling below that, take a look at your subject lines. Are they short enough to be visible, even on mobile? Do you use catchy words that will make customers take notice?
Adding personalization, highlighting the benefits of the email, and keeping your subject lines unique are great ways to increase your open rate.
Co-schedule is a valuable tool to help you create more appealing subject lines. It will rank your subject lines based on length and words that are likely to increase open rates, and highlight where you can improve. Any score above 70 on Co-schedule is considered a good subject line!
Getting your customers to open your email is only half the battle. You also want to drive them to your website or landing page. Your click-through rate shows how many people are taking the next step by clicking the links in your email.
The average click-through rate is 4%, so aim for that.
You can increase your click-through rate by adding multiple links, using buttons, and implementing creative CTA language that inspires customers to take action.
If your email is long, remember to give your customers an early chance to take action by adding a button close to the top of the email as well as the bottom. Your goal is to make it easy for your customers to do what you want them to do!
The conversion rate takes it a step farther, showing you how many customers clicked a link and took action. For example, did your customers click through and actually make a purchase?
A good conversion rate falls between 2-5%.
Conversion rates can be a little bit trickier to increase. It's not just about your email at this point—it's also about your landing page or website. Pay close attention to your metrics.
Are people clicking through but not buying? If so, you might either need to offer more clarity in your email or change your landing page to be more user-friendly and action-driven.
It's also important to track why and when people are unsubscribing from your list. Did a certain subject line or email result in a high exodus? If so, you need to dig in and find out what caused it.
While the average unsubscribe rate is 0.17%, anything under 2% is considered a normal rate.
But remember that higher unsubscribe rates aren't always a bad thing. You want your list to be warm, engaged, and receptive. If you aren't reaching your ideal customer, then you actually want them to remove themselves from the list.
Just try to make sure that your unsubscribe rate reflects those who are not the right fit rather than mismanagement of your targeting and segmentation. You want to make sure you're always putting relevant content in front of your list.
The spam complaint rate shows how many people are reporting your emails as spam. A high spam complaint rate indicates that your list is not finding your emails valuable, helpful, or relevant.
If you have a high rate, your emails are also more likely to land in people's spam folders in the future instead of their inboxes.
Regularly emailing your list, making sure that you're cleaning up your list and removing unengaged customers, and offering a clean, easy way to unsubscribe are all ways you can help reduce your spam rate and increase deliverability.
Types of Automated Email Flow Triggers
Now that you know more about the importance of email marketing flows in your Miami business and what metrics to pay attention to, you're ready to start using them yourself!
But before you do, you need to know a little bit more about how flows are triggered. Automated flows get kicked into action by a specific event that triggers the flow.
Flows can be triggered by a number of different events:
List-triggered: this happens when a person subscribes to your list.
Segment-triggered: this happens when someone enters a specific segment on your list. For example, if you put out a quiz that offers different results, your list might get segmented into groups based on the results. You can then set flows to start sending specific content to that group.
Metric-triggered: this trigger occurs when a customer takes a specific action; for example, when they make a purchase, visit your website but don't buy anything, or add an item to their cart.
Price drop-triggered: this type of flow gets triggered when a specific item goes on sale. You can set your flows to target a list of people that have expressed interest in that item or similar items in the past.
Date-triggered: you can also set flows to trigger on specific dates. For example, you can send birthday flows to your customers offering them promotions and sending reminders to use their discount. Or you can set flows around specific holidays.
You can use those triggers to create flows that create value for your customers.
Automated Email Flows You Need to Be Using Now
There is no end to the possibilities with automated email flows. As you perfect the art of flows and understand more about your customers, you will be able to determine new sequences and new ways to reach your customers.
However, when you're getting started with email automation, there are a few types of flows you will want to set up right away.
The Welcome Flow
It's important to have a strong welcome flow for when people subscribe to your list. Think of it like the first message you send on a dating app—you want to catch the person's attention, communicate the right vibe, and make them want to learn more about you.
A great welcome flow bridges the gap between a person signing up to your list and making a purchase. You can tell your company's story, offer unique insight on your products, or answer frequently asked questions.
You might do this with just one welcome email, or a brief series. The goal is to build trust, pique interest, and make your customers excited to hear from you!

This welcome email from Wild highlights the product's benefits, answers potential questions, and invites the customer to learn more.
The Abandoned Cart Flow
Almost 75% of online shoppers leave items in their carts without completing purchases. But if they took the action of placing them in the cart, they want to buy…they just sometimes need a little nudge!
An abandoned cart flow reminds a person about the pending purchase and encourages them to complete the transaction.
How soon and how often you send your abandoned cart emails will depend on your product. If you offer a more expensive product, you might set your emails after several days to give your customers time to consider. But if your product is less expensive, you might want to touch base sooner to take advantage of the desire to impulse-buy.
Product Recommendation Flows
Another valuable flow to implement in your automated email marketing strategy is a product recommendation flow.
You can use this concept in several ways. One way is to set up a flow for newer customers to recommend best-sellers, highlighting the benefits of the products.
Another is to target past purchasers with product recommendations based on their existing purchases. This strategy is a great way to turn a one-time purchaser into a loyal customer! (After all, existing customers are 50% more likely to purchase than new leads!)
This email from OpenTable reaches out to existing customers with personalized suggestions based on their past bookings:
Delivery Flows
A great delivery flow can answer questions your customers might have about their purchases and decrease their likelihood to cancel or return their order.
With the delivery flow, you want to thank the customer for their purchase, offer any relevant tutorials or videos that help with their purchase, and let them know when to expect their product.
You can also include product recommendations, like Crate & Barrel does in this email: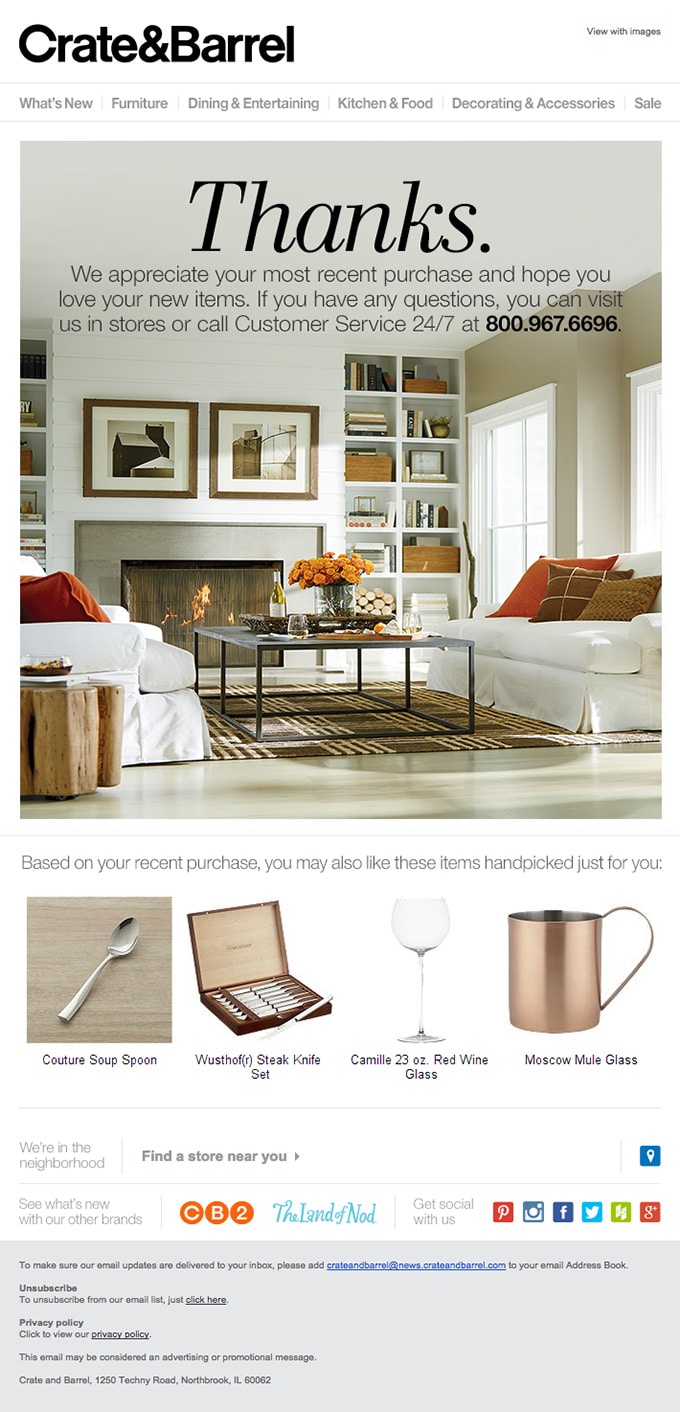 Put Automated Email Marketing Flows to Use in Your Miami Business
Automated email marketing flows can make a big difference in your Miami-based business, or any business for that matter—from saving you time to building valuable customer relationships.
They give you the chance to truly know and relate to your customers and to give individual groups exactly what they want!
If you aren't already using flows, it's time to start! Find an email marketing automation software that works for you and get to testing. Before you know it, you'll be reaching your customers on a deeper level and making more profit.
For more information on email marketing, make sure to check out our post on why email marketing should be your number one strategy!
Ready to level up your email marketing strategy? Crème de Mint offers email marketing strategy, copywriting, and design to help you reach your customers on a more personal level. Contact us to learn more!