An Email Marketing Agency in Miami Shares 8 Tips for Black Friday and Cyber Monday
As an email marketing agency in Miami, we're determined to help businesses create savvy email plans. That's never more important than around Black Friday!
Email marketing is always important, but having an effective Black Friday and Cyber Monday email marketing campaign is even more crucial.
In 2020, $10.8 billion were spent online for Cyber Monday, and that number grows every single year.
That means that if you don't take advantage of Black Friday and Cyber Monday, you're leaving plenty of potential revenue on the table.
Our Email Marketing Agency in Miami Shares Our Tips
But how do you make the most out of Cyber Monday? What email marketing strategies can you use to make sure you increase your revenue and run the most efficient campaign possible?
We put together 8 tips on how to create the most effective email marketing strategy for your Black Friday and Cyber Monday promotions. Read on to find out how!
Make Your Cyber Monday Emails Stand Out
In our time as an email marketing agency in Miami, we've seen the power of unique subject lines for many small businesses.
Your customers' inboxes are going to be full of Cyber Monday and Black Friday promotions. If you want your emails to resonate, you need to find a way to stand out.
Think of creative ways to position your subject lines that motivate your customers to open your emails. These should tell your customers what they can expect and create a sense of excitement and urgency.
For example,
"The BIGGEST Ever! Shop Our 30% Off Cyber Monday Sale!" is more compelling than "Shop our Cyber Monday Sale." It promotes big savings and gets the customer excited about what's in the email.
Build Anticipation Early
Don't wait until Friday to start advertising your sale—instead, build anticipation by sending out emails as early as the week before, with a sneak peek at the sale. Some companies even start weeks before, advertising fall sales or Cyber Monday sales that last the entire month! That option also helps you beat the inbox rush and stand out from what other companies might be doing.
You'll beat the rush of emails to the inbox and give your customers reason to look forward to your upcoming emails.
Establish a Sense of Urgency
How often do you look down at an email and think to yourself, "Oh, I'll go back and take care that later?" only to forget about it completely?
The same thing happens to your customers! That's why it's important to generate a sense of urgency with your emails. Urgency is fundamental in sales psychology—it's what motivates your buyer to take action.
Use your subject lines to establish urgency by including phrases like "last chance" or "final." Then in the body of the email, include a countdown timer as a visible reminder to your customers that they need to act now or run the risk of missing out.
In this email from Fossil, the urgency is built right away with the headline—one day only.
Keep Your Black Friday and Cyber Monday Emails Short and Simple
During our years as an email marketing agency in Miami, we've seen a common email mistake: making emails too long.
Not only are your customers dealing with countless emails in their inboxes around the holidays, but they're also likely busy with food prep, planning gatherings, traveling, and visiting with family.
Black Friday and Cyber Monday are not the times to be sharing long stories or 500-word emails that take time and concentration to get through.
Instead, keep the emails short, sweet, and sales-focused. Explain what your promotion is and how it can be used.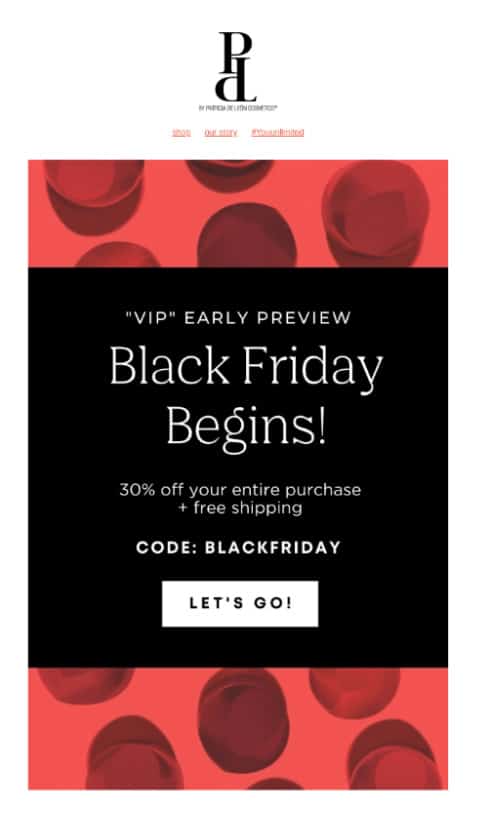 In this example, PDL Cosmetics keeps their email very short, providing just the necessary information about the sale to pique interest, then driving traffic with a CTA button.
Reward Loyalty
Reaching out to your full list on Black Friday is a great way to generate sales. But consider doing something extra special for your loyal customers.
If you have a VIP list or a rewards program, make sure that list gets something special. Make it clear that what you are offering them is something exclusive—an extra day of the sale before everyone else, or an additional percentage off just for them.
Creating that air of exclusivity will make your customers feel extra special and appreciated. In turn, they'll want to purchase from you!
Include a Clear CTA
Sometimes we shy away from telling our audience what we want them to do. But with promotional emails, the call to action matters.
Make sure your audience is clear on what you're offering them and what you want them to do next. Use strong CTA language, like "Shop and Save," "Shop Sale," or "Claim Your Savings Now," to encourage your customers to click through and start shopping.
Even better, come up with creative CTA language that still encourages the viewer to click. For example, in the email below from Postable, they swap out the normal "Shop Now" for "To the Cards!" This creative twist catches the eye and drives action.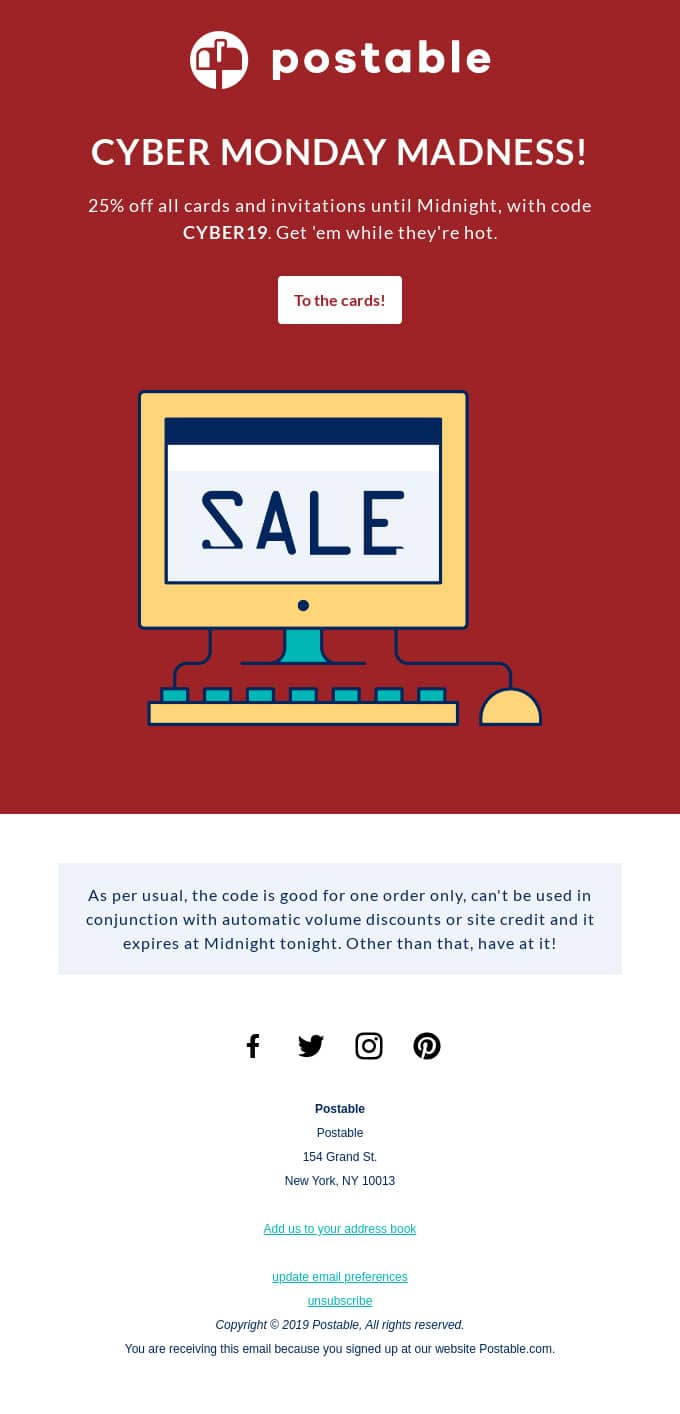 Use Strong Designs and Visuals
The goal of any great email is to hook your audience right away and keep them interested. That's never more true than at a time when their inbox is pinging with potential other places for them to purchase from!
Your Cyber Monday Emails should be eye-catching and credible. Bold headlines and captivating imagery will draw your audience in and encourage them to actually spend time reading the email.
Take the extra time to make sure your email looks as promising as your promotion is!
Don't Be a Stranger
Many small business owners only utilize email marketing around Black Friday, Cyber Monday, and special holiday sales.
But truly effective marketing is about building trust and relationships. That means you can't just pop into someone's inbox once a year and expect them to buy from you!
If you aren't regularly emailing your list, don't wait until Black Friday to start. Make sure you're sending valuable content, including educational emails in addition to promotions, before the holiday season approaches.
Communicating with your list regularly builds trust and loyalty with your customers and makes them look forward to opening your emails. Then, when you do show up with your promotional emails, they're more likely to want to purchase from you!
Analyze Your Email Marketing Campaign (Plus an Example from Our Agency)
One of the most important strategies for your Black Friday and Cyber Monday email marketing campaign actually comes after it's finished—analyzing insights and learning from the campaign!
What subject lines led to the highest open rates? Which campaign strategies resulted in the most revenue? Did people respond to your CTAs?
There's plenty of great email marketing advice out there, but the most important thing to learn is what works for your customers. For example, our work with Alkaline Herb Shop entailed running several email campaigns per month, then analyzing the insights and adjusting accordingly. As a result, their email revenue increased by more than 11 times from the year before.
Evaluate your campaign and figure out what resonated with your particular audience. Pay attention to the open rates, the click-through rates, and the unsubscribe rates. Then make note of that so that next year's campaign can be even more effective!
Work With A Miami Email Marketing Agency
Whether you're a local business searching for an email marketing agency in Miami, or you're elsewhere needing remote content, design, and strategy, we're here to help!
Crème de Mint offers email marketing campaign strategy, copywriting, and design services. Contact us and let us know how we can help!