Project Info
Brand/Client: YZY Perfumes
Industry: Beauty & Cosmetics
Designed by: Crème de Mint
Location: Miami, Florida
Creative Deliverables
Fragrance package design
Print ready artwork mechanicals
The Challenge: Luxury Perfume Packaging for a New Fragrance Line
YZY perfume is a family-owned perfume wholesaler, and one of North America's largest fragrance manufacturers that needed packaging design for their new luxury perfume line.
YZY came to us for packaging designs for a new line of men's and women's fragrances—Z3. They needed designs that captured the essence of the scents and appealed both to wholesale retailers and directly to consumers.
The Project
Luxury Perfume Packaging Design: Z3 For Her
When YZY launched the Z3 line, they created seven fragrances—Blush, Floral, Girly, Lily, Rose, VIP, and Viva la Belle.
Z3 Blush
For Z3 Blush, we designed a package that evoked romance and excitement. The purple ombre paralleled the pattern of the bottle, while the darker colors added a mysterious feel.
Z3 Girly
Z3 Girly captures a strong and sexy vibe. The black, purple, and gold color palette represent feminine power, the captivating essence of a woman.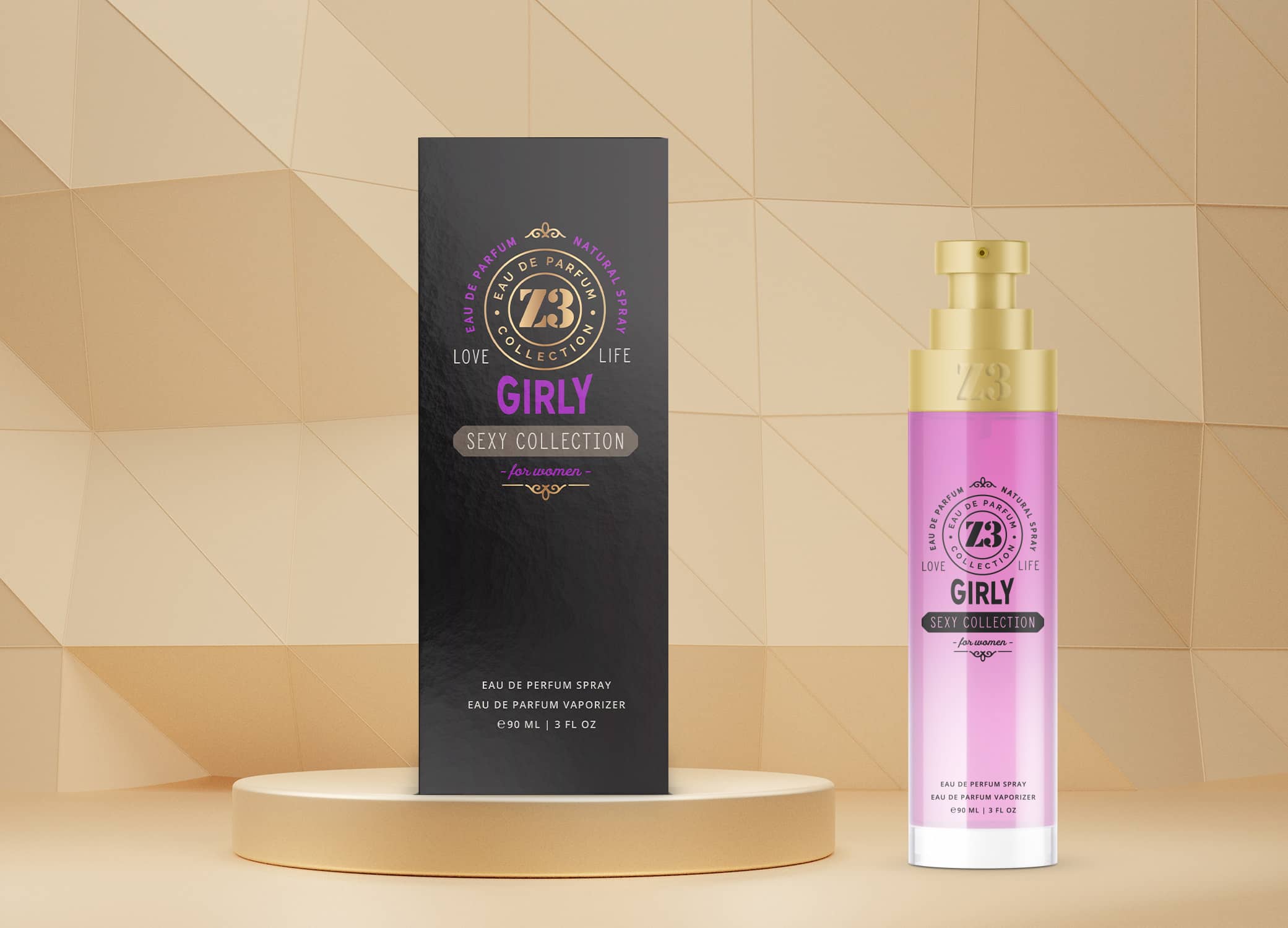 Z3 Floral
The package for Z3 Floral drew inspiration from nature, with black and metallic silver floral imagery against a sleek white background. The pink, black, and silver color palette evokes romance and sensuality.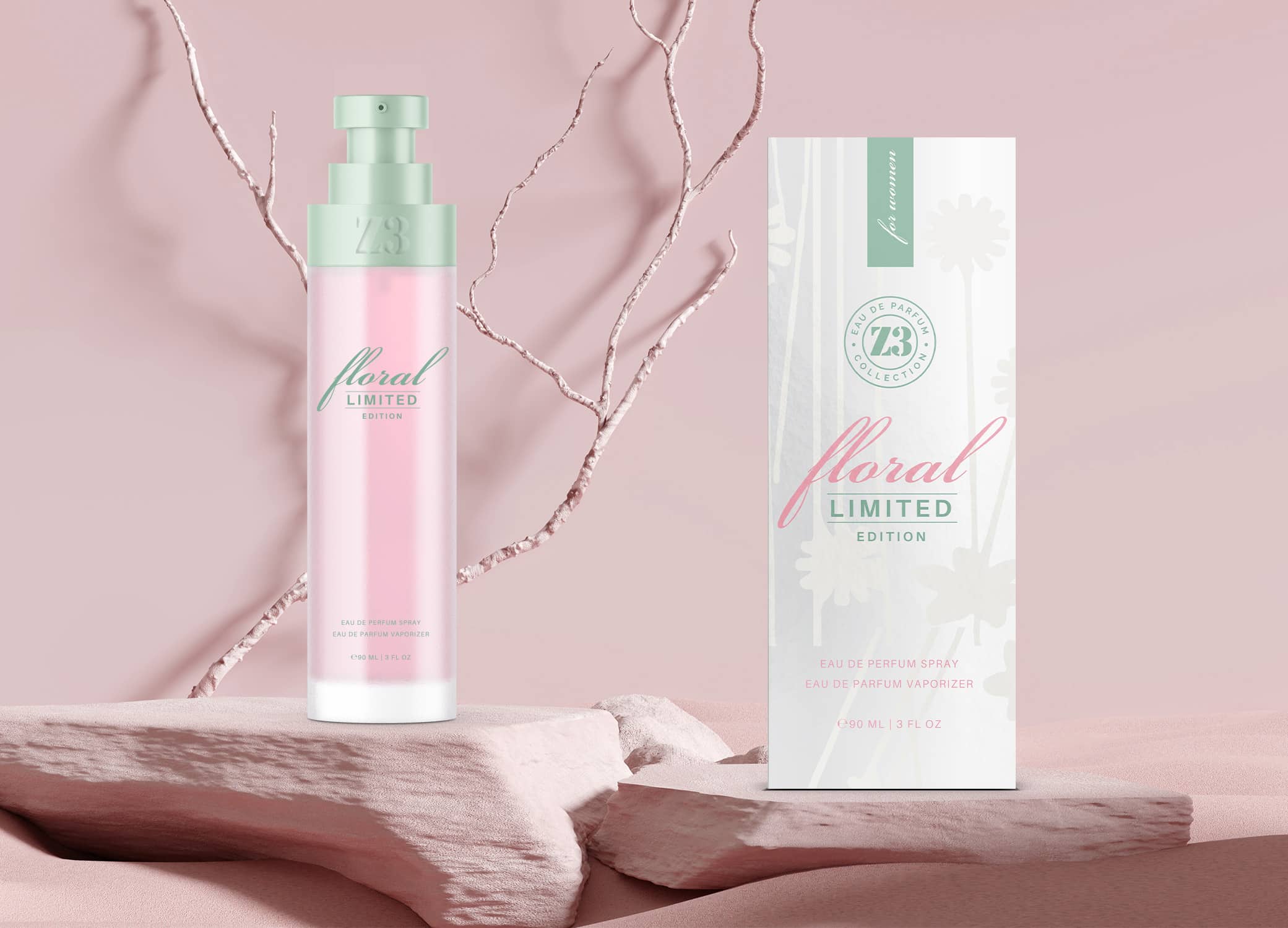 Z3 Lily
For Z3 Lily, we created a chic and sophisticated box. The metallic background feels upscale and modern, while the pink color pop adds an element of warmth and femininity.
Z3 Rose
The packaging for Z3 Rose represents the simple beauty and delicacy of a rose. The flower image is subtle but eye-catching. The color palette of silver and pale pink evokes serenity and elegance.
Z3 VIP
Z3 VIP's packaging commands attention and inspires confidence. The bold silver font combined with the faint Z3 pattern on the box draws the eye. The rose gold and silver color palette symbolize class and power.
Z3 Viva La Belle
The package design for Z3 Viva la Belle symbolizes beauty and femininity. The vintage emblem creates a sense of nostalgia, harkening back to classic elegance and romance.
Luxury Cologne Packaging Design: Z3 For Him
Z3 for him had 9 fragrances—Bolt, Dakar, Decree, Leep, Oro, Quo, Zoro, Select, and Urban.
Z3 Bolt
For Z3 Bolt, we designed a captivating package that symbolizes strength and prestige. The diamond-shaped icon represents masculinity and sophistication. The silver pop of "Bolt" stands out against the gray and black color palette, evoking power and command.
Z3 Dakar
Z3 Dakar's packaging represents coolness and confidence. The classic combination of red, white, and black commands attention and evokes assertiveness.
Z3 Decree
The packaging for Z3 Decree is sophisticated, yet masculine. It feels high-end and polished. The color palette of red, black, white, and gray represents self-assuredness and strength.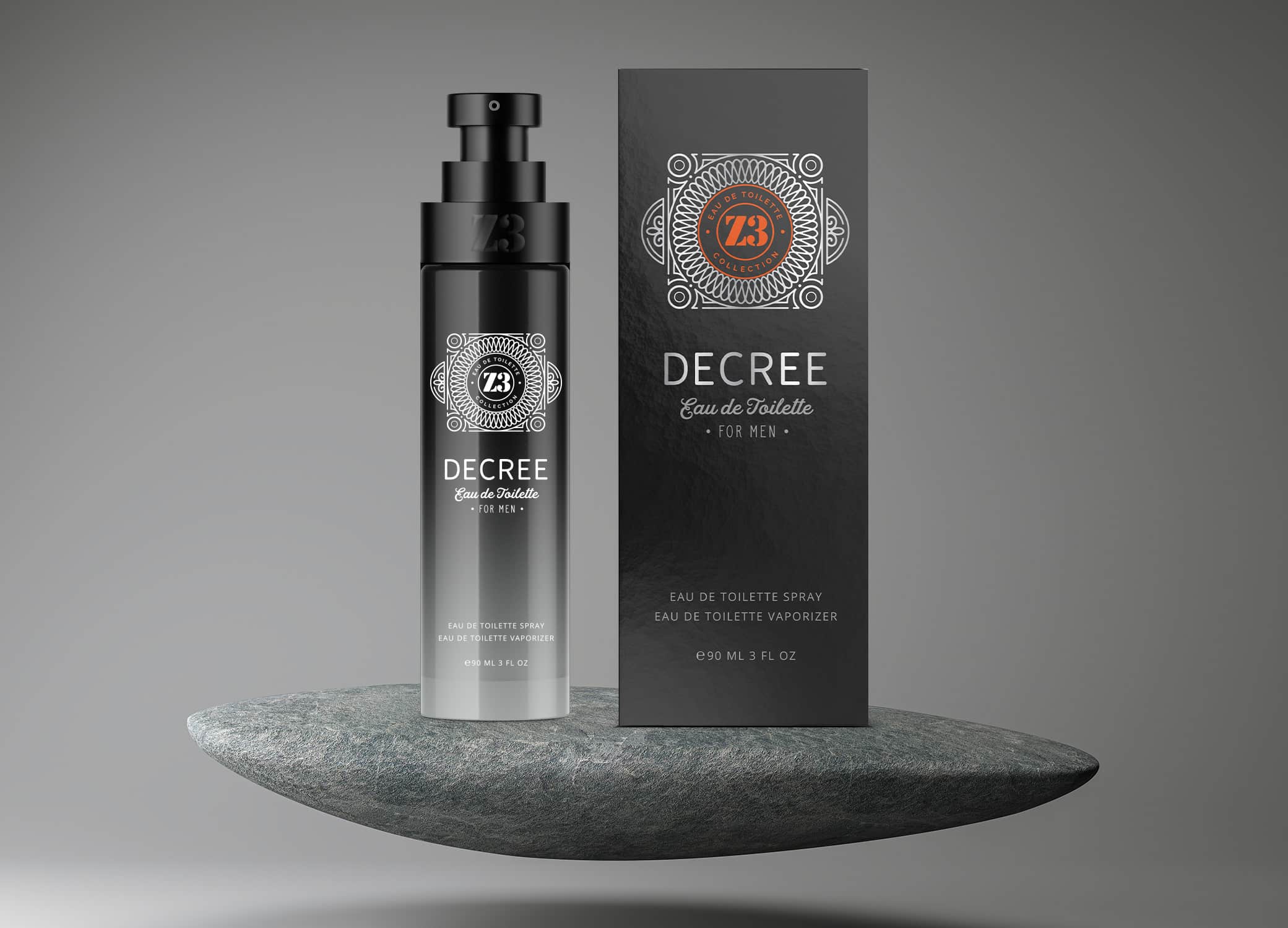 Z3 Leep
Z3 Leep's packaging captures the essence of adventure and mystery, appealing to the man who loves to travel and conquer the world. The patterned background symbolizes scratches from a jaguar or tiger, representing a man who leaves his mark on the world.
Z3 Oro
D3 Oro's package design is upscale and elegant, for a man who knows his own value. The design evokes power, wealth, and luxury. The color palette of black, tan, and gold is reminiscent of cigar parlors and nightclubs, where men of status gather and celebrate their successes.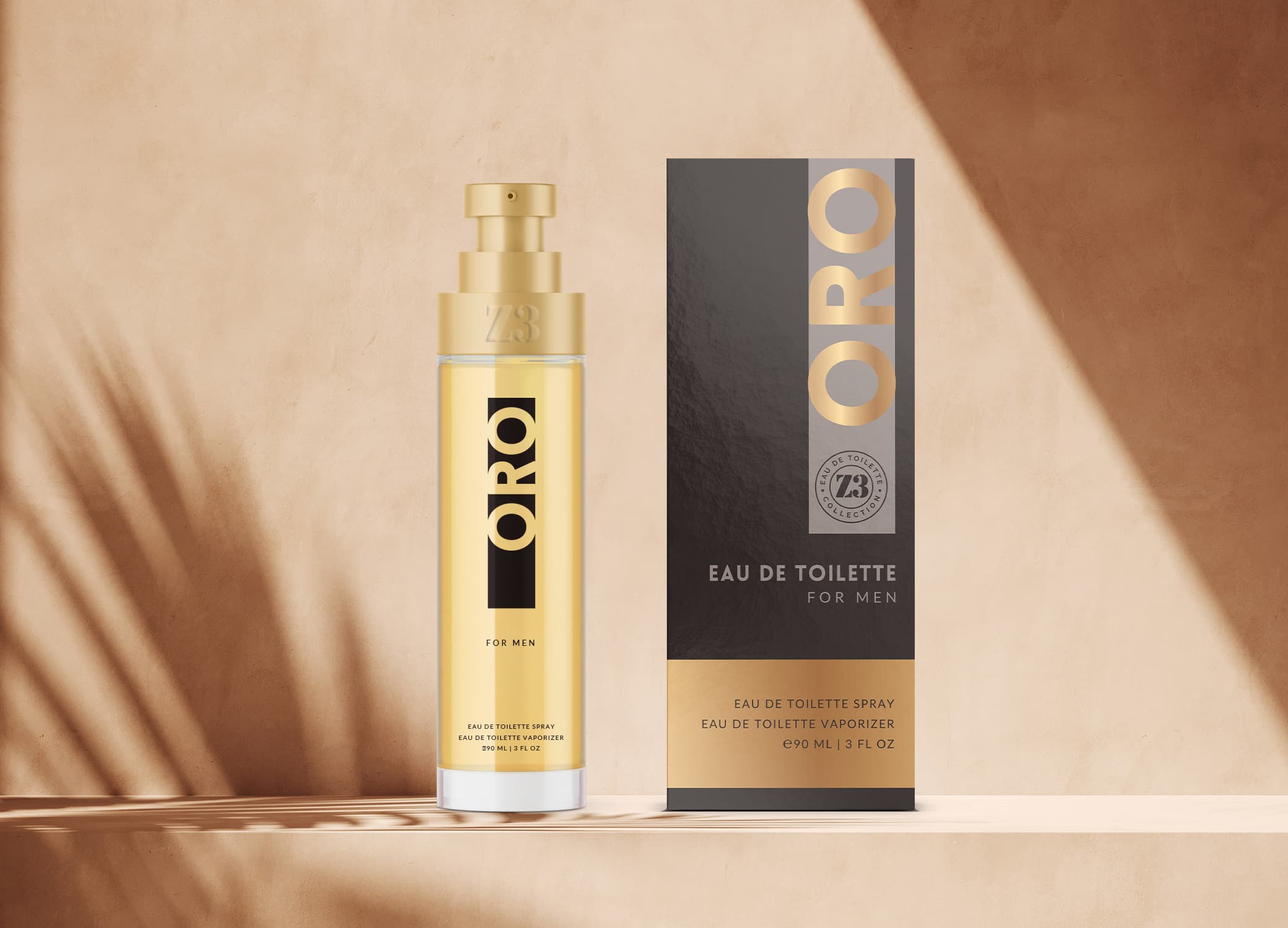 Z3 Quo
For Z3 Quo, we created a design inspired by a man who wants it all and refuses to settle. In order to create the feeling of rugged power and brawny strength, we chose an earthy color palette of green and rust. The elegant, ornate detailing on the background captures a luxurious atmosphere.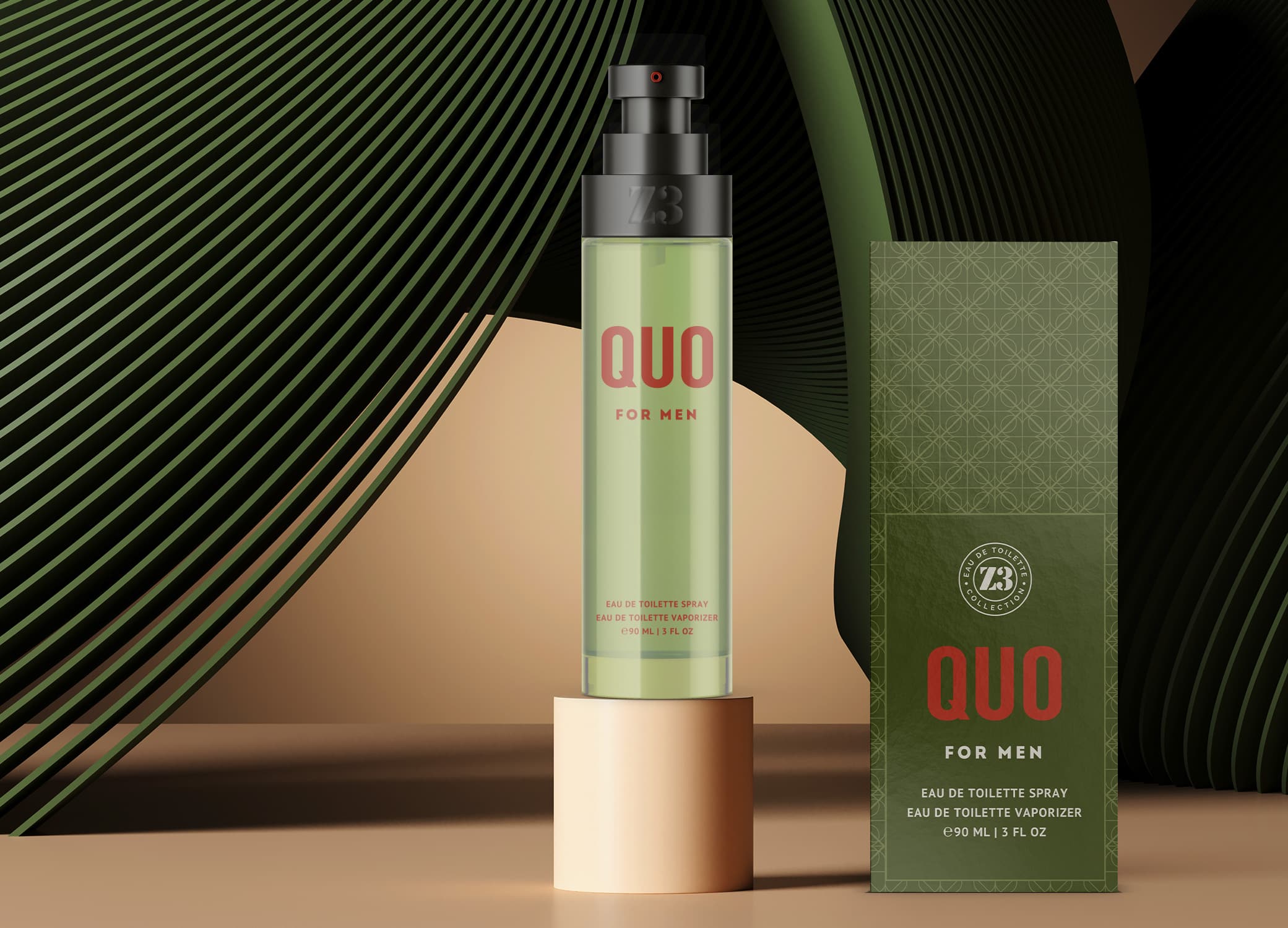 Z3 Zoro
Z3 Zoro's packaging is sleek and sophisticated, representing effortless masculinity and style. The black evokes power, while the blue and orange pops with energy and excitement.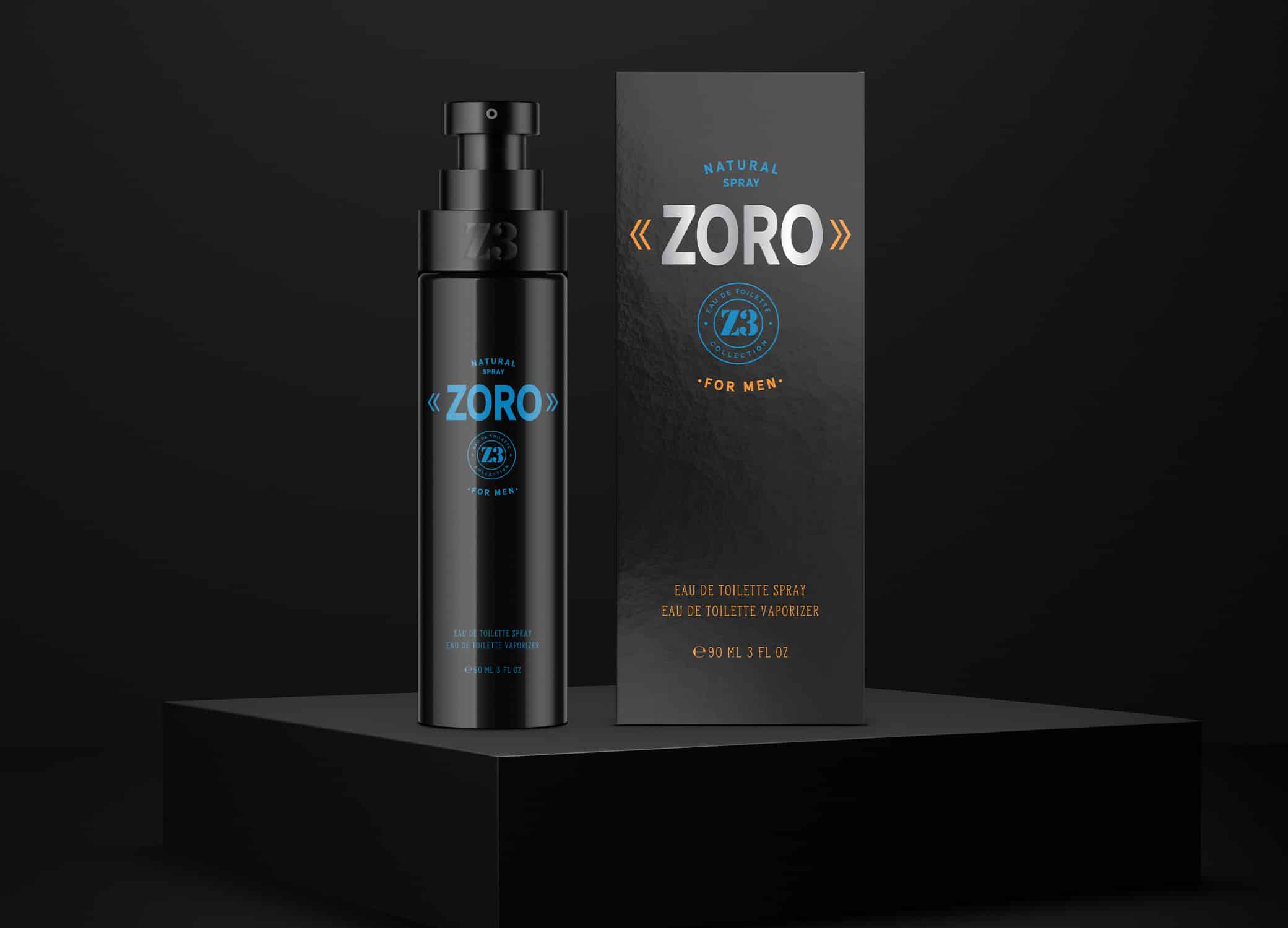 Z3 Select
Z3 Select's packaging represents quiet strength and careful calculation. The cool gray color palette evokes masculinity and endurance. The broad, bold stenciled Z3 on the box catches the eye, standing out from other fragrances.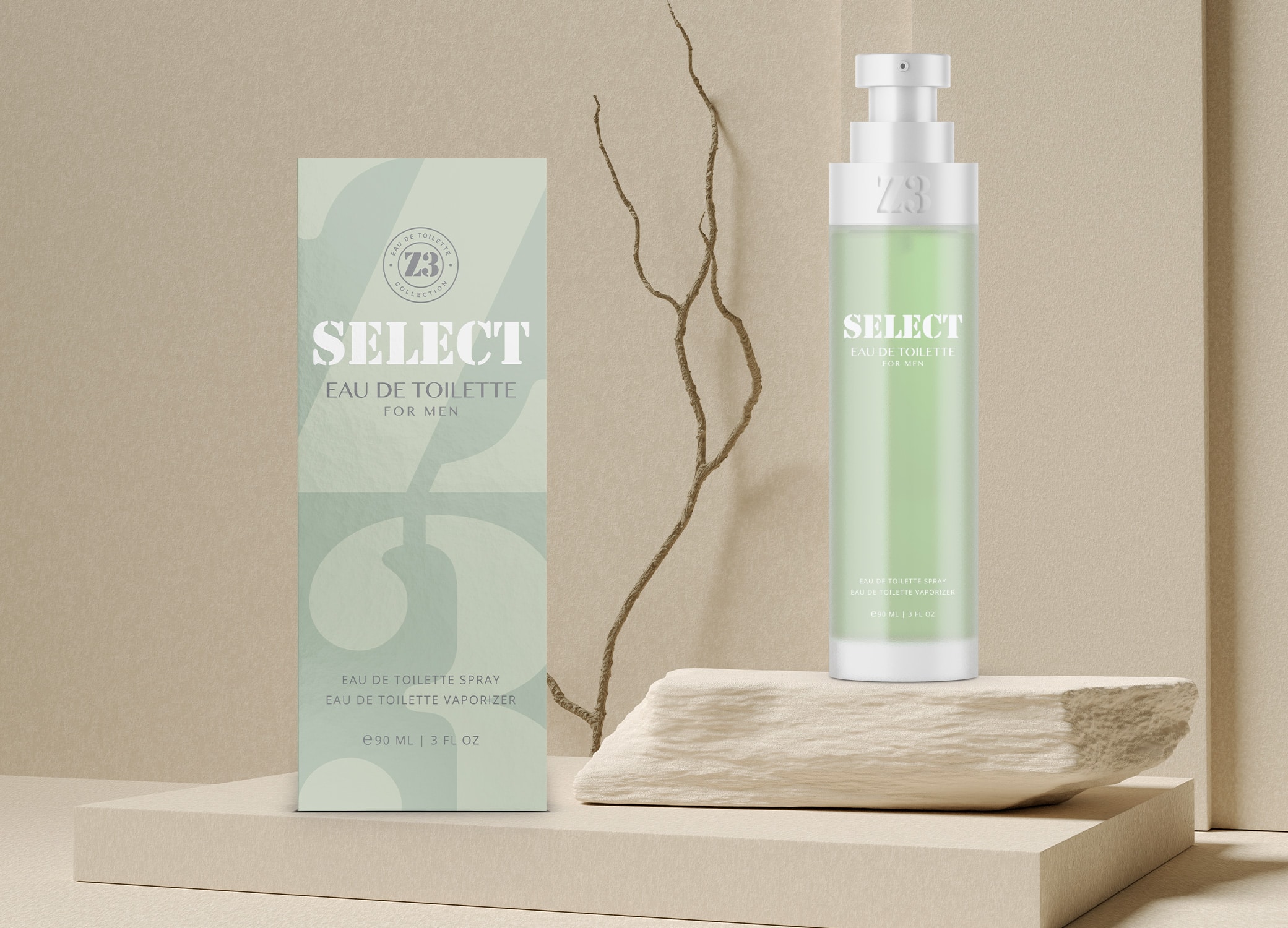 Z3 Urban
For Z3 Urban, we designed a modern, urbane package for the young professional man. The metallic silver and deep blue color palette represent luxury and reliability. The patterned background is inspired by a chain-link fence—symbolizing strength and stability.
The Results
Our designs for YZY laid the foundation for a successful launch of the line. In essence, the luxury packaging provided visual appeal, standing out from other designs and capturing interest.