When you're running a small business, it's important to track data and measure your business success.
But how do you do that? What should you track? And how will you know whether you're successful?
The answer lies in KPIs—key performance indicators.
Without tracking your KPIs, your business could be floating around without a direction. After all, how can you tell if you're meeting your business goals if you don't have a way to measure whether and how well you've met them? KPIs give you insight on what to focus on, what your business's successes are, and what needs attention right away.
Find out what KPIs you need to be tracking and how to measure your business success!
Choosing the KPIs to Measure Your Business Success
There's no standard list of the best KPIs for your business. Your KPIs have to reflect your business, industry, and goals.
But there are best practices for choosing the right KPIs, and for avoiding the wrong ones.
Follow these 3 tips for choosing your KPIs:
1. Your KPIs Should Align with Your Goals
The most important element of choosing the KPIs you track is ensuring that they reflect the goals you have for your business.
If your goal for your business is to sell your juice brand in grocery stores, then you need to be tracking the KPIs that help you reach that goal—like your customer satisfaction and your average order size.
Take some time to think about what questions you need your data to answer.
2. Your KPIs Should Be Measurable
In order to measure your business success, you need data. That means that your KPIs have to be measurable, achievable, and actionable.
Your business might have objectives that can't be measured with KPIs, and that's okay! You might want to be more professional or present yourself in a more appealing way to clients. But how can you measure those things?
If it can't be measured, it doesn't belong in your KPIs!
3. Prioritize Your KPIs So They're Achievable
Whatever you choose as your KPIs to focus on, you'll be measuring and actively working toward.
So it makes more sense to choose a smaller amount of KPIs you really want to focus on rather than trying to worry about everything in your business. That doesn't mean that the other factors aren't important, just that they're not a top priority at the moment.
Choosing a small amount of valuable KPIs will give you immediate focus and help you push forward on areas that will help you reach your goals.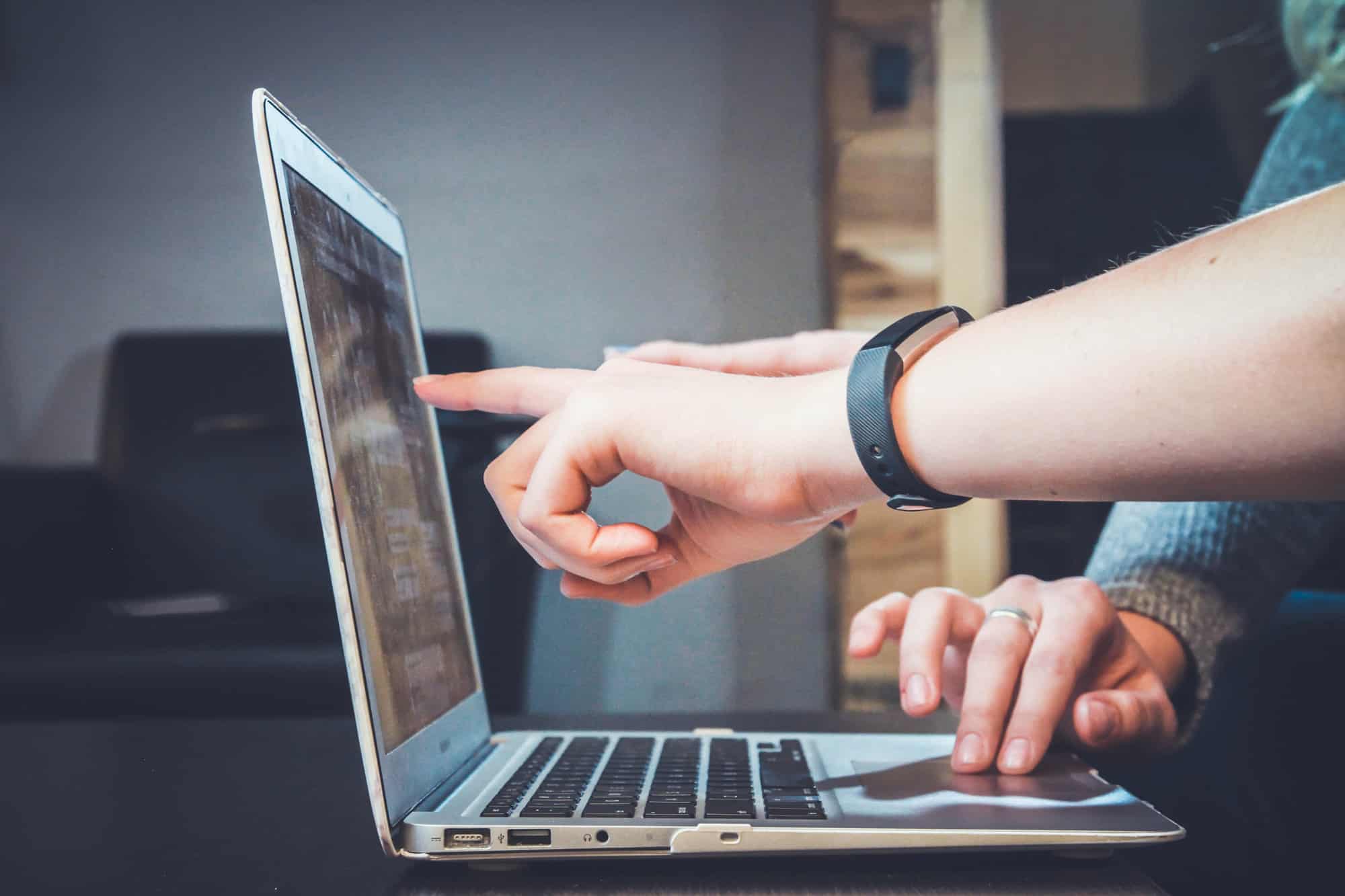 5 KPIs to Track for Newer Businesses
As you build and expand your business in the future, you will likely develop different KPIs. But here are some good KPIs you might consider tracking when you're starting out:
1. Customer lifetime value
Focusing on reselling to existing customers is important in your business. Customers are more likely to buy from you if they've already purchased from you before. Plus, when you focus on re-engaging existing customers, you don't have to worry about acquisition costs.
That's why customer lifetime value is an important metric to track for new businesses. Are customers coming back to you? What are they spending on average? Are your upsell attempts working?
Those metrics will give you answers for what changes to make in your business model so that you can increase the lifetime value of your customers.
2. Cost per customer acquisition
As a small business owner, you need to understand how effective your marketing is. You should be tracking how much it costs you to attract and convert new customers to your business.
This should be an ongoing KPI that you track in your business as you grow and scale.
3. Customer satisfaction
Building a relationship with your customers and making sure they feel happy and satisfied with your process is also very important.
Survey results and average ratings can help you track customer satisfaction rates and give you viable data on what to improve in your processes.
4. Website metrics
As a small business owner, your website can be a big expense. It's important to track metrics around your website and understand what kind of ROI you're getting. If your website isn't bringing in enough visitors, then you know that you need to make adjustments, through SEO (search engine optimization), content marketing, or advertising.
This chart gives you an idea of how a website's business success might be measured: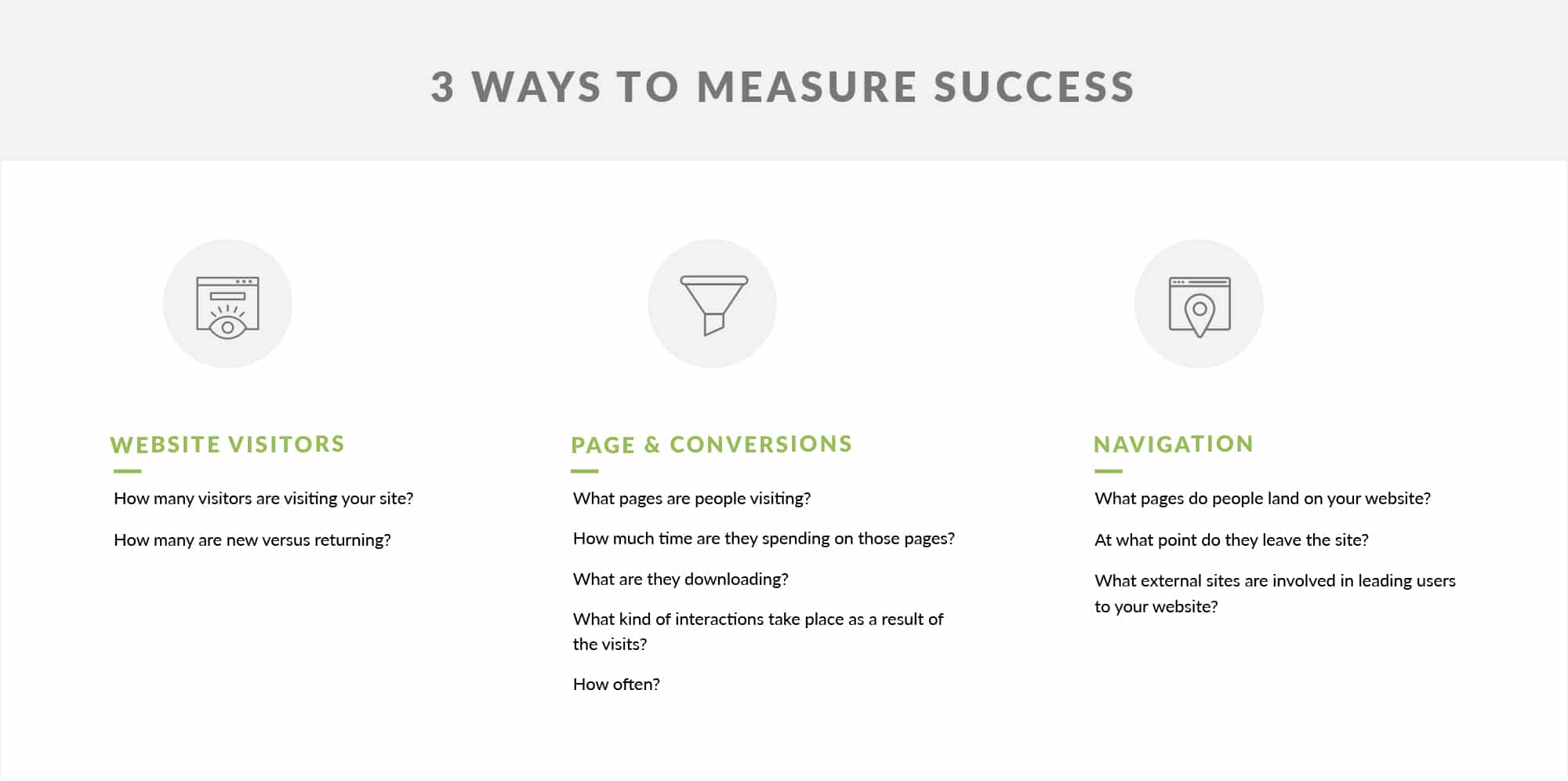 It's also important to consider your goals with your website. Try asking yourself questions like:
– Who is browsing your website and what are they trying to accomplish?
– How much time are they spending with your content?
– What brought them to your website and where do they go when they leave?
Keep those goals in mind when analyzing your website metrics. Google Analytics is a free tracking tool that shows you how many visitors you have to your website, how long they spend on your site, how many interactions they have, and more. It's a valuable tool for new business owners to understand how customers are using their site and how they can improve.
For example, if you notice that you have a high bounce rate (meaning users leave without interacting on your website at all), your site might be loading too slowly or it might be too difficult for users to find what they need right away. If you have a sudden drop in traffic, you might have SEO issues you need to address.
5. Social media metrics
Social media offers plenty of metrics for you—but not all of them are valuable. It's easy to get caught up in likes or follows.
However, it's important to remember that your metrics are only valuable as they relate to your sales and customer loyalty. It's better to have 100 followers who engage with you daily than to have 10,000 followers who never engage with your posts, because those 100 followers are much more likely to buy from you.
Important metrics to track around social media might include how many sales you get through influencers, click through rates to your website, and even share rates.
Scheduling tools like Later, Buffer, and Hootsuite let you manage your social media and also provide analytics and insights on these KPIs.
The KPIs you track around social media need to play into your goals as a business, your customer engagement, and ultimately your sales.
Types of KPIs to Measure Your Business Success
As your business grows, your goals will change. While the KPIs above are a great starting point, there are many different types of KPIs you can use to measure your business success as you grow. Here are a few of the most common types of KPIs:
Quantitative—these are the ones that come down to just a number.
For newer businesses, these might be sales revenue per month, cart abandonment rates, or email click-through rates. Later on as you bring on more team members, you might need to track other numbers, like your profit margin per sales rep or staff turnover rate.
Qualitative—these look at more of the feelings behind your brand.
For example, customer satisfaction or social media engagement. These are important at any level of your business.
Leading indicators—these have to do with future possibilities for your business.
For example, new products offered. When your business is starting out, you might need to focus on other areas. (It's not that the future is unimportant, but you need to prioritize your focus and your KPIs.)
Process—these measure efficiency in your processes.
For example, average sales call time. Like leading indicators, these are important but might be something you focus on more as you grow your business.
Lagging indicators—these are used to measure the effectiveness of an action you already took.
For example, measuring the success of a campaign you ran. You should measure these at any stage of your business where you are running campaigns or taking big actions that could provide valuable ROI.
Input indicators—these measure the resources you put into something.
For example, the amount of staff hours used for a new product launch. These are also valuable at any stage of your business but might be something you focus on more as you grow and scale.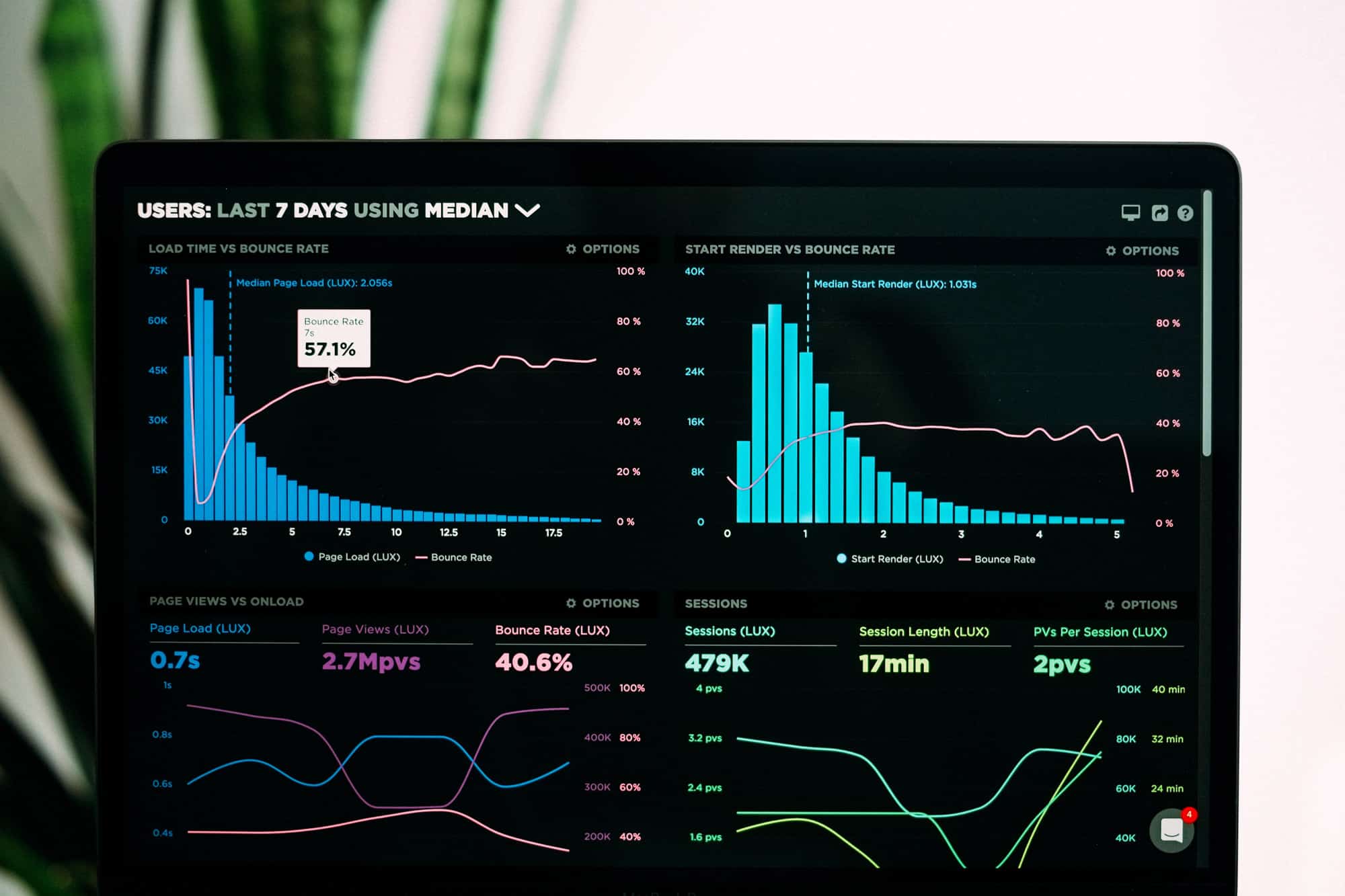 It's important to remember that you must prioritize based on your goals and your immediate business needs. And remember, just because you aren't measuring it, doesn't mean you aren't doing it. It just means that you have other areas of your business you're focusing on right now.
Tracking and Reporting Data When Measuring Business Success
Once you decide what KPIs you want to track, you need a way to measure and report the data. KPI reporting management tools, like Domo or Salesforce, can help you collect and contain your data in one place, but they also come at a high price point.
However, there are more affordable alternatives you can invest in for your business like Simple KPI, which starts at $99 per month.
Google Analytics, social media schedulers like Later, and CRM tools such as Klaviyo, can provide tracking and reporting as well.
Whatever method you choose, it's important to set time to check in on your KPIs. Plan time either monthly or quarterly to view your reports and evaluate their effectiveness.
After that, you can either adjust your KPIs, or bring in new ones to measure!
What You Do With Your KPIs Matters the Most
Remember that your data is only as good as what you do with it. You can track data all day long, but if you don't use those measurements to make decisions and move yourself toward your goals, you're wasting your time and effort.
Make sure that you have a plan in place to use your KPIs with goal-setting, measurement, review, and implementation.
Are you looking for more tips on running your small business? Check out our post on factors successful business owners have in common next!