Today I visited Matapoteket, my first visit to a raw food, gluten-free, vegan restaurant in Stockholm. Matapoteket in English means food pharmacy/apothecary. Painted on the front counter where you order your food is "Mat Som Medicin" meaning "Food as Medicine".
How it looked
Clean Scandinavian Design
Matapoteket's interior is characteristic of Scandinavian design with it's clean lines and white interior, which goes very well with a clean, raw food food concept.The shelves at the front with products, plants and jars, reinforce the apothecary concept.The white-washed tables and chairs give it a cosy feeling. There is a touch of green with plants throughout the place including a unique vertical hanging garden.
Vertical Garden Design
The vertical garden design, created by Swedish company, Butong, boosts a low maintenance garden that can be created on any wall whether it be inside or outside. I love the idea of placing one of these wall gardens on a wall inside my apartment. Matapoteket's garden has all sorts of plants growing in it, including one of my favorites, kale, which so far is very hard to find in most Swedish grocery stores.
The material used in the vertical garden ties in with the rest of the design using the same bubble plastic material for the hanging lamps and for the reefs inside the fish tank at the front of the store. Although I question whether the lamps might tie in better with the rest of the design if they were a bright orange-red, as opposed to their gray concrete appearance. Also I like the idea of the lace window by the bathroom, but think a different style of lace (graphic circular design instead of floral) would compliment the rest of the interior design. Overall, I did like the open, clean, apothecary feeling of the place.
How it tasted
Good Health, Bad Breath & Kiwi Salsa
There were an array of smoothies, each named by color. Since I was feeling a bit under the weather and in need of greens, I ordered the Green smoothie. My friend ordered the Brown smoothie, a chocolate flavored smoothie. They also had a variety of shots. We ordered the shot of garlic, ginger and cayenne shot. Good health and bad breath were in our future.
For the main menu, they only had two items to choose from. One was a pizza on a flax bread and the other option was tacos. We both opted for the tacos, since it looked like the better option. Their tacos were delicious. Although they were more like a salad than a taco, they were tasty none-the-less. There was walnut meat, lettuce, guacamole, tomato salsa, kiwi salsa and tomato flax chips. My favorite part of the dish was the kiwi salsa. Something, I had never tried, but very delicious. The smoothies we ordered were served at room temperature, which I supposed makes sense for a raw food place. For me personally, it's not something I am used to. As much as I love chocolate, a warm body-temperature smoothie would not be at the top of my list. The shot of garlic, ginger and cayenne, on the other hand, was quite tasty.
Summary
Overall between the design and lite fare, I enjoyed it and would visit again. The overall look and feel of the place is fresh, clean and cozy. Since their menu is limited to two main meal options, I would be curious to see what new tasty meal their menu might offer on another day. However next time I would probably skip their smoothies and have a shot instead.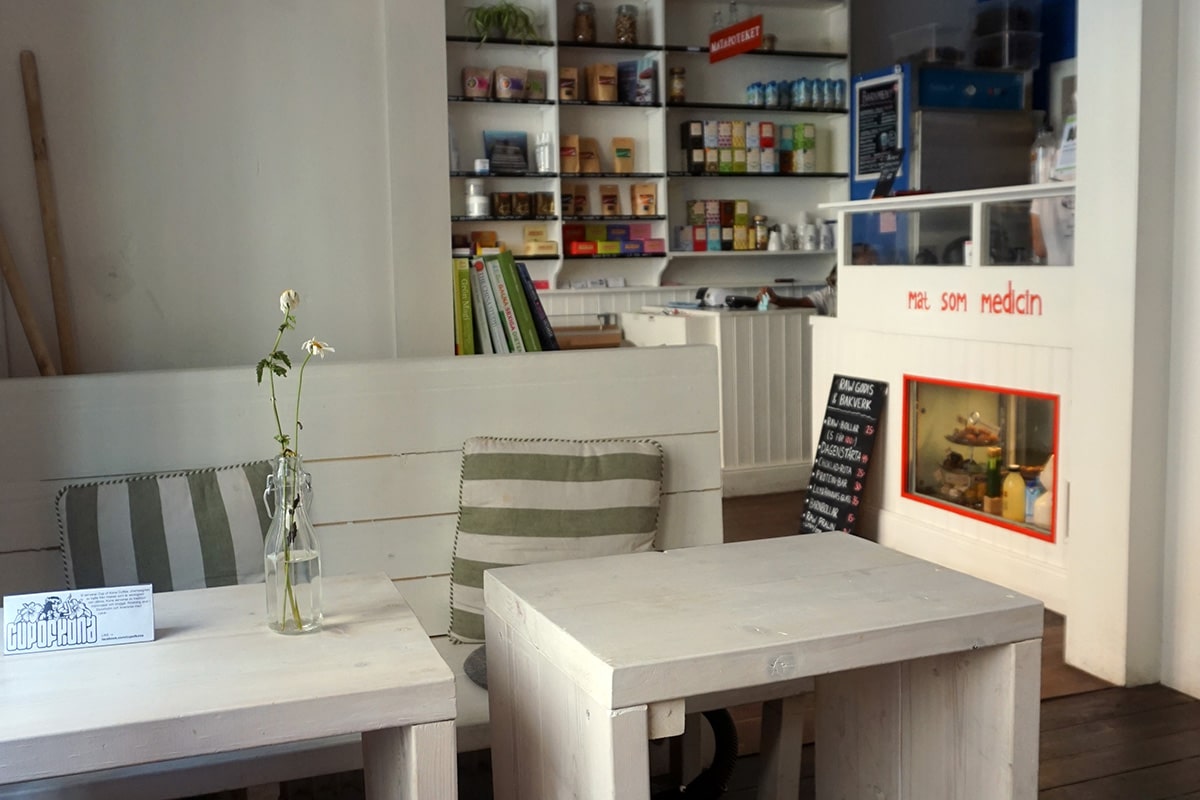 Matapoteket Interior: "Mat som medicin" – Food as medicine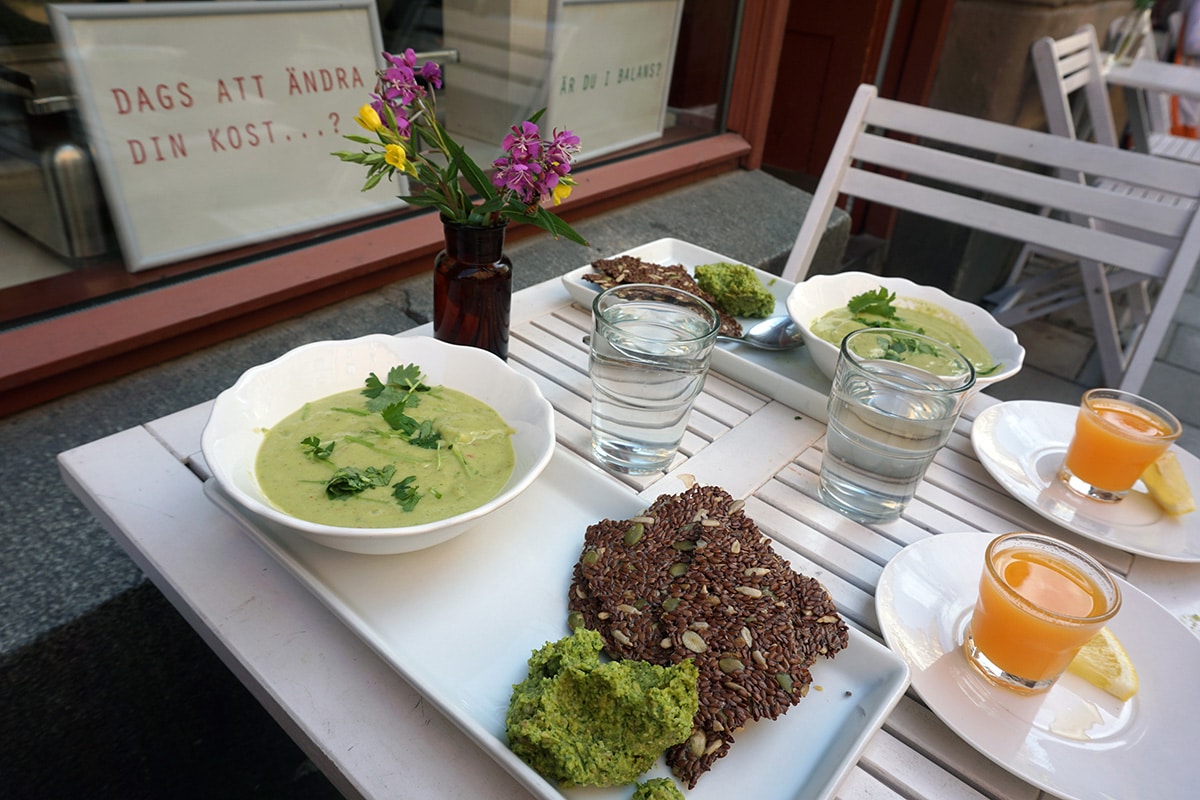 From our second trip to Matapoteket: Delicious cold spicy avocado soup with pesto and flax seed crackers and a garlic, cayenne, ginger shot!!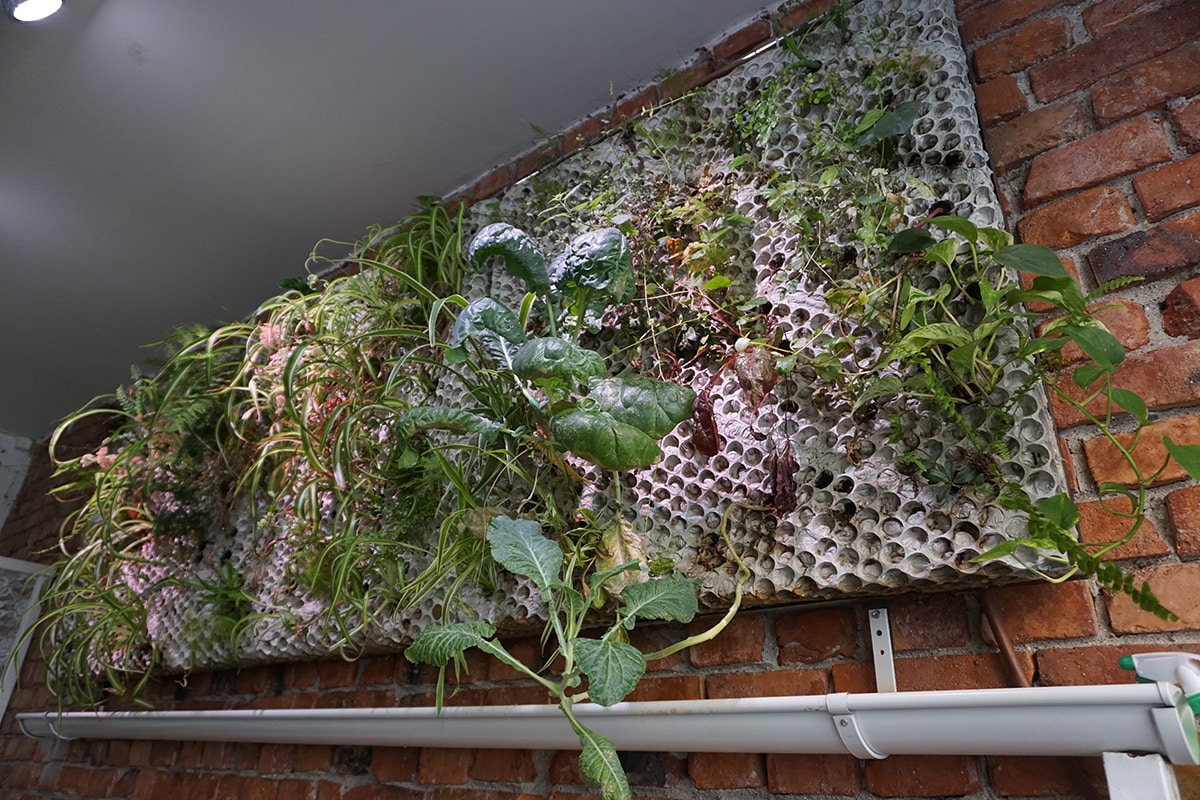 Butong Vertical Garden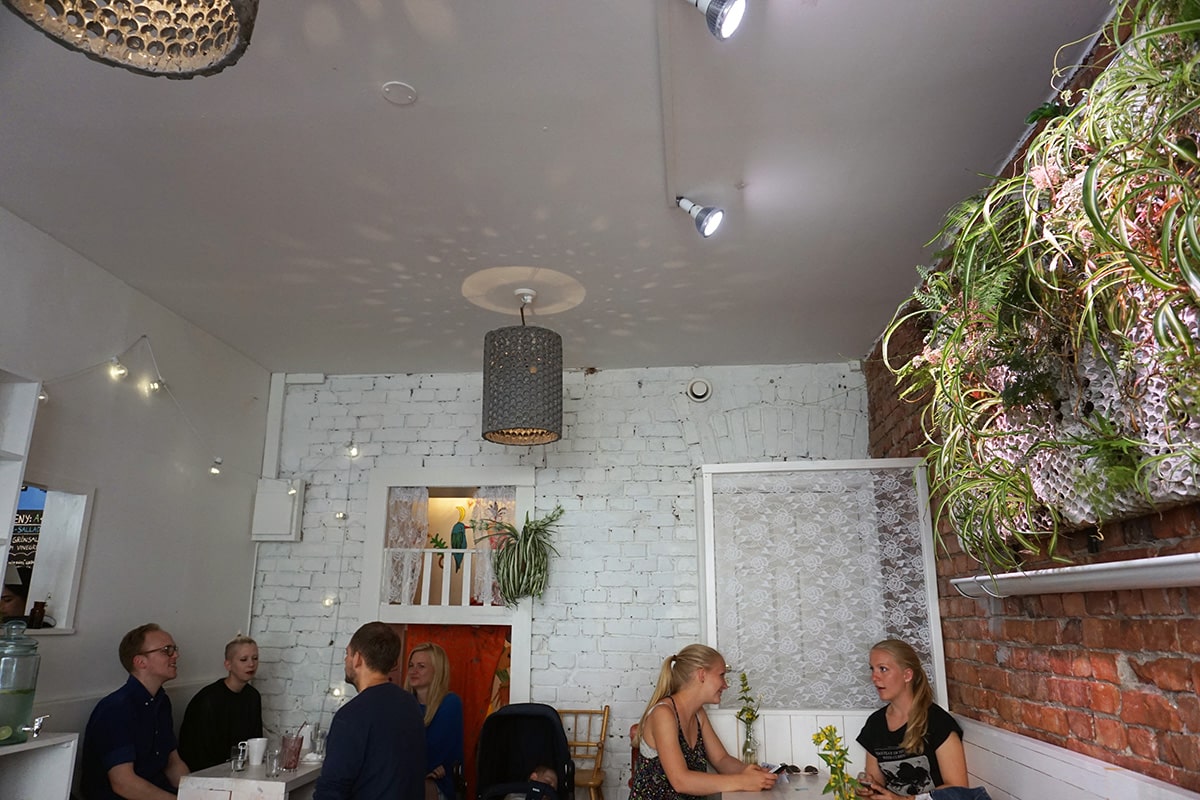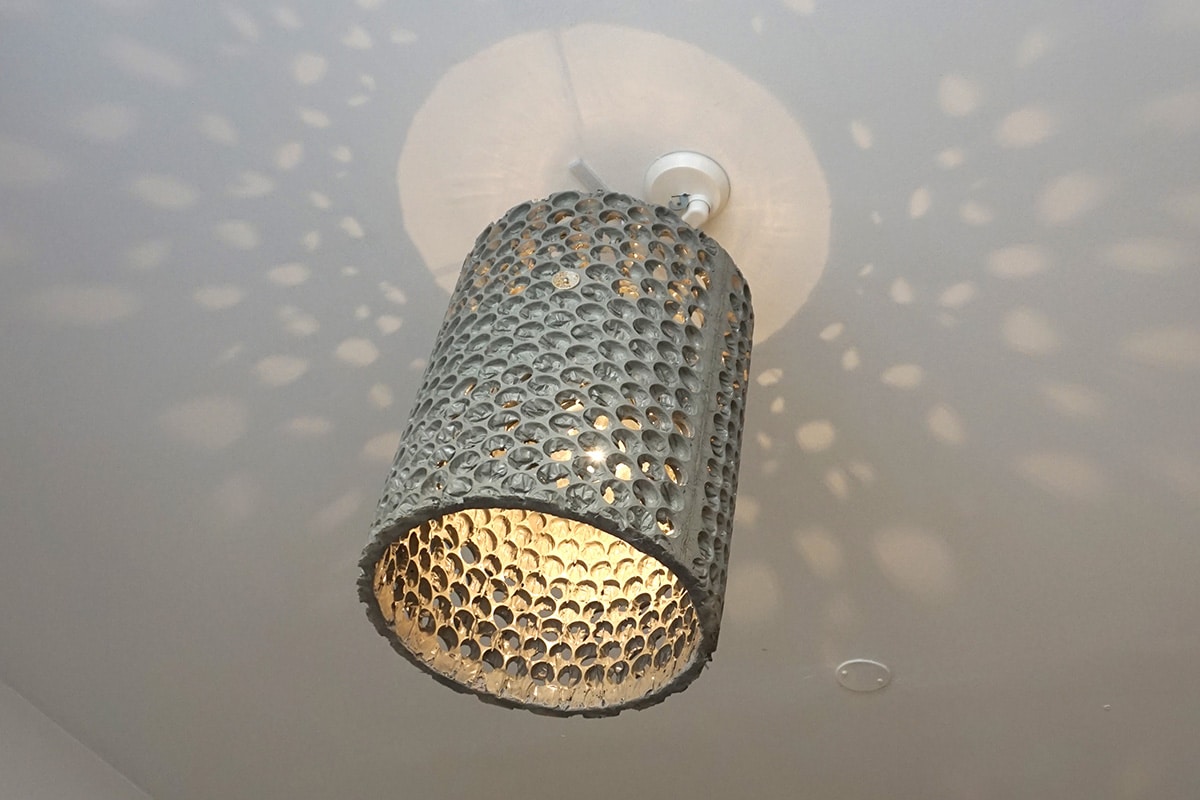 Butong Lamp – Made with same material as vertical garden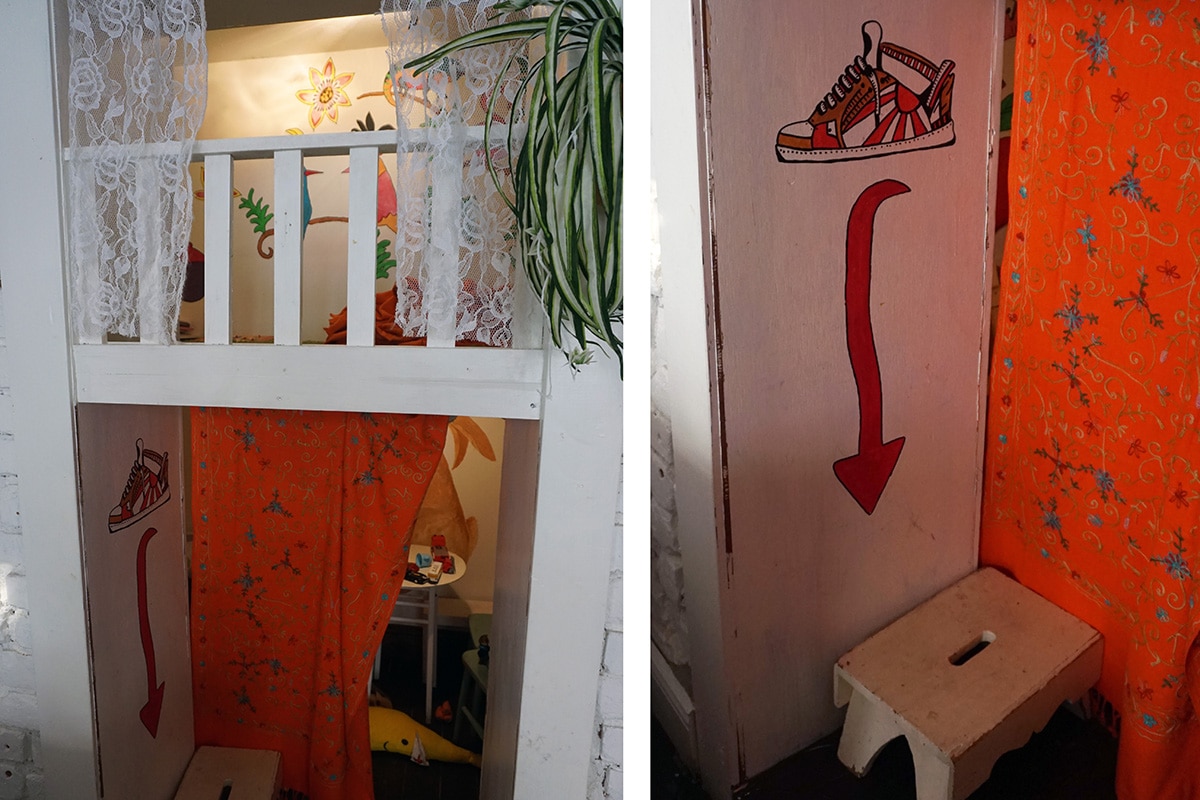 Cozy cute play area for kids: In Sweden you always take your shoes off before you enter your house. The play area is no different.
Restroom: I love these signs hanging inside their restroom