Social media is a two-edged sword for businesses. There's no doubt that social media offers big opportunities for marketing.
But it's also changing constantly—algorithm changes, new ad rules, and social media trends all play a factor. Businesses have to stay up-to-date on changes and what they mean for marketing.
Between new algorithms that place value on "meaningful content" and impact brand visibility and Facebook's recent change in ad rules, this year is unchartered territory for social media. Headlines everywhere are stating that "social media marketing is dead."
But how accurate is that? Is social media marketing really dead? The truth is more nuanced than that. The world of social media is shifting, but businesses just have to keep up with the trends.
Read on to find out the latest trends in social media and how your product business can use them to their advantage.
It's All About Relationships
The big question right now is how are the new algorithms going to affect marketing? But the answer isn't to abandon ship, it's to embrace the changes.
That means less focus on churning out quantity, and more focus on quality. Brands are going to have to put out content that builds real engagement and relationships with their customers.
In recent years, many brands have started focusing on relationship-building. In the past, that might have been an exception to the rule. Moving forward, though, it's going to be vital.
Focus on Authenticity
In order to build those real relationships with customers, the first step is to make sure that whatever you say, you say it with authenticity.
Today's customers are sharp and savvy. They're automatically skeptical of brands. If they don't feel like you're being genuine, they'll never buy from you.
But if you use social media as a way to provide a transparent look into your business, you'll earn their trust. Be honest about your ingredients and your manufacturing process. You can even share photos and videos from behind-the-scenes!
And whatever you do, make sure that if you make a mistake, you address it head-on. In the social media age, silence on controversy is not an option. If you respond the right way, you can earn trust and positive attention.
In 2018, KFC in the UK made a huge misstep. They ended up actually running out of chicken and closing down hundreds of stores.
Instead of ignoring the situation, they stepped up with honesty, and even incorporated a little bit of humor.
They ran clever ads offering a genuine apology, and some comic relief: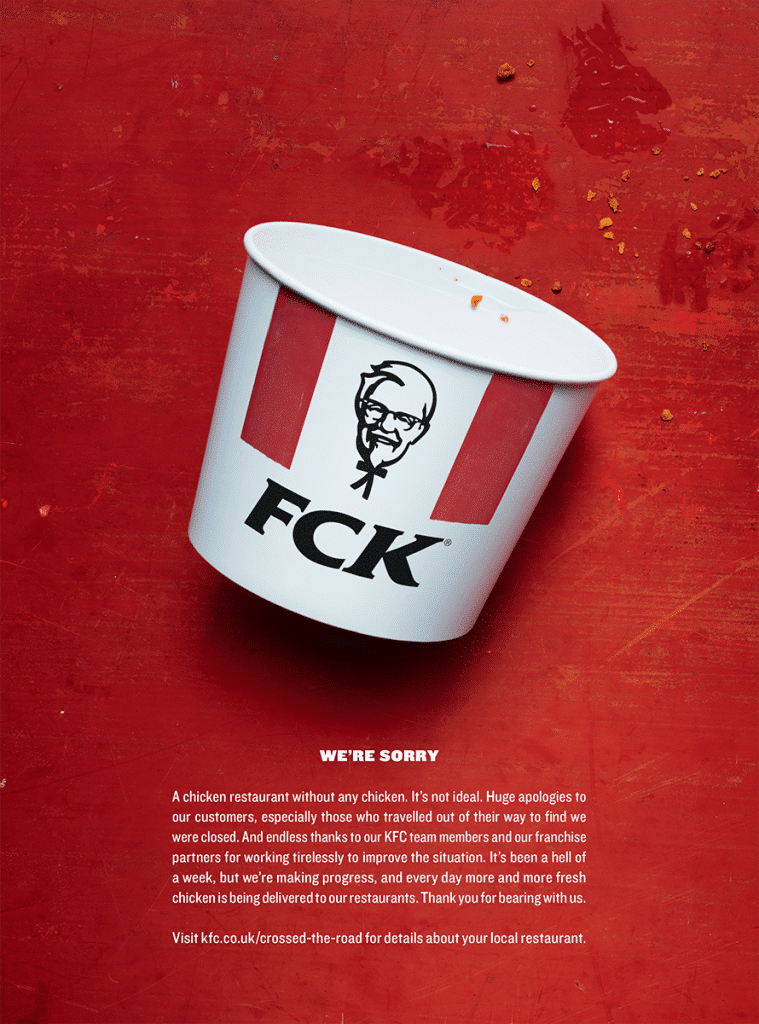 Their honesty paid off. They ended up gaining social media traction and public respect.
That's what it takes to show up as an authentic brand!
Focus on Value
Along with authenticity, customers are looking for value. With social media, customers have their pick of brands and businesses. The ones that stand out are the ones that offer real value.
One of the best ways to do this is through content marketing. When you share valuable content, you spread your brand name, increase awareness, and build a loyal following.
Your instincts might be to throw your attention into ads, and while those are definitely a powerful tool for your business, 70% of consumers state that they would rather hear about brands through content.
That's why it's important to build a well-rounded marketing strategy that includes valuable content, like blog posts, courses, and e-books. Sharing those on social media increases your engagement and drives traffic to your website.
Respond Often
Another way to build relationships with customers is to make sure you're responsive on social media.
Make sure that you find a way to engage with your customers' comments—both the positive and the negative.
When customers comment complimenting your brand, address it and thank them! But when they complain, it's even more important to address it.
42% of people who complain on social media expect the brand to respond within an hour. 57% of those people expected that even on nights and weekends!
Those expectations might sound harsh, but leaning into them could lead to profit. According to a study conducted by Twitter, customers were willing to pay $20 more for a ticket with an airline that responded to tweets in six minutes or less!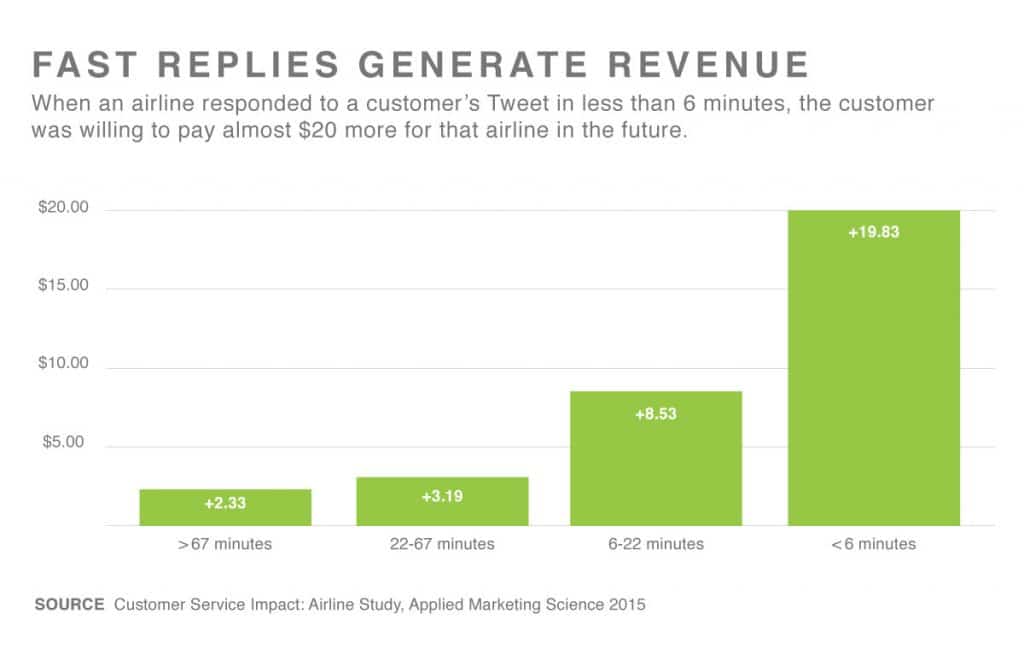 It's clear that expectations are high and people are willing to reward companies that stay responsive. That doesn't mean that you have to have a social media team on call at all hours, but it does mean that you need to consider ways to be more responsive.
If you don't have a dedicated social media team, maybe it's time to bring one on. You want to respond as quickly as you can whenever you can.
Lean in to Your Mission
Consumers care about the "why" behind companies. They want to support companies who are doing the right thing.
If you have a meaningful mission, don't hide it away! Share that on your social media. Maybe you're dedicated to cruelty-free or free-range products, or maybe you're on the forefront of sustainable packaging.
Whatever it is, share it with the world! Post about it, share images, or even create a video revealing your mission. Just stay authentic—you'll connect with consumers who truly value what you do.
Share Your Personal Flair
The most successful businesses on social media are the ones that are willing to show some brand personality. Consumers want to feel like they're supporting a real person—not a robot or a big, faceless company.
But that doesn't mean that big companies can't play the brand personality game. Wendy's is a perfect example—since 2017, they have brought spark and snark to their social media posts.
They ended up gaining over 300,000 followers in one year, and secured a spot in one of 2017's top ten tweets. Most importantly, people love following them. They might be one of the biggest fast food chains in the country, but they have found a way to sound like your funny friend.
Conclusion
So is social media dead? Far from it. But it's definitely changing. You have to find ways to offer value, build trust and engagement, and show up in a way that inspires your following.
Social media will continue to be a strong social media marketing strategy. Brands just have to find ways to keep up with the trends and embrace them!
If you're looking for more tips on marketing, read our post, The Importance of Email Marketing in 2020 and Beyond (Plus Our Tips for How to Do it Right).