Finding the perfect name for your business or product can be nerve-wracking. Will other people like it? Is it catchy? Does it sum up its purpose? Your business name is perhaps the most important part of your business name is perhaps the most important part of your brand, so it's important to take your time and come up with the best name for your business. Here are some guidelines to help you along.
4 Types of Business Names
The four types of business names are:
Deviant

Descriptive

Neologistic

Associative
Deviant names are real words that are not initially related to the company they represent. For example, Apple had nothing to do with computers until the company was started. Descriptive names use real words to describe what a company does. These names are real words that describe what the business does. Neologistic names are made-up of words that aren't relevant to the company's purpose. For example, Spotify isn't a real word and doesn't have anything to do with music. Associative names have elements that describe the business but aren't real words. Take LinkedIn. It's a phrase that relates to connection, transformed into a one-word business name.
Which type of name is best?
Based on Kolenda's criteria, neologistic, associative, and deviant names are the best. Think about the qualities you care about the most in your brand and business and decide which type of name you want. If you care the most about memorability, consider an associative name like Facebook, LinkedIn, and YouTube. If you care the most about scalability, consider a neologistic name, or one that is completely made up.
For more information on how Kolenda's original version of this chart, and for a step by step process for brainstorming each type of name, visit https://www.nickkolenda.com/brand-names.
Choose a name that is likely to be a good candidate for a trademark
One of the most important things to think about when choosing a name is how likely it is to be accepted for a trademark by the USPTO. The more distinctive and different your name is, the more likely it is to be a good candidate for a trademark. Take a look at this chart for some insight into what determines a "good candidate".
The strongest candidates for trademarks are neologistic and associative names, as they are made up words, and therefore aren't being used by other businesses, or deviant names, as they are not directly related to your goods and services, and are therefore unlikely to be used by another company similar to yours.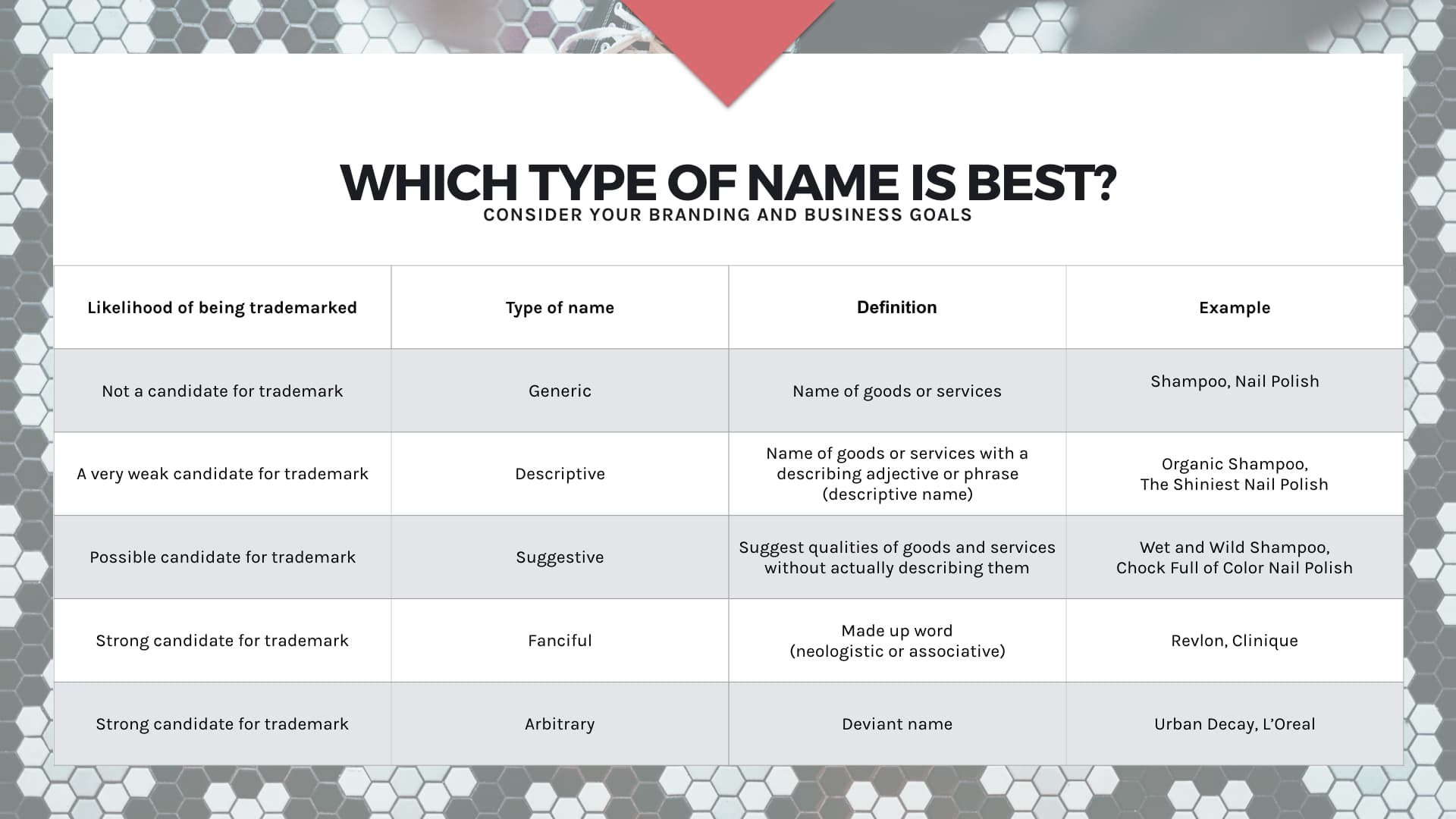 Things to avoid when naming your business
Steer clear from names that associate with:
Guns

Tobacco

Alcohol

Drugs

Adult products and services
This will have a negative effect on:
Facebook ads

Paypal transactions
Make it feel the way you want your brand to feel
No matter what type of name you choose, it must connect to your brand in a metaphorical, auditory, or intuitive way.
For example, if you choose a deviant name, it's important that you can make a metaphorical connection to your brand. For instance, Bezos chose the name Amazon because the Amazon is the largest river in the world, and he wanted to build the largest bookstore in the world. The word amazon conveys the same feelings as the company – vast and unmatched.
If you choose a neologistic name, it's important that you understand the inherent meanings of sounds, prefixes, and suffixes, and that you make up a name that feels the same as your brand. Kolenda has a lot more on this in his post.
And if you choose an associative name, make sure that you alter a word to perfectly fit your brand. For example, Pinterest takes the words "pin" and "interest" to paint an accurate description of what you do on their platform.
Empathize with your customers
Your business name must speak to your target audience.
Make sure that your customers are at the forefront of your mind when you're choosing your business name. Put your customer profile in front of you to inspire you to come up with names that resonate with your customers. With each name that you think of, ask yourself, "Will my ideal audience understand this name? Will they like it?"
Remember, you are in business to serve your ideal customers, so your name should reflect that. What your customers desire various with each industry, product, and/or business.
Say it out loud
Does your name sound good?
Hopefully, many people will be saying the name of your business as they spread the word about how great it is. Keep that in mind and make sure to think about how your name sounds when you say it out loud. Is it easy to say? Does it have a natural rhythm?
You can use writing techniques like rhyme or alliteration to help it pop. The more fun your name it is to say, the more your future customers will want to talk about it.
Brainstorm lots of ideas
To start brainstorming, follow these different techniques to get you started:
Surround yourself with inspiration

Use a thesaurus

Make metaphors

Google it

Do visual brainstorming

Make it musical

Use online name generator tools
Be patient with yourself as you name your business. Many companies undertake long brainstorming sessions in order to come up with names that work.
Keep your brand story, feelings, and values in mind, and then write down different names until one feels right. It's best to do this with others, so if you're a solo business owner, find some friends to sit down with you to help you come up with a good name. Surround yourself with tools like your mood board and brand survey to keep your brand values top of mind.
Narrow it down
Once you've brainstormed many ideas for the name of your business or product, it's time to narrow it down! Follow the checklist below to see if any of your ideas fit the ideal name criteria.
Is it trademarked/a good candidate for trademarking?

Is it 3 words or less?

Is it creative?

Does it sound good when you say it out loud?

Is the domain name available?

Are all social media handles available?

Is it memorable?

Is it easy to pronounce?

Does it have positive connotations in all major languages where you'll be selling your products?
The most important thing to find out is whether your name is already trademarked, and if not if it would be possible to trademark it. If the name is already trademarked, you can't use it.
If your name isn't trademarked, look at the rest of the items on this list to determine if it's a good name. Narrow it down to no more than 3-5 names.
Get feedback
Ask people who will give you their honest opinion about what they think of your business name.
Do they like it?

Can they pronounce it?

What does it make them think of?
Once you've come up with a few name options, put them out there and get feedback. Ask people who will tell you their honest opinion about your name ideas. If people don't understand your name ideas or if you get negative feedback, keep brainstorming names. You will eventually hit on the right one. Keep in mind, some of the best names are unexpected, so even if people are confused by your name, that doesn't necessarily mean it's not a good one.'
Takeaway
Although it may seem as though there are a lot of steps to finding the perfect product or business name, it's important to keep in mind the significance of this step. By following the guidelines listed above and keeping the desires of your target market in mind, you'll be sure to find a name that suits your product or business best.
Ready to start your own beauty product but don't know how to get started
Learn How to Launch a Beauty Product covers every aspect of starting a beauty business, from creating a solid foundation and getting funding to manufacturing, branding, sales, and marketing. This guided approach keeps you on track and makes the process feel less overwhelming. To learn more about turning your product ideas into reality, sign up for our newsletters and read more about the course here.