Creative platform Dieline's report on design trends for 2023 is out, and the trends are fresh. Really fresh. Some trends feel like we're living in a sci-fi movie, as in packaging grown from mushrooms and dehydrated tablets that become toothpaste the moment you use it. Some trends are freshly fun – beauty collaborations with nostalgic brands and AI-generated artwork, to name a couple. The possibilities this year seem endless.
Six of the 27 trends shared in Dieline's 2023 report really caught our attention. We are drawn to emerging trends with the potential to make a positive impact on the planet and the staying power to become part of our lives for years to come. So let's take a look at our picks.
#1 Less Water, Less Waste
To use less plastic and cut down on pollution generated by shipping products across the country, some companies are cutting water out of their product formulations. Consumers add water to the dehydrated products at the time of use. It is one of the most innovative design trends for 2023 for everything from window cleaner to toothpaste!
Bite is a certified women-owned company that produces dehydrated toothpaste and mouthwash "bits" activated when a customer puts them in their mouth. The tablet form eliminates the need for tubes or plastic containers. Instead, customers receive their bits in apothecary-style glass jars and compostable shipping containers with paper tape – no plastic.
On the household side, we like the design of Everdaily – a concentrated one-product-fits-all cleaning product that relies on water from your tap, not the manufacturer. The minimal packaging includes the mixing ratio in the brand design for style and ease.
Reducing the weight of products by removing the water means less fossil fuel consumption and less pollution from shipping. Consumers can enjoy lower shipping costs and longer-lasting, concentrated products, too.
#2 Authenticity in Design and Branding
More brands are becoming certified to prove they are authentic when it comes to using sustainable ingredients instead of greenwashing their products.
Greenwashing is a relatively new term to describe companies that appear to be more environmentally conscious than they are in reality. But unfounded claims of sustainability are nothing new. The environmental advocacy group Earth.Org has a long list of companies that have not been fully transparent in marketing themselves as eco-conscious, from the Starbucks "straw-less lid" debacle in 2018 to claims of illegal logging against IKEA in 2020.
Backing up your claims with certifications shows your customers that you are about more than just catchy marketing. Consider becoming a Certified B Corporation to show consumers that you are internationally recognized as a leader in social and environmental performance. Or you could offset your carbon footprint as a member of Carbonfund.org. Find a cause that means something to you and go through a certification process to demonstrate your company's commitment to those values.
#3 Green Innovation
Another of our chosen design trends for 2023 is going all-in on green innovation. This is an exciting time for packaging, with companies investing heavily in sustainable solutions to traditional packaging materials.
There are more compostable and biodegradable packaging options than ever before. Companies like Sway are developing plastic made from plants that breaks down in soil instead of lingering for decades in landfills or the ocean.
Today green packaging is found in everything from garbage bags to fast food cups. And consumers want it. According to GlobalData's 2022 Q2 consumer survey, 78 percent of global consumers actively look for "sustainable/environmentally friendly" features when making a purchase. We think 2023 will set the tone for green innovation in packaging design moving forward.
#4 Mushroom: The New 'It' Ingredient
Mushrooms have come a long way since the 80s craze of the portobello and shiitake. Innovative uses of mushrooms are one of the top design trends for 2023. Companies like Ecovative are leading the way by growing mycelium – the filaments that allow mushrooms to grow – into custom-molded, 100 percent biodegradable packaging used by companies like IKEA™ and Dell™.
And the use of mushrooms for nontraditional purposes doesn't stop there. We are also seeing fungi in meat alternatives and coffee, thanks to forward-thinking companies like Untamed Feast and Four Sigmatic. We can't wait to see where mushrooms will pop up next!
#5 Unconventional Brand Collaboration
Funky and fun collaborations between brands are always trendy. But it takes something extra to create a workable mashup that resonates across generations of consumers. We were thrilled with last year's e.l.f. X Dunkin' mashup featuring a "Dunkin' Dozen" eyeshadow palette and 'Glazed for Days' lip glosses. The design trend continues with other unconventional collabs. We love vegan cosmetic brand HipDot's playful collabs with brands like Play-Doh™ and Hello Kitty™.
#6 AI-Generated Artwork
AI-image generators have exploded on social media and beyond with the release of Open AI's DALL-E 2, MidJourney, and other platforms. Now that the magic of AI-generated art has been unleashed, it's hard to put it back in the box. AI art generation has many creatives feeling nervous, but we are choosing to set fear aside and embrace this new technology. AI is a fun tool to use for brainstorming because it allows for fast visual exploration of design concepts.
The potential of AI in production of franken-styled creative assets is one of the most exciting design trends for 2023. The possibilities for design inspiration are endless and expand into every industry, from consumer packaged goods, to architecture, to fine art. It's a new frontier.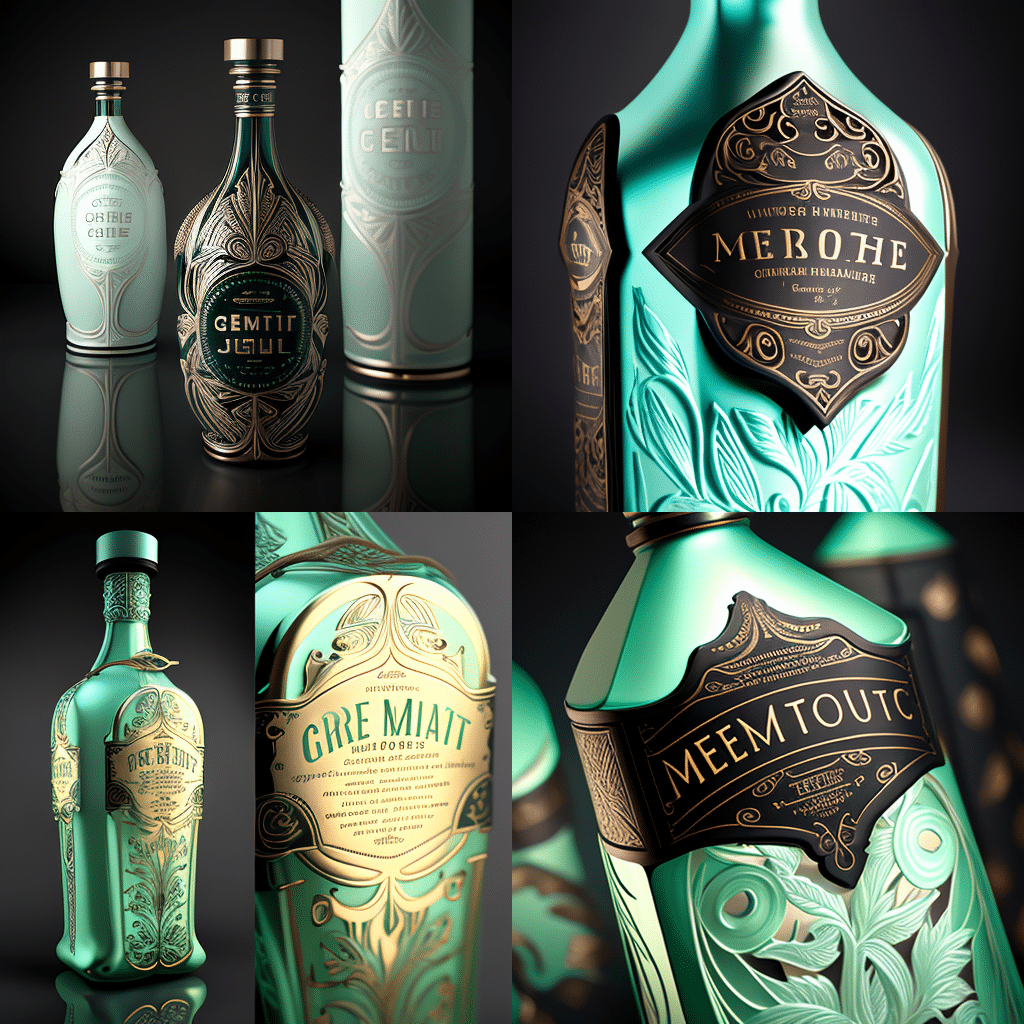 Top Takeaway of Design Trends for 2023
Design trends live and die by how well they are received by the industry. When it comes to Dieline's design trends for 2023, we see potential beyond the headlines.
Dehydrated products and other green innovations are ideas rooted – literally, in the case of compostable and biodegradable packaging – in a growing consumer demand for planet-friendly products. Unconventional brand collaborations bring joy and connection across generations, while AI-generated art allows us to go where we've never gone before and explore ideas quickly with digital mashups.
And we can do it all more cleanly and authentically than ever before. It's going to be a great year – we can feel it.