What is sober curious? And why it is gaining popularity? And if you own a beverage brand, how can you embrace?
Alcohol, step aside—there's a new trend in town: mocktails and non-alcoholic adult drinks. After the pandemic started, alcohol sales skyrocketed. Sales of alcohol outside of restaurants and bars rose by 24%. That wasn't necessarily surprising—people were staying at home more, avoiding bars, and increasing their grocery budgets in general. Combined with an increase in struggles with mental health, it was expected that alcohol sales would rise.
What was surprising is that alongside the growth in alcohol sales was a growth in people choosing to abstain. According to Bacardi's 2021 Cocktail Trends Report, 22% of global consumers are actively drinking less and 55% are seeking low-alcohol options.
So what is sober curious anyway. Sober curiosity is usually defined as having the option to choose, to question, or to change your drinking habits for health-focused reasons (mental and/or physical). The sober curious movement encourages individuals to recognize unhealthy habits that are associated with alcohol. Sober curious individuals think more consciously about the decision to drink alcohol.
Why is this trend happening and what does it mean for the future of the beverage industry? Read on to find out!
An Internal Look at Alcohol Habits
Some experts say the alcohol-free trend has been influenced by the pandemic. Even when bars started reopening, fewer patrons felt safe returning. As they stayed home, they started to seek out less boozy alternatives and explore what is sober curious.
One of the factors for the decline in drinking is simply people taking a closer look at their alcohol habits. It's one thing to go out and buy a few drinks in a bar, and another when you start to look at empty bottles and cans in your own recycle bin.
Away from peer pressure and social situations fueled by drinking, some have decided to explore sobriety and dive into what is sober curious and what would that look like for me.
Happy Hours and Day Drinking
Another factor at play is the at-home work culture. With Happy Hours starting earlier as more people have been working remotely, many wish to replace that midday cocktail with a non-alcoholic alternative.
Spritzer and seltzer sales have skyrocketed, allowing people to enjoy a lower alcohol content in a convenient can. This allowed people to imbibe and participate in Happy Hours without a hangover the next day.
A Newfound Health Focus
The rise in fitness education and emphasis has also contributed to the decline in alcohol. More people are exercising, focusing on what they eat, and taking a closer look at their overall health.
People are researching plant-based diets, the ingredients in their food and drinks, and the relationship between those ingredients and their immune systems. Along with that people have been exploring what is sober curious and how alcohol does or does not fit into their lives.
Many people have experimented with nutritional juices and drinks that ease their minds and strengthen their bodies. They've found that they prefer how they feel after they drink these to the after-effects of alcohol.
Generational Trends
Others say that the rise of sobriety centers on millennials. According to Nielsen, "Millennials are driving the mindful drinking movement, as 66% say they're making efforts this year to reduce their alcohol consumption."
This demographic as a whole has been more focused on health and well-being then any of the generations in the past. Millennials have long been creating social media trends like, "Sober-tember" or "Dry-January" to follow large binge drinking seasons.
That trend is likely to only continue as Gen Z hits drinking age. Gen Zs consume 20% less alcohol than millennials, with no plans to increase drinking in the future.
However, sobriety has grown more popular with the older generations as well. The past few years have shown both Gen X and Boomers are also following the trend—just at a lesser rate.
Cannabis and Its Impact on Alcohol
Another possible explanation for the change in alcohol consumption is the legalization of marijuana. In states that have legalized recreational marijuana, there has been a decrease in alcohol sales. This could be because there are other avenues for socializing outside of the standard bar atmosphere in these states.
States that have legalized marijuana have also experienced an increase in cannabis-infused drinks, including seltzers with THC and cannabis "cocktails." These drinks use tinctures that have cannabis in them instead of alcohol.
In states where marijuana is not yet legal, CBD is a very popular alternative and substitute. CBD provides healing and relaxing properties without the high of THC. Non-alcoholic drinks made with CBD syrups and infusions have been growing in sales, as well as packaged CBD drinks.
With CBD and cannabis alternatives available, many younger people are turning away from alcohol.
The Future of the Beverage Industry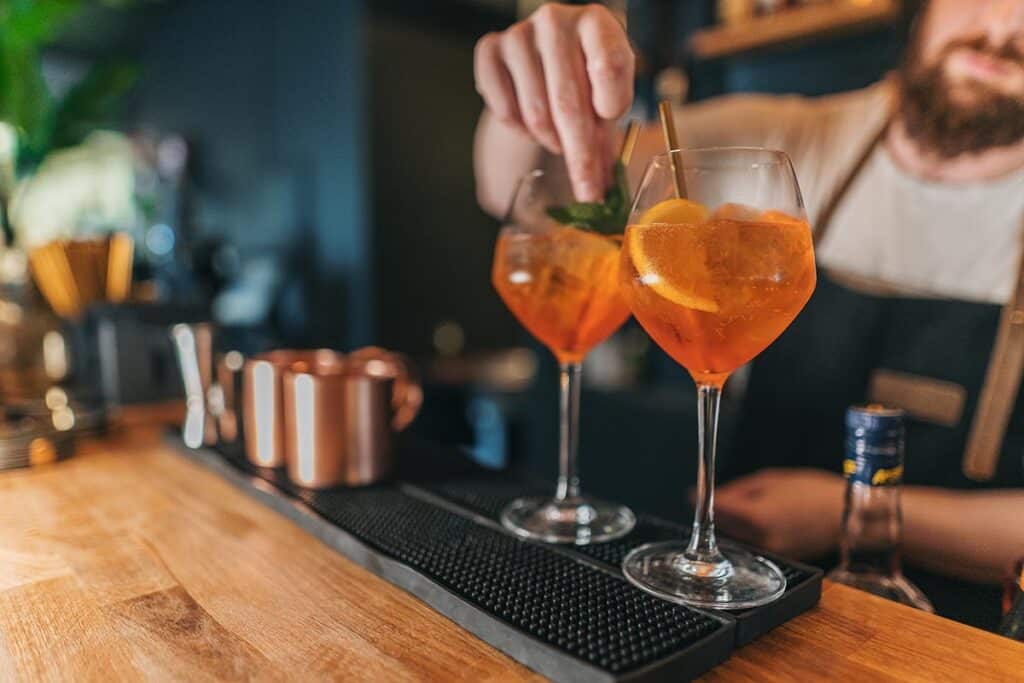 Beverage brands can't afford to ignore this growing trend. Many major brands have started to take notice. Bacardi is predicting a 400% growth in non-alcoholic and low alcohol beverages by 2025.
Both Anheuser-Busch and Heineken have jumped on board and began making non-alcoholic beer, which has increased in sales by 44% over the last year. The non-alcoholic trend is here to stay. So what does that mean for the beverage industry?
The need for adult drinks has not changed, and companies don't have to abandon ship completely. People like the process of making cocktails and experiencing drinks with friends and family, even if they don't contain alcohol. They want options other than juice or soda. Alcohol companies can lean in to the best of both worlds by making non-alcoholic spirits.
Popular Non-Alcoholic Spirits
Plenty of companies have jumped on the growing trend. Some companies have opted for alcohol-free alternatives to traditional spirits, some have bottled pre-made mocktails, and others have created new, flavorful spirits unlike alcohol alternatives. Here are a few of the companies leading the industry:
Bars across the nation have begun creating a signature mocktail list in addition to the standard cocktail list to keep up with the demand. These drinks still offer the same care and craftsmanship as their alcohol-filled counterparts without the buzz.
There are even alcohol-free bars, including Brooklyn's Getaway Bar, that offer all the atmosphere and ambiance of an upscale bar.
As we continue to see the sober and sober-curious culture develop and the question what is sober curious continues to be a hot trend, it is important that more brands hop on board if they also want to thrive. The trend isn't going anywhere, and if beverage companies want to get a piece of the Millennial and Gen Z pie, they're going to need to invest in creating alcohol-free alternatives.
Interested in other ways the pandemic has impacted business? Be sure to read our post about COVID's impact on consumer behavior!