Creative Collaboration to Chocolate Packaging Design
As the founder of a design agency, I'm always on the lookout for talented artists for inspiration, motivation, and collaboration. So, when an old acquaintance of mine, Courtney McClain of Lyric Papers started creating illustrations that inspired me, I knew I wanted to work on a project together. I reached out and we began a cooperative effort to bring her illustrations into a packaging design concept. Read on to learn out more about our creative journey to create an eye-catching chocolate packaging design.
A Partnership Long in the Making
My first connection to the world of design didn't actually take place in packaging and branding. Long before I formed Crème de Mint, I was a costume designer. As a result, I was always looking for new explorations and projects in the theatre world.
One of my passion projects was to bring to life an international program to teach university students traditional folk arts. A friend of mine introduced me to Courtney, who also had a passion for similar cultural art experiences.
We connected and discussed a collaboration, but our careers eventually took us both in different directions. I went on to specialize in packaging design, and Courtney eventually left the theater world as well.
From Broadway to Furnishing Design
For a while, Courtney continued in theatre, working on Broadway and Off-Broadway projects such as Shakespeare in the Park, Boston Ballet, and Mark Morris Dance.
After that, she advanced to film. She worked on design teams for films such as Wolf of Wall Street, Mary Poppins Returns and The Favourite. She received an Emmy nomination for her work on HBO's Boardwalk Empire.
But throughout that time, Courtney was always intrigued by interiors. Eventually, she took her career in a different direction, receiving a Post-Graduate degree from Inchbald School of Design in London. She formed McClain Grayson Co. based on her love of illustration and her fascination with interiors.
An Illustration Sparks a Collaboration
I followed Courtney's career as she shifted into illustration and furnishing design. When I saw some of her illustrations, I saw a world of possibility. Her art wasn't just great for furnishings—it could lead to unique and captivating packaging designs!
With this purpose in mind, I reached out to see if Courtney would be interested in collaborating on a project. We decided to create a conceptual piece.
We talked about many different possibilities for the design. Our creative exploration included beauty, tea and spirit concepts, but we eventually settled on creating a conceptual chocolate packaging design.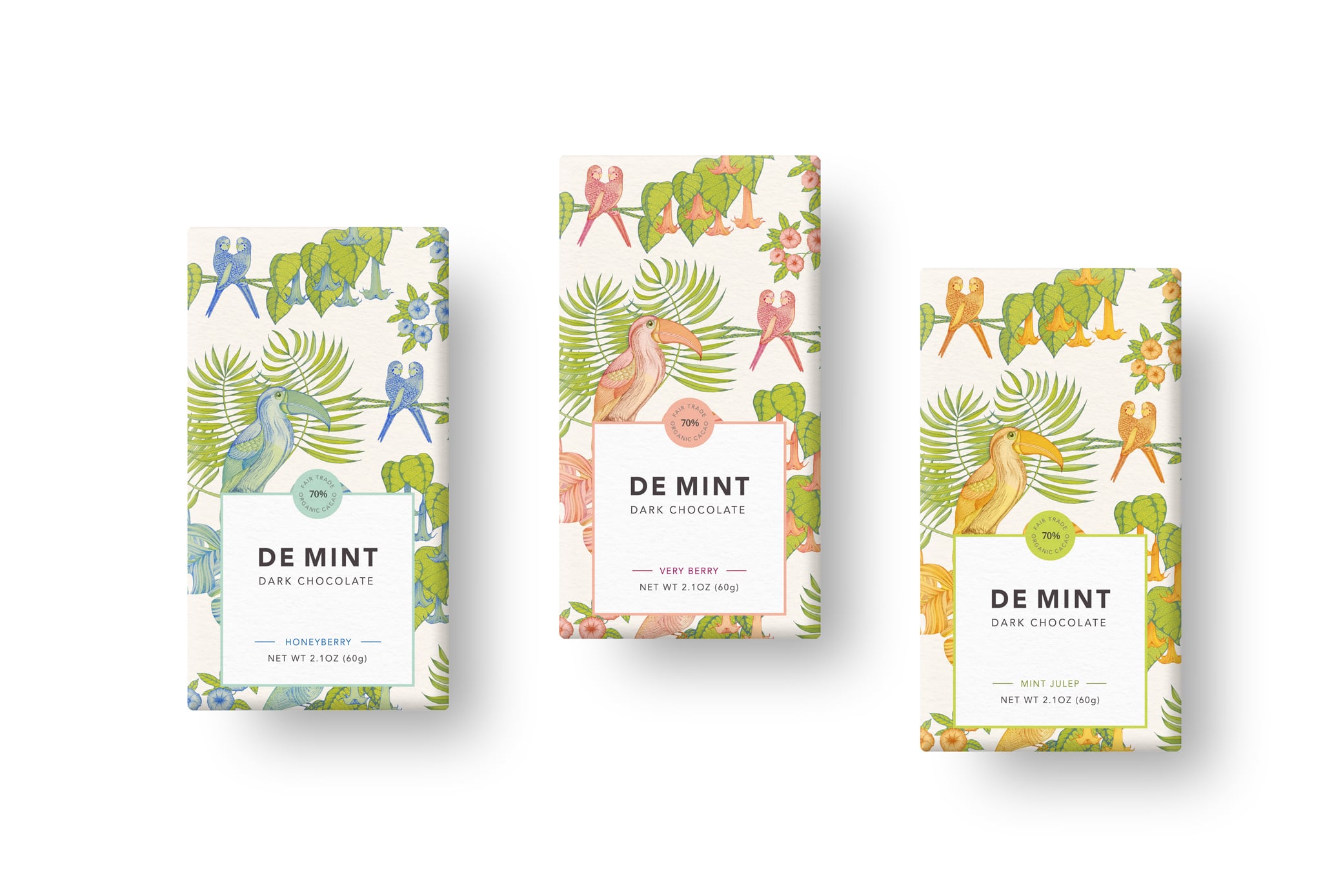 Bringing Our Creative Chocolate Packaging Design to Life
Courtney's original artwork that caught my eye was inspired by vintage botanical illustrations. It was a pattern with broad tropical flora and fauna—capturing a beachy vibe. We tweaked the original illustration to be suited for packaging design.
From there, I created a packaging design for a conceptual line of chocolates with tropical beverage-inspired flavors.
We created a colorful palette for each flavor, weaving muted blues, pinks, and oranges with pops of earthy green. The packaging brings the botanical essence of the illustrations into the label. The white contrast with sleek sans serif font stands out on the colorful illustrations. It draws attention to the brand name (a play on Crème de Mint called De Mint).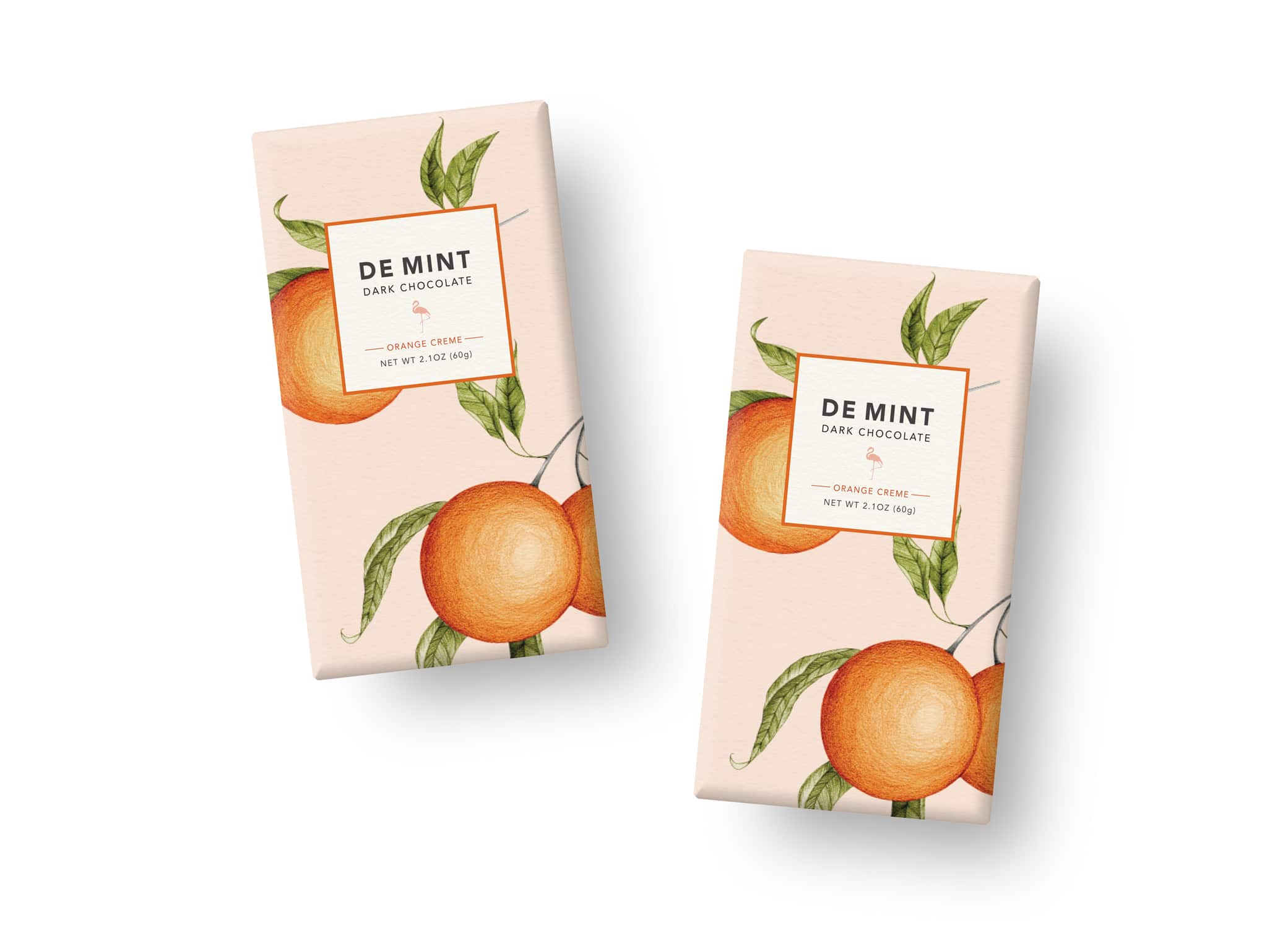 The Sunshine State Connection
Another one of Courtney's illustrations caught my eye and resonated with me. It was a pattern of bright, luscious oranges that served as an ode to Courtney's home state of Florida.
The illustration captivated me right away—Miami is my home and the home of Crème de Mint.
Based on that illustration, we created another concept for our envisioned chocolate line (this time, an orange creme chocolate).
The conceptual package design for this chocolate flavor plays off of the tropical orange theme, focusing on the fruitiness. I added a flamingo logo above the flavor name as an extra callback to the Sunshine State.
Creative Chocolate Packaging Design with Endless Possibilities
At Crème de Mint, we love challenging ourselves, working with new talents, and flexing our design muscles.
This conceptual design was a rewarding experience, a collaboration between creatives.
Do you connect with this style, or these particular illustrations? We can incorporate these or create other illustrations into packaging design for your company. We love to help small businesses bring their packaging to life with unique designs! Contact us to get started.