In the past two decades, the development of 3D printers has revolutionized the way we make products.
At first glance, it might not seem like 3D printing could have a big impact on the beauty industry. But in reality, that's far from true. 3D printing is already changing the industry and we can expect even more big changes in the future.
Here are six companies that are using 3D printing to alter the cosmetic industry as we know it, and what that means for the future of beauty brands.
Mink: The First 3D Makeup Printer
The first revolution of 3D printing in the beauty industry came about in 2014 when entrepreneur Grace Choi announced the development of Mink, the world's first 3D makeup printer. Choi actually created it from a traditional 2D printer.
Since then, the company has refined the technique and worked to make it available to the general public. In 2019 they released a lightweight, portable makeup printer that hooks up to an app via WiFi. It allows users to print ready-to-use makeup sheets directly from online images.
The Takeaway:
Digital advances in the beauty industry are shifting to match customer expectations. 3D-printed makeup gives users more control over their cosmetic choices. Instead of perusing store aisles trying to match makeup colors inspired by magazines or celebrities, users can directly print their makeup inspirations.
Adorn: The 3D Makeup Pen
Just a year after Mink's reveal, UK beauty company Adorn announced the release of a 3D scanner and printer.
Their printer is a small pen containing blue, black, and white pigments. Users scan their cheek and the pen matches the skin tone and produces the ideal foundation, ready to apply. They advertise the ability to match up to 75,000 shades and product a foundation that is fit for all skin types.
The Takeaway:
The future of beauty is individualization. What makes Adorn's product so appealing is that it can match the exact needs of the individual user. Instead of searching through pre-manufactured foundation colors hoping to find a shade that works for you, it promises to match your exact skin tone.
When you can offer products that are personalized for an individual, you offer a big benefit to consumers. In a society with countless options for every purchase, finding a way to offer more than just a product that blends in with everything else on the shelf is important.
Allowing buyers to purchase something that adapts specifically for their needs will set you apart from the competition and let buyers feel more actively involved in the cosmetic process.
Smashbox: The 3D Lipstick Launch
In 2016, Smashbox launched the #BeLegendary collection of 120 shades of lipstick. They engaged in an online campaign allowing users to play a game and end up with a 3D-printed version of their ideal lipstick. To top things off they let the user choose any design or shape for their printed lipstick.
The Takeaway:
Beauty brands can learn a lot from Smashbox's campaign, the main point being that customization is key. This campaign stirred up a lot of attention because it provided choices. Not only could users pick from a wide range of colors, but they could request any design under the sun.
If you can tap into that idea and provide customization options for your buyers, you're going to win over quite a bit of business.
The other big takeaway is that when it comes to beauty, you can't provide too many choices. The more options you provide for color, the better, whether you're offering 3D-printed lipstick or a new nail polish collection.
Chanel: New Options for Mascara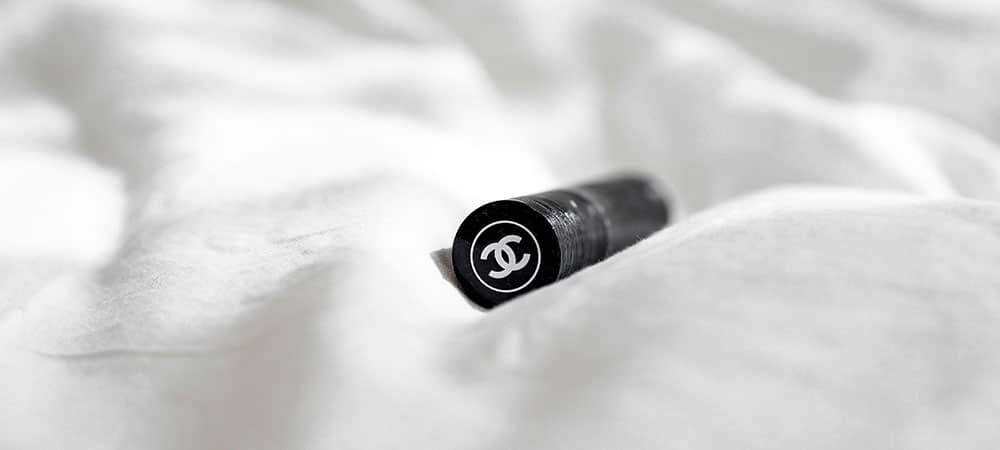 The early pioneers of 3D-printed makeup were a few years ahead of their time. Recently, even more companies have jumped on the 3D printing bandwagon.
In June of 2019, Chanel released a 3D-printed mascara brush to the general public in the UK. The brush uses a laser beam to print layers of polyamide powder for a smooth and strong application.
The Takeaway:
3D printing doesn't just give companies the ability to provide more choices. It can also allow them to offer better products. With each new invention and iteration, we're learning more about how this technology can improve the entire cosmetic industry.
Neutrogena: Shaping Skin Care through 3D Printing
Makeup isn't the only possibility for the 3D printing in the beauty world. It can also change the landscape of skin care.
Neutrogena recently developed a 3D printed face mask. Users can download an app, answer questions about their individual skin needs, and scan their faces. The mask is then printed specifically for their skin. The company hopes to release the masks later this year.
The Takeaway:
Like Adorn, Neutrogena is putting 3D printing to its highest use for consumers—offering individualized options. The more personal companies can make products, the better. When this kind of option becomes available to the masses, all beauty brands are going to be held to a higher standard and expected to personalize products more than ever before.
JALA: Bioprinted Skin
While 3D-printed makeup is a high-level achievement by itself, other cosmetic companies are using 3D printing capabilities in different ways. JALA Group, a Shanghai-based company, used bioink technology to create 3D printed skin, complete with all three skin layers.
The Takeaway:
The possibilities for this technology are endless. Damaged or burnt skin could actually be reconstructed, offering burn victims an unprecedented recovery option.
This technology also offers new testing capabilities for products. In the future, this technology could eliminate animal testing altogether, overcoming one of the primary problems the beauty industry faces in terms of public opinion.
Package Printing Options
3D printing also offers new possibilities in terms of packaging. While that might not sound as cutting-edge as 3D printed skin and makeup, cosmetic packaging is actually where this technology has made its biggest impact so far.
The precise process of 3D printing is ideal for luxury packaging. Since the process can be made so precise, 3D printing is ideal for creating luxury packaging. During manufacturing, each layer is printed using very thin sheets placed with laser-accuracy. The result is unmatchable smooth, sharp packaging.
Anita's Balm, a small online skin care company, has put this technology to use to expand their business. They started using 3D printers for their own packaging and their success quickly stirred up interest from other brands. Now they print packaging for other small cosmetic brands as well.
3D printing offers even more than aesthetically perfect packaging. Companies now have more options than ever to design and test packaging options before sending them off to the printer, cutting down on time and money and drastically reducing waste.
It's no surprise that 3D printing companies, like Malta-based Toly Group, have client rosters full of successful beauty brands.
Environmental Impact
In the past, 3D printing has come with a downside—the environmental impact of the petroleum-based plastic filaments that are used. But new advances are overcoming that downside.
Innovative companies are developing new biodegradable materials that are better for the earth and are more affordable than plastic filaments. Other companies have developed recycled plastic filaments as an alternative choice.
The cosmetic industry has long faced flack over environmental issues, and eco-friendly trends have taken over in response. With these new advancements, 3D printing can change the industry without setting it back on the environmental front.
The Future of Beauty
These are just a handful of ways companies are disrupting the industry with 3D printing capabilities. As the technology advances, we're going to see more companies embrace it and offer new changes.
As always, standing out is vital to any cosmetic brand, and as technology changes the industry, brands will have to adapt accordingly. At Creme de Mint, we're looking forward to helping brands face the challenges and embrace the future.
For more information on how to create a unique brand and stand out in a good way, see our post How to create a beauty product line that sells.