A Modern Interpretation of the Herbal Apothecary
MEGAN And CO. Herbal Apothecary and Clinic is a source for herbal knowledge and organic products. Focusing on herbal education for the public, they opened their doors June of 2017 (brick and mortar) in Northwest Iowa. 
MEGAN & CO. is staffed by highly educated and experienced, Certified Clinical Herbalists, Certified Clinical Nutritionists, and Flower Essence Practitioners. 
The Herbal Apothecary provides amazing herbal formulations, made on-site by Herbalists. They formulate with the best sourced ingredients they can find.
The Clinic offers one on one consultations, where they utilize the Vitalist approach to healing. 
INDUSTRY
Herbs & Supplements
LOCATION
Spirit Lake, IA
Refreshing the Branding and Packaging Design for a Modern Herbal Apothecary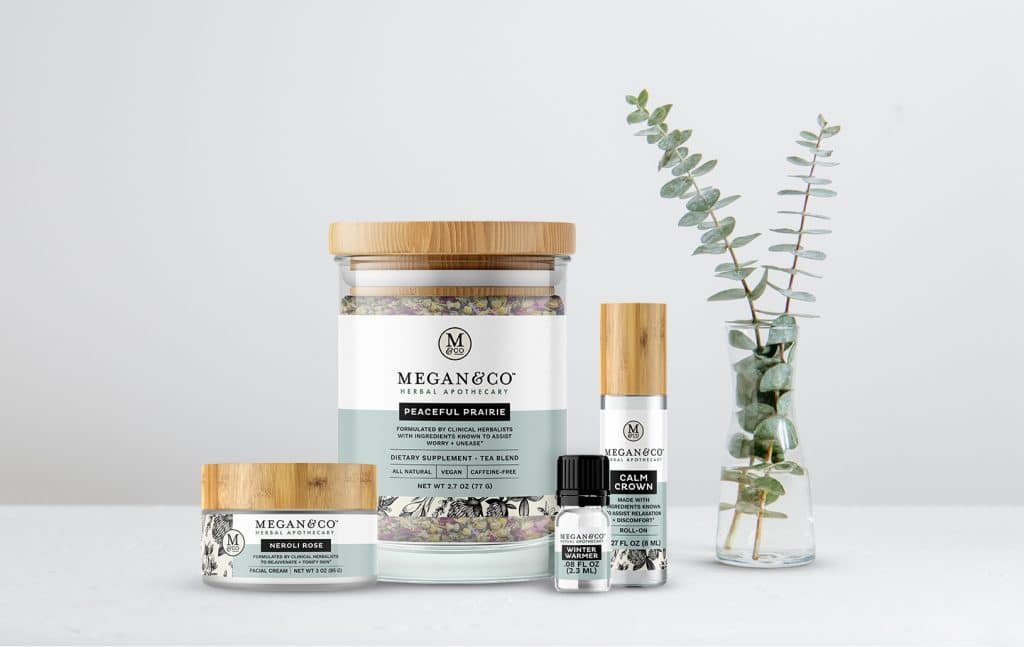 We based the dietary supplement packaging design for the brand on a natural, but modern feel. The packaging materials and style are simple, but eye-catching—earthy, but polished. 
This concept leans into a modern, clean apothecary style, referencing retro and classic elements but modernizing them. The goal was to communicate time-honored, trusted wellness methods but with a touch of modern life.
KEYWORDS: professional, clean, sophisticated, iconic, minimalist, medicinal, traditional, healing, trusted, approachable.
TONE: A modern reinterpretation of vintage.

VISUALS: Botanical patterns, high contrast (black and white), color blocking, iconic language, retro packaging materials and finishes.
LAYOUT: Compartmentalized and organized grids present all the information needed for the customer to make an informed purchase but in a simple, direct and not overwhelming way.
FONTS: Mixed typography, subtle handwriting and other layered typographic elements.

COLORS: Black and white labels + a pop of bold color (proposing forest green and gold).