Bringing Luxury Into the Cannabis Industry
St. Thomas, Virgin Islands
St. Thomas, Virgin Islands
The Challenge:
Custom Cannabis Branding, Packaging and Product design
FireGarden was a startup company that created luxury containers to store cannabis, preserving the potency. The brand wanted to take advantage of the growth of
legal medical and recreational marijuana
and fill an unserved niche. They reached out to Crème de Mint to design upscale containers to keep cannabis fresh, providing a visually sophisticated storage option. The brand planned to directly target high-end modern cannabis users and sell wholesale to
medical cannabis
dispensaries, depots, and smoke shops. FireGarden needed a design team to bring the vision for the product to life, along with custom cannabis packaging design that conveyed their message and brand image, attracting cannabis users of all ages and appealing to shop and dispensary owners.
We created a video mood board that offered the founders a detailed look at different concepts they could choose for the brand. The mood boards included three different directions for the branding—one inspired by the alcohol industry, one inspired by the luxurious, classy feel of the automobile industry, and one inspired by beauty branding. We also created mood boards that highlighted the different options for the design of the packaging, along with boards that showed typography research for the brand. 
The mood boards provided a visual understanding of the different branding elements and engaged the founders in the process, allowing them to understand the "why" behind the designs and contribute to their development.
Crème de Mint designed the logo to pique curiosity and encourage engagement. The logo in particular communicates what to expect from the brand and the benefits that it offers. It further elevates the high end packaging, which preserves natural, fresh, potent cannabis. 
The cannabis icon in classic black and white reflects the purpose of the product, while the lined banners highlight the adjectives describing the brand and add a nostalgic, retro touch. 
Then, the color palette of green and black represent health, luxury, freshness, and nature. The eye is further drawn to "FireGarden," the name of the brand. Finally, the playful combination of fonts creates a vintage vibe and a layered, intriguing look. The script fonts are friendly, evoking trust, while the clean sans serif fonts establish a knowledgeable feel.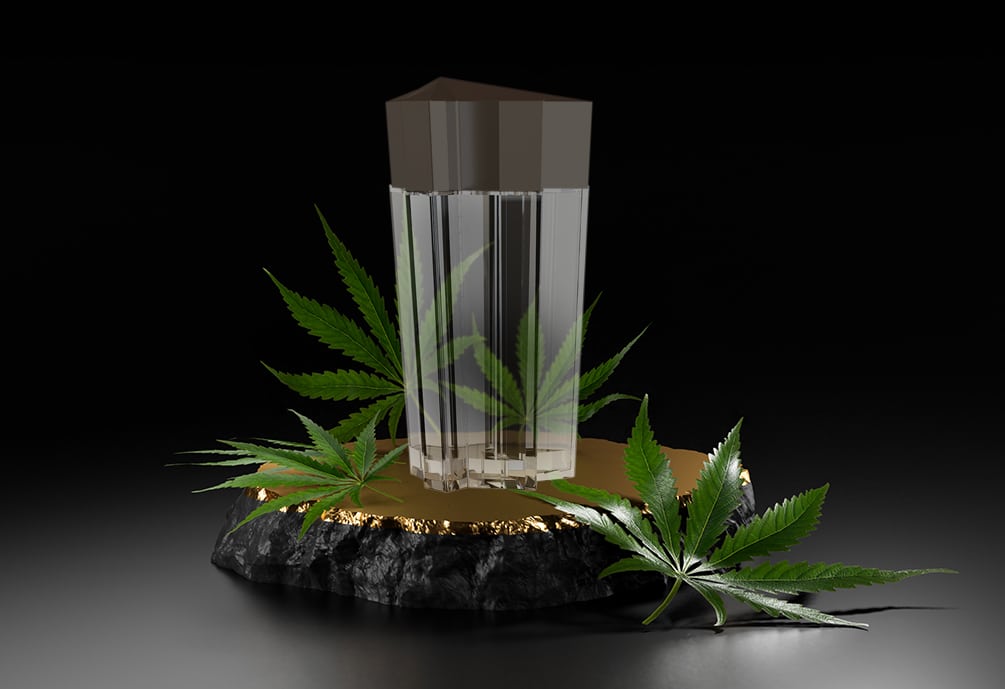 This container is sleek, sophisticated, and elegant, as opposed to what consumers might think of to store cannabis. The design was inspired by high-end fragrance bottles. Moreover, it provides marijuana users with an upscale experience, which aligns with the
growth of legal cannabis
as a legitimate medical product. From the top, the container is in the shape of a pot leaf, adding an enjoyable touch, while the tapered effect creates an element of grace.
The package design creates an elite, refined look, while transforming the act of storing cannabis from a necessity to a luxury. The box feels like an expensive liquor container, establishing a polished atmosphere worthy of a housewarming or holiday gift. Equally, the color palette of gold, green, orange, dark brown, and gray evokes nature and class.
The stunning and captivating designs appealed both to cannabis users of all ages and to owners of smoke shops, dispensaries, and depots, and captured the deluxe, premier vision the founders had for the brand. As a result, Crème de Mint's designs laid the foundation for a successful launch of a bespoke product.