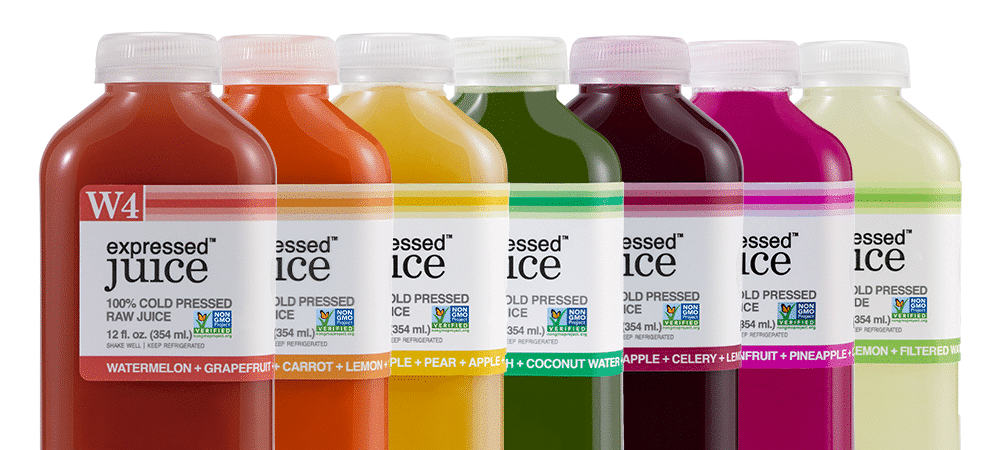 With strict standards regulating the information found on product packages today, it is no surprise that many products are covered in symbols, which can have many different meanings.
Food products can have symbols related to ecological sustainability in production and humane practices for raising animals. They can also alert consumers about ingredients, nutritional information, dietary restrictions, and allergens. Similarly, cosmetic products can have symbols for certain ingredients and allergens, but also for things like ethical production and testing.
There are so many symbols that exist out in the marketplace, especially if you include international products, but here are some of the most common symbols found on food and cosmetic products here in the U.S. and around the world.
Sustainable, Organic & Humane
Non-GMO Project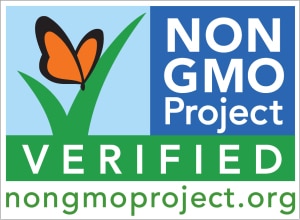 A GMO (Genetically modified organism) is a living organism whose genetic material has been manipulated using genetic engineering, creating combinations of plant and animal genes that do not occur in nature. The Non-GMO Project seal above verifies that the product was made in an environment dedicated to NO Genetically modified organisms (GMOs). The Non-GMO Project offers independent verification of testing and GMO controls for U.S. and Canada based products.
FSC – Forest Stewardship Council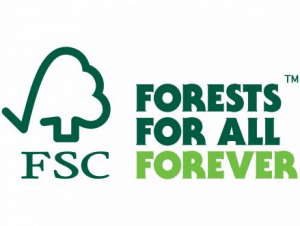 The Forest Stewardship Council is a worldwide organization that certifies sustainable forest management. Their logo on a wood or wood-based product means that the product is made with, or contains, wood that comes from FSC-certified forests or from post-consumer waste. You will see three different FSC labels on products depending on their sustainable wood content: 100%, FSC Mix or FSC Recycled.  
The American Humane Certified™ Program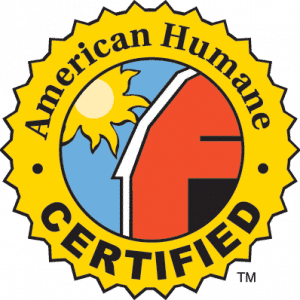 American Humane Association has been dedicated to improving child and animal welfare since they were founded in 1877. This organization has been at the forefront of every major progressive effort to protect children, farm animals, and companion animals from abuse and neglect.
Global Animal Partnership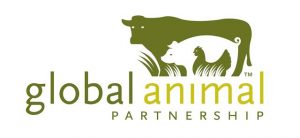 The Global Animal Partnership, a is a 5-step program certification program created by Whole Foods that is required of their vendors to use. Some small retailers have also begun using it.
Certified Humane
The Humane Farm Animal Care (HFAC) created the Certified Humane label to assure consumers that the animal products in certain products came from facilities that were proven to be raising and caring for their animals humanely. Other companies have gone above and beyond this certification, such as the Happy Egg brand. They created their own clever symbol, call Happy Certified. Beyond just the humane standards, the brand works to create an ecosystem for their hens to flourish and thrive. They say they are committed to raising hens and eggs with love and make an extra effort to improve their hens' welfare. Beware, this kind of self-certification, it does not always end happy. If it's not backed up by true claims, it can backfire like it did for the "Smart Choices" program.
Animal Welfare Approved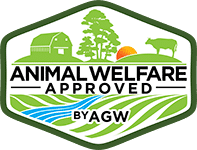 The Animal Welfare Approved label is part of the certification program of A Greener World, an independent non-profit which verifies that meat, dairy, and poultry products are from animals raised humanely and in an environmentally-friendly manner. The organization also has a Certified Organic program, a Certified Grassfed program, a Certified Non-GMO program, and a Salmon Welfare Certified Program, all variations on their easily-recognizable logo. 
PETA Bunny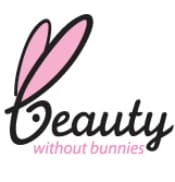 The animal-welfare organization PETA, developed this symbol for companies to verify that their products are 100% cruelty-free and are not tested on animals during any part of production.
Leaping Bunny
This label, created by The Leaping Bunny Program, certifies that the product that displays it is cruelty-free and was not tested on animals during any part of production. Companies that use it must make a pledge that none of their products or any ingredients have been tested on animals.
Euro leaf
The Euro leaf means that the product is in compliance with what the European Union considers to be the legal standards for organic. Processed products can use this label if 95% of their ingredients are organic. Another restriction for organic products in the EU is that the land they are grown on (or raised on in the case of animals) has been deemed organic for at least two years. When the EU instituted this symbol, others such as eco or bio that suggest that a product was organic were banned. 
USDA Organic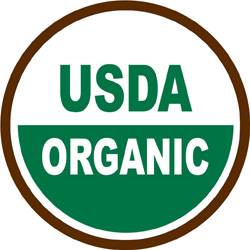 Produced by the USDA's National Organic Program, this label represents the regulations and standards for products that are labeled as organic. The products must have been produced in sustainable environments where no synthetic fertilizers, irradiation, and/or genetic engineering is present. Products must be officially certified by the USDA in order to use this label. 
Fair Trade Certified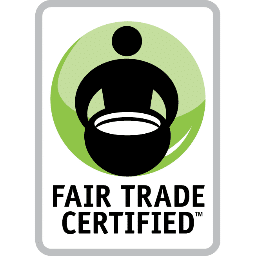 You will see these three Fair Trade labels on products throughout the world that promote paying workers and farmers fair, living wage prices for their products. Each of these symbols represents a different Non-profit organization and they differ slightly in their verification process and standards. See a breakdown of these three organizations and what they do here.


Rainforest Alliance Certified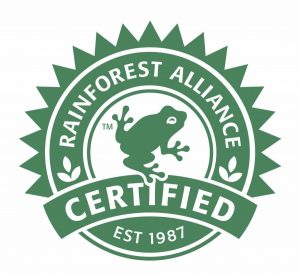 This label, created by The Rainforest Alliance, ensures that products are produced in a way that is socially, economically, and environmentally sustainable. This includes different criteria for each of the categories of products they certify — agriculture, forestry and tourism. You can see a list of criteria on their website. 
Friend of the Sea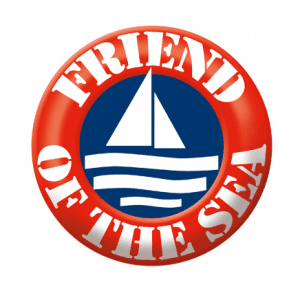 This label and the following Friend of the Earth label are a project of the World Sustainability Organization. Friend of the Sea carries out independent audits of fisheries, fleets, aquaculture and other seafood related enterprises to ensure they are using sustainable fishing and other ocean-friendly processes throughout production. See their certification requirements here. 
Friend of the Earth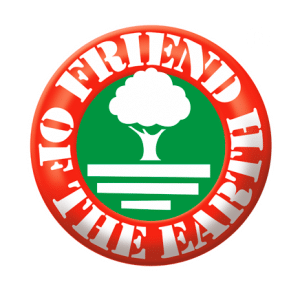 The Friend of the Earth symbol is a program of the same organization as the Friend of the Sea certification program, only this certification is dedicated to agriculture and farming. 
EU ecolabel
The European Union ecolabel, established in 1992, is recognized worldwide as a symbol of high environmental standards. It means that products and services meet these high standards during all parts of their life cycle, from raw materials, to production, to districution and finally in their disposal. 
Ecocert COSMOS ORGANIC
Ecocert COSMOS ORGANIC symbol means the cosmetic product it is displayed on has a 95% minimum of organic ingredients and at least 20% of organic ingredients are present in the total formula (10% for rinse off products). It also means that 99% of the product comes from natural ingredients (ie non-synthetic). 
Recycling
Resin Identification

One of these seven symbols, created and used by Society of the Plastics Industry (SPI), is usually found somewhere on plastic products. These symbols identify what type of polymer resin the plastic product is made out of so plastics of the same polymer resin types can be recycled properly together.
Recyclable Aluminum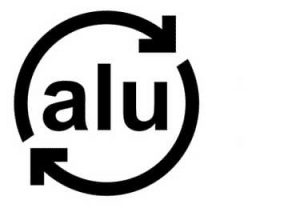 This symbol indicates that packaging is made from recyclable aluminum.
Compostable, Home Composting
Both of these symbols mean that packaging can be composted. The seedling represents products that can be industrially composted according to the European standard EN 13432/14955. The home OK compost symbol means the packaging can be home composted right in a backyard garden. 
Green Dot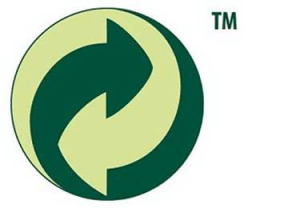 The green dot symbol shows that the manufacturer of the product pays to recover and recycle it. This label is used for recycling internationally, but the program is only in Europe. This label is not meant to replace the general recycling symbol, but is used in addition to it. For more details on how to use the Green Dot, go here.
Food restrictions and allergies
Suitable for Vegetarians / Vegans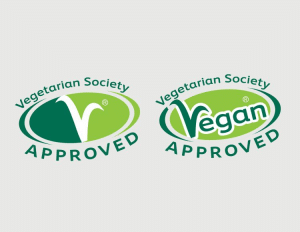 The symbol of a green V is often used within logos representing food suitable for vegetarians (meat-free products) or vegans (free of all animal products including butter, eggs, milk, etc). While neither are connected to a specific certification program, they are common enough (and self explanatory enough) that consumers immediately recognize them in looking for these types of products.
Certified Vegan
Products with Certified Vegan are verified to be free from any animal products or byproducts. This symbol is the result of a rising interest in vegan-friendly products. Products with this logo are certified through the vegan.org certification program.
Heart Check Symbol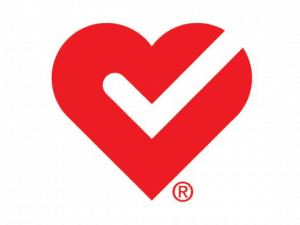 Foods marked with the Heart Check Symbol meet the American Heart Association's requirements of low amounts of saturated fat and cholesterol that the organization recommends for people over the age of two to ensure heart health. Additionally, this symbol supports the American Heart Association's food science and recommendations.
Whole Grain Council Stamp
This stamp is put on by Pack by Whole Grains Council. There are two different versions of this stamp, the Basic Stamp and the 100% Stamp. The 100% Stamp is applied if 100% of all the grains used in the product are whole grains. The basic stamp requires that the product contains at least eight grams of whole grains.
Halal Logo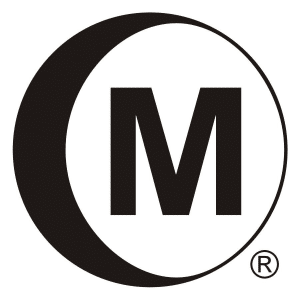 The Halal symbol gives Muslim consumers the assurance that products are certified to be in accordance with Islamic law, from appropriate sources (like cow or chicken) and processed in ways coherent with their religious beliefs. The Islamic Food and Nutrition Council of America offers a Halal food certification program in the U.S. 
OK Kosher Certification
The label represents the OK Kosher Certification (the 'O' being the circle). This symbol is used internationally and can be found on thousands of popular products from major companies. Foods with this label have been certified by the organization's 350 kosher experts.
OU Kosher Certification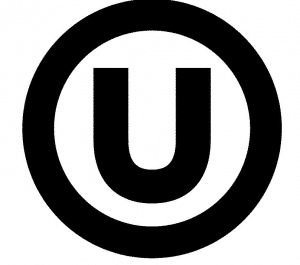 Also a symbol of Kosher products, this OU label was created by the Orthodox Union to verify which modern foods abide by ancient Jewish dietary laws. This label is used internationally for hundreds of thousands of products and is the strictest kosher verification system. Because this labeling system is so strict, there are different variations of the OU that can be found on products.
These variations include:
OU — the food contains neither meat nor dairy, a "neutral" product
OU-D — dairy product
OU-M — the product is made with meat or meat ingredients
OU-F — the product is made with fish ingredients
Allergy Advice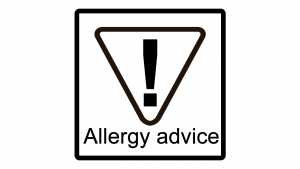 This triangle with an exclamation mark in the center is meant to warn customers about potential allergens that are present in the product labeled with it. The Food Allergen Labeling and Consumer Protection Act in the United States requires companies to clearly list the eight most common food allergens (each country has different regulations), but this symbol goes a step beyond to warn customers about possible ingredients that may cause an allergic reaction. 
Peanut Free Symbol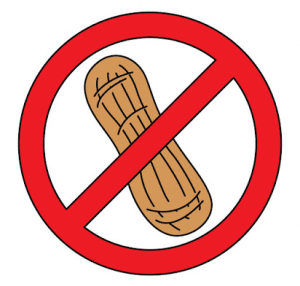 The rising rate of children and adults with severe peanut allergies has resulted in this special symbol that recognizes food as peanut free. While each country varies in how they regulate negative claims on food products, this is an internationally recognized symbol. 
Low GI certified symbol
The Low GI Certified symbol is used to help diabetic consumers ensure that their products meet the strict nutrient criteria in line with International Dietary Guidelines for kilojoules, saturated fat and salt. This symbol is certified by the Glycemic Index Foundation, an international non-profit whose mission it is to help customers manage their diabetes through diet.
Certified Gluten-Free
Created by the Gluten Free Certification Organization (GFCO), this logo verifies that the food within the package contains no traces of gluten and that the product was not exposed to cross-contamination during its processing. 
Preparation, Storage & Disposal
Period After Opening (PAO) Symbol
Since cosmetics products can degrade over time and can cause products to go bad including causing skin infections, this label indicates the shelf-life of a product after opening before it is considered to be expired and should be thrown away. The number followed by the M stands for the specific number of months the product is good after opening. This information is typically given to you by your manufacturer
Expiration date symbol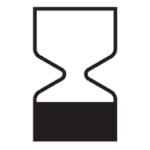 This hourglass timer symbol is used by companies in the UK to express the same concept as the Period After Opening Symbol, it gives consumers a "best by" date for products. 
Add hot water symbol
This variation on the image of a teapot pouring water means to add hot water to the product in order to prepare it for use or consumption.
Product suitable for freezing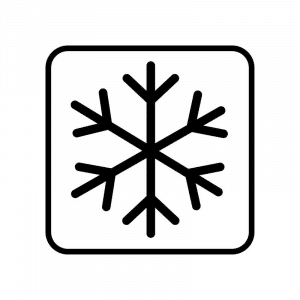 The snowflake symbol means that the product labeled is suitable for freezing without removing the wrapping. A snowflake circled in red with a slash through it means the product is not suitable for freezing. Often a temperature will appear below the snowflake to let customers know at what temperature the item should be frozen. 
Product suitable for microwave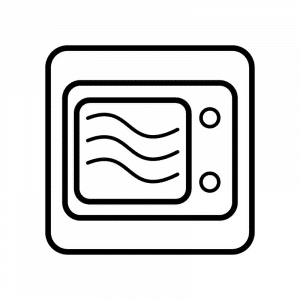 A set of wavy lines within a square is used to indicate that a product can be put into the microwave without removing its packaging or that a plastic or metal is microwave safe, similarly as the symbol above, this symbol with a slash through it means that the product is not suitable for the microwave. 
Thermometer symbol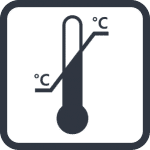 This symbol is found on food and drink items and marks at which temperature the product should be stored.
Tidy man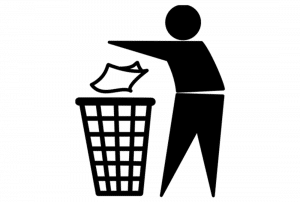 This is a common symbol found on food packaging and that of other items and serves as a consumer reminder to dispose of the item properly and responsibly.
Further Information and Warnings
Not for Pregnant women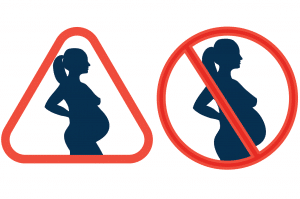 This is an internationally recognized symbol that the product labeled is not suitable for pregnant or nursing women. 
Not suitable for children under 3
This symbol of the outline of a child and 0-3 encircled in red and crossed out means that the product is not suitable for children under the age of three.
Further Information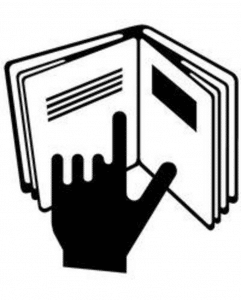 This symbol, which can be shown on any type of product in addition to cosmetics, is normally found with product information on the package or product itself. It lets the buyer know that they are only seeing a portion of the total product information and that they might have to refer to a different part of the package or product for the rest of the information.
Approved for food use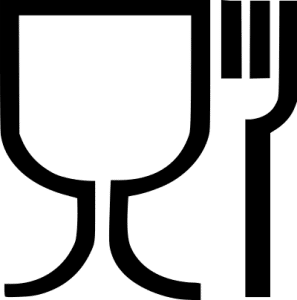 This wine glass with a fork beside it means that the packaging material that comes in contact with a food product is approved for use with food by the national regulatory body. This symbol is used in North America, the European Union and parts of Asia. In the United States this is regulated by the FDA. 
Flammable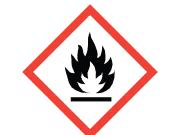 This symbol on a packaging indicates that the product itself or at least one of its ingredients is flammable if it is exposed to high heat or a flame. It warns consumers to keep the product away from sources of heat.
Treated with Irradiation 
The FDA has approved food treated with radiation as safe for human consumption saying that it often makes food healthier and/or have a longer shelf life. Still food treated with radiation must display the Radura symbol (above) along with the statement "Treated with radiation" or "Treated by irradiation." The FDA does not require the label for individual ingredients within a multi-ingredient product. 
Estimated Symbol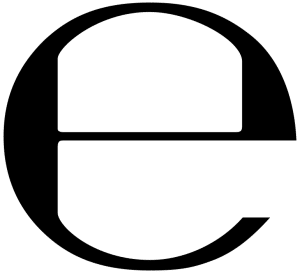 This E symbol ensures that the product was filled using "average fill system". So, if this E appears under the amount in grams or milliliters on the package, it means that the product contains the amount advertised. This must appear on all products sold in the EU.